Sharp declines in banking shares in Europe have renewed concerns the panic triggered by the collapse of two US banks and rushed takeover of Swiss giant Credit Suisse may not be easily contained.
Shares in Germany's Deutsche Bank fell by 14% at one point on Friday, with other lenders also seeing big losses.

London's FTSE 100 ended the day down 1.3%, while stock markets in Germany and France dropped even more sharply.

But US fears did not materialise.

After falling early in the day, the Dow Jones Industrial Average gained 0.4% and the S&P 500 rose almost 0.6%, while the Nasdaq ended 0.3% higher.

The rise came despite declines in shares of big banks such as JPMorgan Chase and Morgan Stanley.

In Europe, the banks hit by a sell-off from worried investors included Germany's Commerzbank, which saw shares fall about 5%. France's Societe Generale ended down about 6% while in the UK, Standard Chartered was the biggest faller, down more than 6%.

Deutsche recovered from its steepest losses but still closed more than 8% lower.

Russ Mould, investment director at AJ Bell, told the BBC the drop in Deutsche Bank's share price, and a sharp jump in the cost of insuring against a possible default by the bank, was "indicative of a wider loss of confidence in the banking sector".

"There's a gathering fear that central banks may have overdone it with interest rate increases, having left them too low for too long," he said.

Central banks slashed interest rates during the 2008 global financial crisis and again when the pandemic hit in 2020 as part of efforts to encourage economic growth.

But over the past year or so authorities have been raising rates sharply to try to tame soaring price increases.

These rate rises have hit the value of investments that banks keep some of their money in, and contributed to the bank failures in the US.

Share prices have fallen across the sector, as high-profile investors warn the collapses are symptoms of deeper problems in the system, with other pockets of distress yet to emerge.

Higher interest rates have also raised the possibility of recession, Mr Mould said, and if that happens, "banks will generally find it pretty hard going".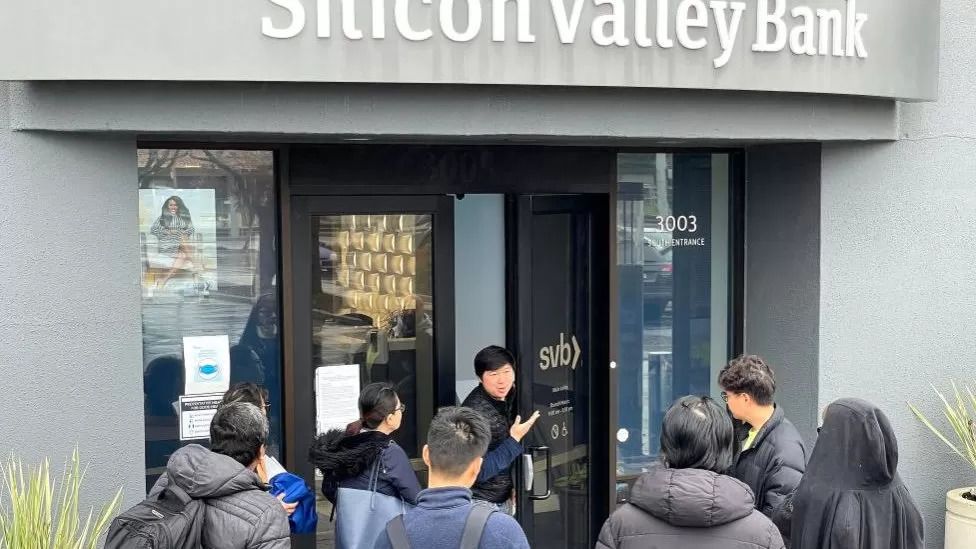 The collapse of Silicon Valley Bank helped to trigger the recent loss of confidence

Central banks and governments have been trying to calm market worries.

German Chancellor Olaf Scholz defended Deutsche Bank at a news conference on Friday, noting that it had "thoroughly reorganised and modernised its business model" and was "very profitable".

Bank of England governor Andrew Bailey also told the BBC that the UK banking system was "safe and sound".

But mixed messages from US authorities as to whether they were prepared to guarantee all bank deposits have led to confusion and hopes that calm had been restored to the sector appear to be have been premature.

US Treasury Secretary Janet Yellen convened an unexpected Friday meeting with regulators on financial stability, while use of an emergency lending programme for banks that the US central bank created this month has increased over the past week, the Federal Reserve reported.

Bloomberg News also reported that UBS and Credit Suisse were being investigated by the US Department of Justice into whether they had helped Russian oligarchs avoid sanctions.

Meanwhile, the financial turmoil sparked by the failures has raised uncertainty about how much higher interest rates might go.

Federal Reserve chairman Jerome Powell said this week the bank may not lift borrowing costs much more, if the banking panic continues to weigh on lending and slows economic growth.

But on Friday St. Louis Fed president James Bullard, who is not currently on the rate-setting committee, said he thought the panic would subside, leading to higher rates than the roughly 5% currently expected.

Joachim Nagel, president of Germany's Bundesbank, said still rampant inflation meant central banks should continue to raise rates.

He declined to comment on Deutsche Bank, but said market turmoil was to be expected after the failures of Silicon Valley Bank and Signature Bank in the US and the UBS takeover of Credit Suisse.

"In the weeks after such interesting events, it is often a bumpy road," he said.