Hanscom Smith says US State Department report is 'not confrontational' and maintains 'a very consistent policy in supporting Hong Kong' in interview with Post.
The United States' top envoy to Hong Kong has maintained that his country's latest report painting a bleak picture of deteriorating liberties in the city does not amount to a confrontational approach, insisting the findings were outlining "the truth".

Hanscom Smith, the US consul general, also said Britain's recent move to pull judges from Hong Kong due to a Beijing-imposed national security law was proof that the city could not adopt a fragmented view on the rule of law.

"You can't have rule of law a la carte and have one system for some parts of Hong Kong and then another system that is completely unaccountable for vaguely defined, quote unquote, national security issues," he said, during an interview with the Post on Friday.

Smith was speaking hours after the US State Department issued its annual update, as required under its Hong Kong Policy Act, depicting a grim picture of deteriorating liberties in the city's political, media, and civil society circles.

The report formed the basis of US Secretary of State Antony Blinken's decision to reaffirm Washington's position that Hong Kong "does not warrant" special US treatment distinguishing it from the rest of China as it once did.

Smith stressed the Hong Kong Policy Act found its roots back in 1992, adding that what had changed was "Beijing's sustained efforts to dismantle the rights and freedoms that are promised to Hongkongers in an international treaty".

"It's not confrontational. It's simply maintaining a very consistent policy in supporting Hong Kong as we always have, in anticipation of the handover and since the handover," he said, referring to the return of sovereignty by the British government to China in 1997.

He added that since the 2019 anti-government protests, which subsequently triggered Beijing to impose a national security law the following year, Hong Kong had experienced the dismantling of its democratic institutions, unprecedented pressures on the judiciary and the stifling of academic, cultural and press freedoms that led to the closure of dozens of civil society groups.

"They undermine that predictability and transparency have allowed the city to thrive," he said. "I don't think telling the truth is [being critical]."

The diplomat did not mince words when he commented on the national security law, almost two years after its implementation, saying that it is time to "banish the fiction" that the law is the equivalent of those passed by democratic countries.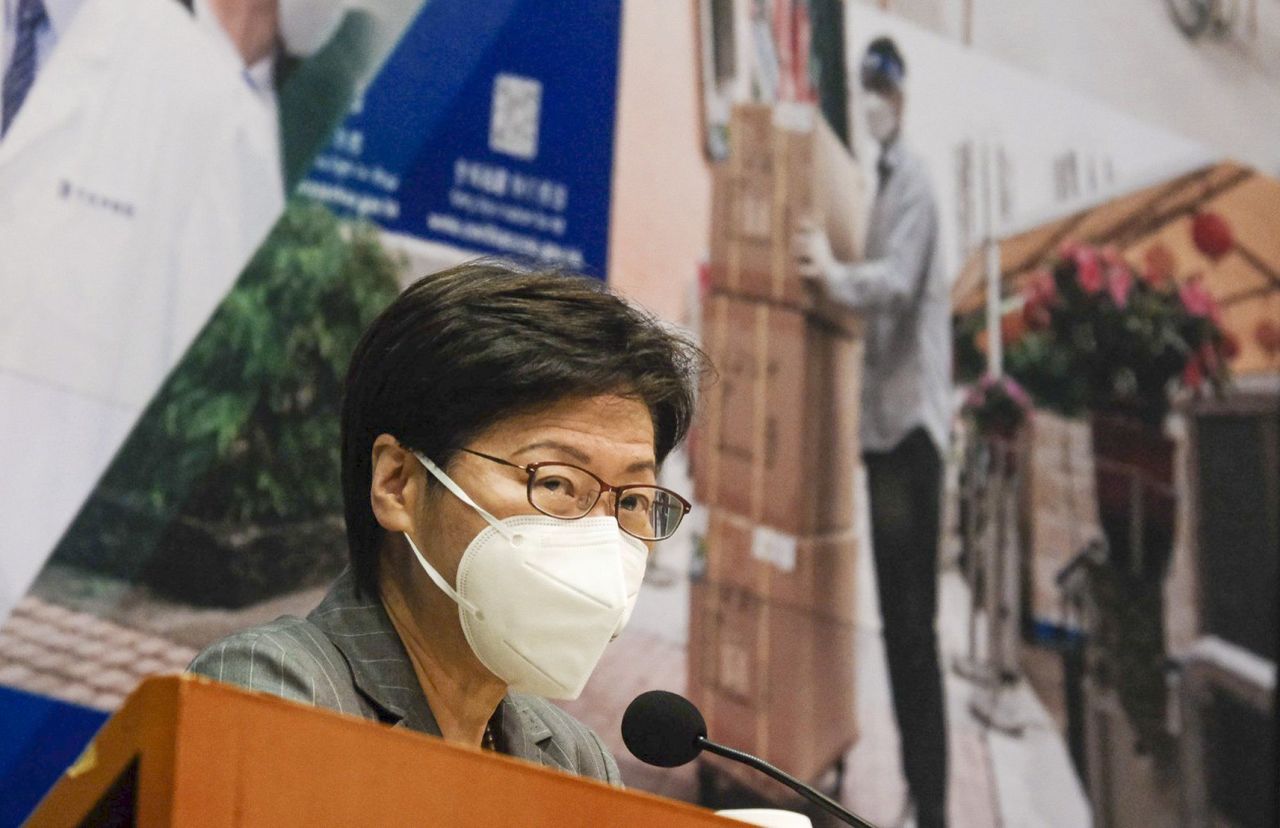 Chief Executive Carrie Lam.


"The national security law for Hong Kong was imposed by Beijing, and it creates a separate legal channel that is simply not accountable," he said.

He did not answer directly when asked whether he feared further US actions could trigger Beijing's wrath, leaving Hong Kong to bear the brunt, nor did he reveal what other concrete measures the American government might have on the cards.

"We don't preview or comment on the potential actions that we might take," he said.

But he added: "It's also extremely important to document and shine a spotlight on exactly what Beijing has been doing. The idea that somehow everything's the same in Hong Kong and it's business as usual, simply is not the case."

The US government has so far sanctioned 42 Hong Kong and mainland Chinese officials that they have attributed to the deterioration of the city's liberties, including Chief Executive Carrie Lam Cheng Yuet-ngor.

The diplomat said he would not comment on whether Lam would continue to face sanctions should she not seek re-election following the end of her current term, as he did not "comment on individual cases".

The pro-establishment camp in the city has suggested that the coming chief executive election in May, a poll with just 1,500 voters from an Election Committee filled predominantly with Beijing loyalists, might be a one-candidate game.

Smith said the US had always been clear on its support for "greater representation and the ultimate aim of universal suffrage" for Hong Kong, citing its criticism of the Legislative Council election in December, the first since a Beijing shake-up of the city's political system.

He refrained from weighing in on the consulate's relationship with the government, but said he had faced difficulties reaching out to civil groups.

"Many civil society organisations feel coerced, there's an atmosphere of fear, self-censorship, civil society leaders have been imprisoned, or they have left Hong Kong," he said.

He welcomed the government's planned resumption of direct flights from the United States, previously banned due to pandemic restrictions.

Smith said the consulate had consistently advocated for greater dialogue and transparency for the American and international business community.

Though, he warned: "Beijing's dismantlement of Hong Kong's autonomy is eroding the predictability and confidence that have been fundamental to Hong Kong's competitiveness as a place to live and do business".