'Anti epidemic' service aims to get inbound travellers to hotels quickly as the number of arrivals at airport increases.
Designated taxis took incoming travellers at Hong Kong airport to their quarantine hotels under a trial scheme launched on Monday aimed at shortening their journey time amid a recent surge in the number of arrivals.

The taxi industry said the move involving 100 vehicles would boost the income of participating drivers, who would receive a subsidy of HK$1,500 (US$191) per day, noting the government had scaled back another programme in which cabs took Covid-19 patients to clinics from a peak of 900 vehicles in March to 90 at present.

Fully vaccinated travellers must stay at designated quarantine hotels for seven days and undergo four polymerase chain reaction tests in the first two weeks of their arrival, as well as take daily rapid antigen tests while in isolation.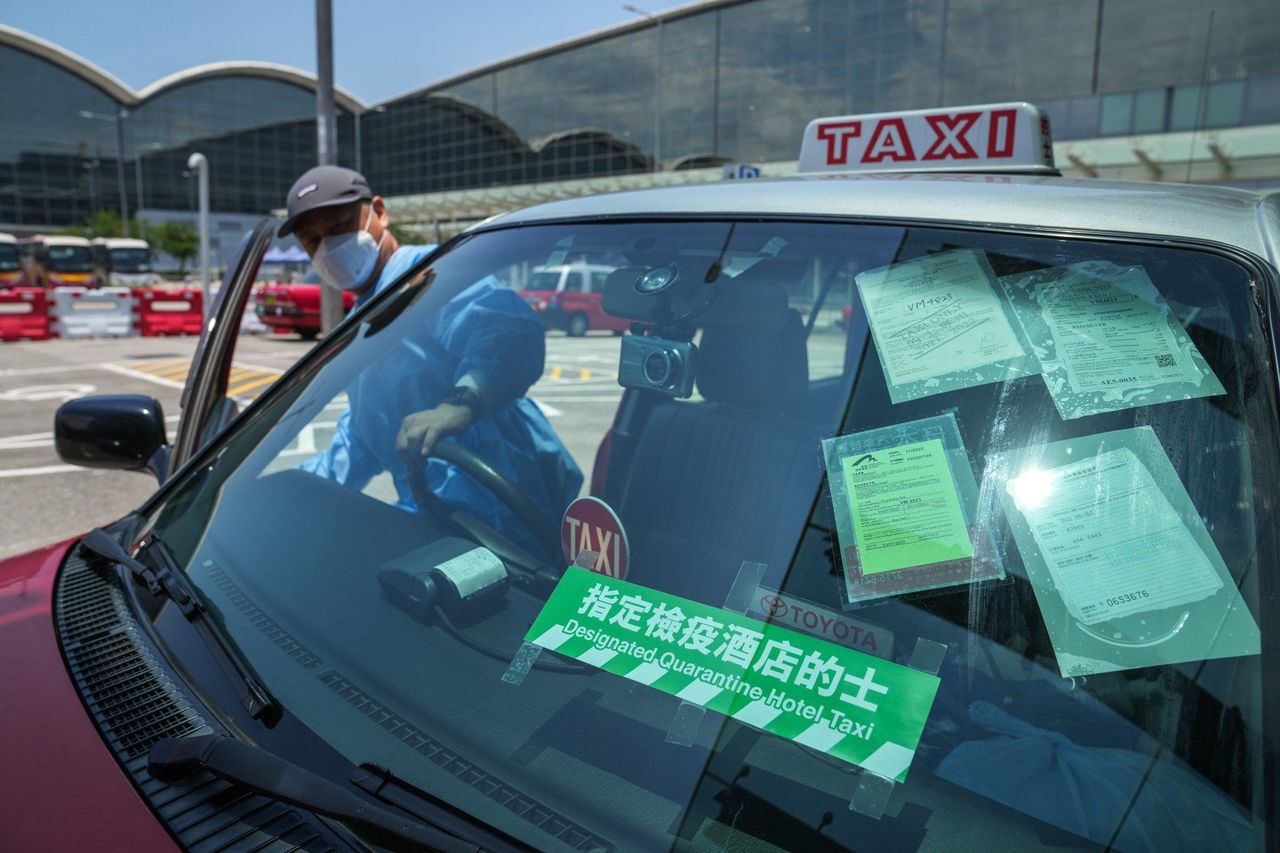 A designated quarantine hotel taxi waits for passengers at Hong Kong International Airport in Chek Lap Kok.

A government spokesman said the new taxi service was in response to an increasing number of people arriving in Hong Kong from overseas, leading to a rising demand for transport services to quarantine hotels.

"The government has … also introduced new options of self-paid transport services, with a view to shortening the journey time from the airport to their hotels," he said.

So far July has seen 95,342 visitors arriving at Hong Kong International Airport, which means it is on track to break the monthly arrival record for 2022 set in June when a total of 102,680 people flew into the city.

Meeting the press on Monday, Secretary for Transport and Logistics Lam Sai-hung said the new taxi service would provide another option for inbound travellers to get to their quarantine hotels on top of the existing free shuttle bus service and self-paid limousines offered by hotels.

"We have to react to the demand from the community on such taxi services and we have heard quite a lot of voices on this service," he said. "I am sure that this will meet the demand of some of the landing passengers. We will review the demand and adjust the service level to suit."

Lam did not rule out adding more designated taxis for picking up inbound travellers, saying they would increase the number if there was more demand.

"So far the operation has been smooth today … If required, we can engage more taxis to suit the demand," he said.

To use the service, passengers will have to pay the metered fares and any additional charges including tunnel tolls and luggage fees at their own expense.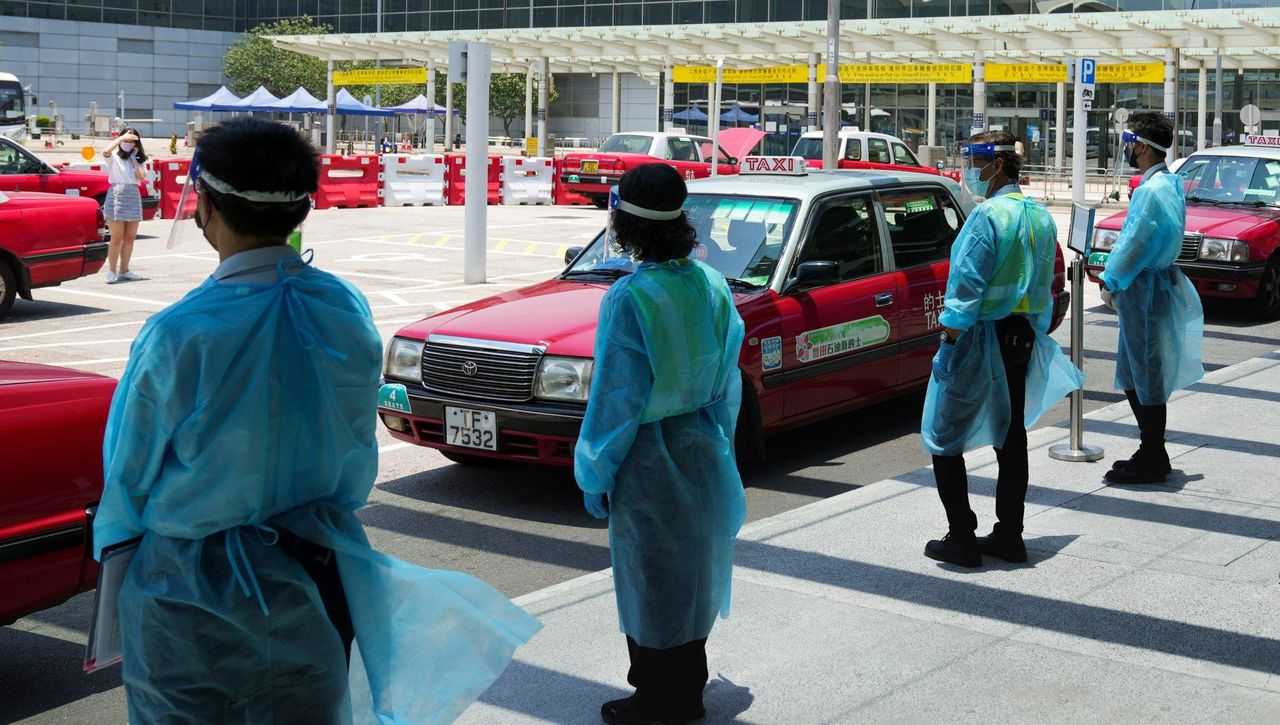 Taxis provide inbound travellers with a point-to-point transport service from the airport to the quarantine hotel.

Taxi drivers will not transport passengers to other places or pick up other fares. For anti-epidemic purposes, customers may only use the back seats of the taxis. The service will operate from 8am to 2am daily.

Drivers must wear protective equipment, including masks and gowns, and fully clean and disinfect the inside of the vehicle upon completion of every single journey.

Chau Kwok-keung, chairman of the Hong Kong Taxi and Public Light Bus Association, who coordinated the "anti-epidemic" fleet, said the new service at the airport would definitely boost the industry's business with drivers earning a net income of over HK$40,000 a month.

"At present it takes a few hours for a free shuttle bus to complete a journey and drop off passengers at different hotels," he said. "If the quarantine rules are further eased, more travellers will come to Hong Kong and the government will need to roll out more anti-epidemic taxis to take them to their hotels."

Keung Sik-chuen, 42, is among the drivers who hoped to join the airport taxi service as his monthly income had dropped to about HK$12,000 last month. He signed up to ferry coronavirus patients to outpatient clinics earning over HK$70,000 a month for two months from February to April.

"I quit in April because the demand for that service had dropped. But the income at that time was really good," he said. "If there is still a quota, I really hope to sign up for this new service at the airport."