Operators of the city's care homes for the elderly say the sector still lacks about 5,000 to 6,000 carers, after thousands of staff were infected or quarantined.
Covid-19 lockdowns in mainland China have delayed the arrival of hundreds of care workers from across the border urgently needed to look after Hong Kong's infected elderly and disabled residents.

Operators of the city's care homes for the elderly said the delay had further crippled the sector, which still lacked about 5,000 to 6,000 carers, after thousands of staff were infected or quarantined.

Lockdowns in neighbouring Shenzhen and several major cities on the mainland, caused by a new round of surging infections, have complicated matters further.

"The outbreaks on the mainland have hindered these care workers from coming to Hong Kong to work," said Kenneth Chan Chi-yuk, chairman of the Elderly Services Association of Hong Kong. "It is a huge headache for us."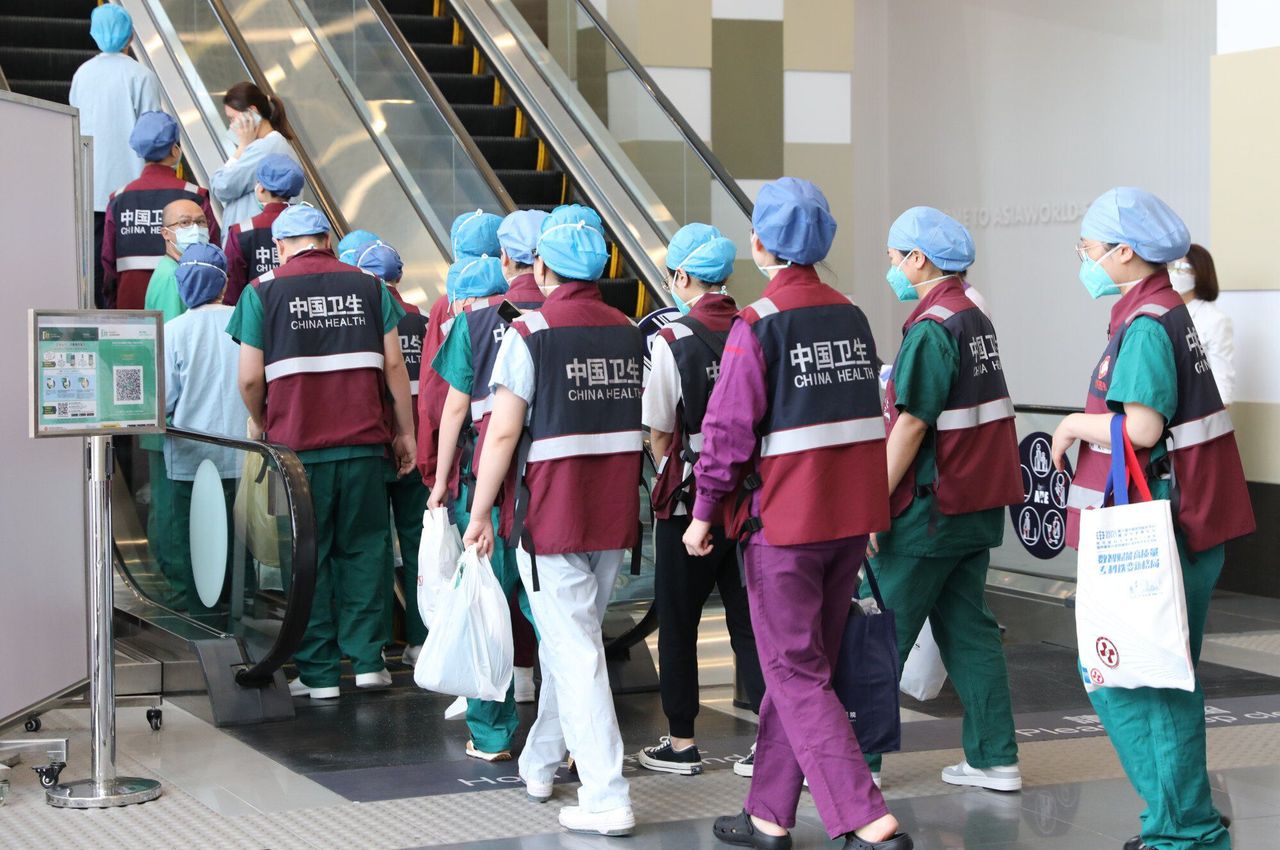 Staff from medical units in Guangdong province arrive at AsiaWorld-Expo on Tuesday.

With an increasing number of infections among care home personnel aggravating the already severe manpower shortages, the government has resorted to hiring workers from the mainland to boost the workforce.

Since March 1, authorities have been trying to recruit 1,000 temporary mainland workers to care for elderly and disabled residents in various isolation facilities, and have relaxed requirements for care homes to import staff for three months.

Hong Kong Chief Executive Carrie Lam Cheng Yuet-ngor said during a press briefing on Wednesday that some 180 temporary care workers from the mainland had arrived in the city.

Both Lam and operators of care homes said the recruitment process faced challenges as candidates were concerned about Hong Kong's Covid-19 outbreak. The lockdowns across the border have also presented complications.

Chan said care homes were recruiting thousands of mainland workers under the relaxed supplementary labour scheme, but at least 300 of them were suddenly placed under lockdown before coming to Hong Kong. He said he believed the number would increase with the continued lockdowns across the border.

About one third of the staff in private care homes were mainlanders, but it became more difficult to recruit workers from across the border during the pandemic, as many were concerned about Hong Kong's infections, Chan said, adding that flight suspensions between the city and other countries also made it impossible to bring workers from elsewhere.

"Distant water cannot put out a nearby fire," he said.

Given the difficulties in bringing over mainland help, Chan said care homes were also recruiting local staff to make up for the shortage, which was proving challenging as many were unwilling to look after infected elderly patients.

The government and medical institutions were also competing for recruits with higher salaries, he said.

Chan said they held a local recruitment event last week, which initially attracted about 2,000 people. But after interviews, training and internship sessions, only 20 were eventually hired, after many candidates withdrew because they were unwilling to care for elderly patients with Covid-19.

"We invested huge resources in the recruitment process, but the outcome was still not ideal," he said.

F.E.L.C. (Hong Kong) Co Limited, an employment agency helping the government recruit mainland care workers, said the company planned to bring over about 100 workers to the city on Tuesday, but only about 70 made it, after the rest were placed under a citywide lockdown in Shenzhen starting from the same day.

"Many workers planned to come to Hong Kong, but they were suddenly put under lockdown," said the company's general manager, who asked to be identified only by his surname Li.

The agency would try to bring another batch of workers this week from other mainland cities without lockdown measures, Li said. So far, the company has received more than 600 applications and brought over more than 100 mainland workers.

As of Tuesday, 29,170 residents and 7,290 staff in 757 elderly care homes were infected, while 271 care homes for the disabled also logged positive cases for 7,680 residents and 2,725 staff.

Health authorities said on Wednesday that 279 elderly care homes and 122 facilities for disabled persons had recorded infections over the past two weeks.

Hong Kong reported 29,272 infections and 279 deaths on Wednesday.