Many people take to the streets in scattered and highly mobile protests, playing cat and mouse with police in scenes reminiscent of the city's 2019 social unrest.
Hongkongers commemorated the June 4 anniversary of the Tiananmen crackdown with scattered pockets of defiance on Friday, shouting pro-independence slogans on the streets, lighting candles and flashing their phone lights in public, or attending church gatherings, after a heavy police presence stopped them from holding their large-scale annual vigil for the first time in 31 years.

While police banned the traditional mass gathering at Victoria Park for the second straight year citing Covid-19 restrictions, this time they locked down the venue to prevent a repeat of 2020 when thousands still forced their way in to light candles in memory of those killed by security forces who crushed weeks of student-led pro-democracy protests with tanks and guns at Beijing's Tiananmen Square in 1989.

But many took to the streets in scattered and highly mobile protests, playing cat and mouse with police in scenes reminiscent of the 2019 anti-government demonstrations.

As of 11.30pm on Friday, police said six people, aged 20 to 75, had been arrested on suspicion of inciting others to participate in an unauthorised assembly, common assault, criminal damage, disorderly conduct in public places and obstruction of officers from performing their duties in different parts of the city. Twelve people were also fined for violating restrictions on public gatherings.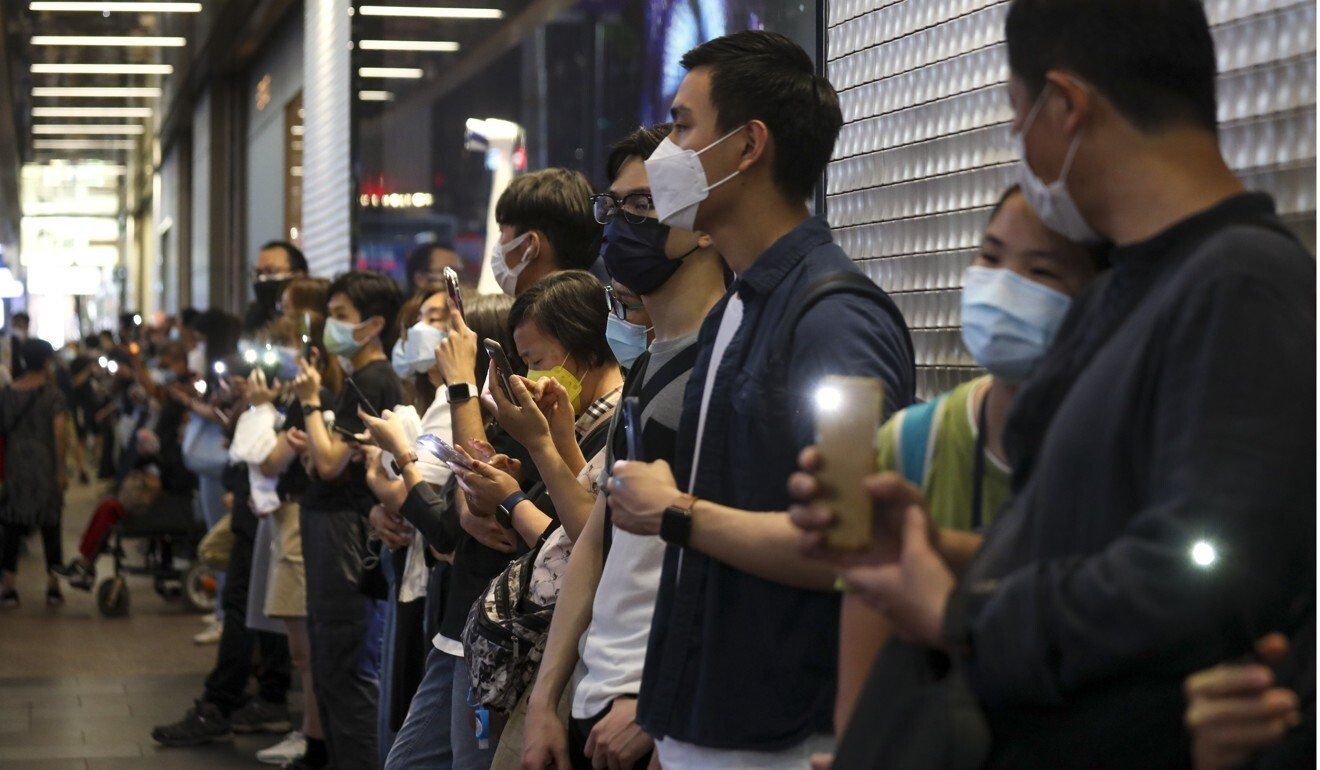 Residents used their phone lights when the clock struck 8pm.

Some on the streets vowed to return in any way they could next year, while others were pessimistic about ever being allowed to again – an outlook shared by political commentators who said the national security law imposed by Beijing spelled an end to the days of the city being the only part of China to hold such mass protests on June 4.

The United States consulate and the European Union office in Hong Kong separately posted photos on social media showing they had lit candles in their premises in an unprecedented move to commemorate the Tiananmen crackdown.

The EU office in Hong Kong marks the anniversary with candles.

The US consulate posted a statement by Secretary of State Anthony Blinken declaring that the pro-democracy protests of 1989 "echoed in the struggle for democracy and freedom in Hong Kong".

In a message on Twitter, the EU's Hong Kong office said: "The European Union upholds universal human rights at home and calls for their respect across the world."

On Saturday, China's Office of the Commissioner of the Ministry of Foreign Affairs in Hong Kong, through a spokeswoman, condemned the US, EU and other Western countries for staging "clumsy political shows" and acts that echoed the "very few anti-China troublemakers destabilising the city".

She accused the West of having a hidden agenda of sowing instability in Hong Kong by using the city to carry out infiltration, subversion and sabotage against China.

Urging the US and others to reflect on their internal issues such as a growing wealth gap, ongoing racial discrimination and police violence, she accused them of hypocritically passing judgement on the internal affairs of others.

"We again urge the organs of relevant countries in Hong Kong to immediately stop such futile political farce, stop meddling with Hong Kong affairs and China's internal affairs at large, and avoid playing with fire," she said.

Referring to America's Statue of Liberty, which has been standing for over a century, the spokeswoman said ethnic minorities in the West had yet to be guaranteed genuine freedom. She also pointed to the surge in gun sales and shootings in the US as evidence of its domestic problems.

Tam Yiu-chung, Hong Kong's sole delegate to the National People's Congress Standing Committee, Beijing's top legislative body, said he agreed with police's decision to ban the vigil on Friday because of the pandemic.

He said whether there would be future vigils depended on police, but stressed that the slogan of organiser Alliance in Support of Patriotic Democratic Movements of China, which touted an "end to one-party rule", was problematic.

"It's an underlying meaning that may probably be inconsistent with the existing law," Tam added, referring to the national security legislation. But he said whether it would amount to a breach centred on the overall intent and goal.

Friday began with the arrest of barrister Chow Hang-tung, vice-chairwoman of vigil organiser the Hong Kong Alliance in Support of Patriotic Democratic Movements of China, who was accused of promoting the event despite the ban.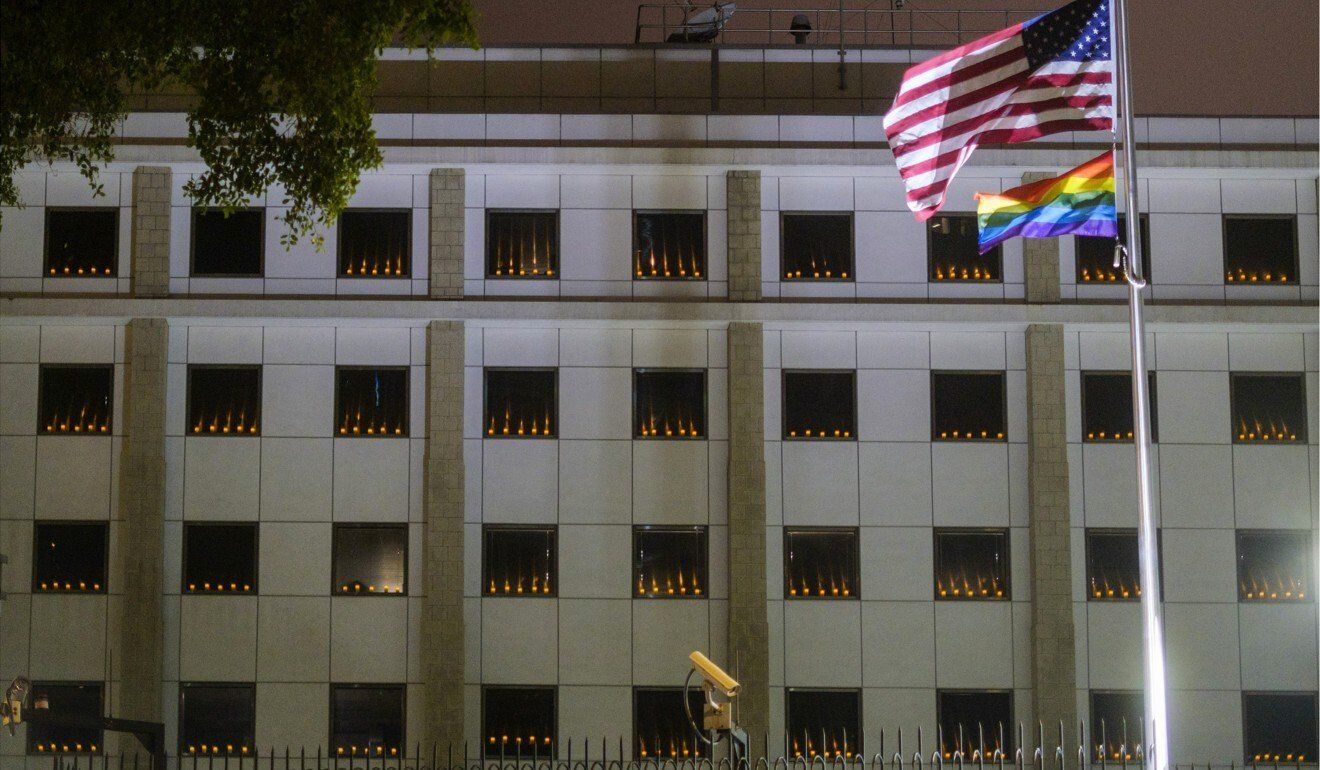 Electric candles line the windows of the US consulate in Hong Kong.

Police were out in force throughout the day, throwing a tight cordon around the park, stopping and searching people, and keeping a water cannon truck ready.

Scores of defiant protesters gathered outside the park with their phone lights turned on as night fell.

Police raised blue and yellow warning flags, ordering them to leave and making sure they eventually dispersed before closing off the entire park to the public.

Officers raised a purple flag to warn against national security law offences when groups who retreated to Kingston Street and Paterson Street in Causeway Bay began shouting, "Liberate Hong Kong, revolution of our times," a signature slogan from the 2019 anti-government protests.

In a similar show of defiance, about 50 people formed a glowing line with candles and phones outside the Sogo department store nearby.

The taxi rank in front of the Times Square shopping centre was blocked with rubbish bins by a group wearing black who were chased off by police.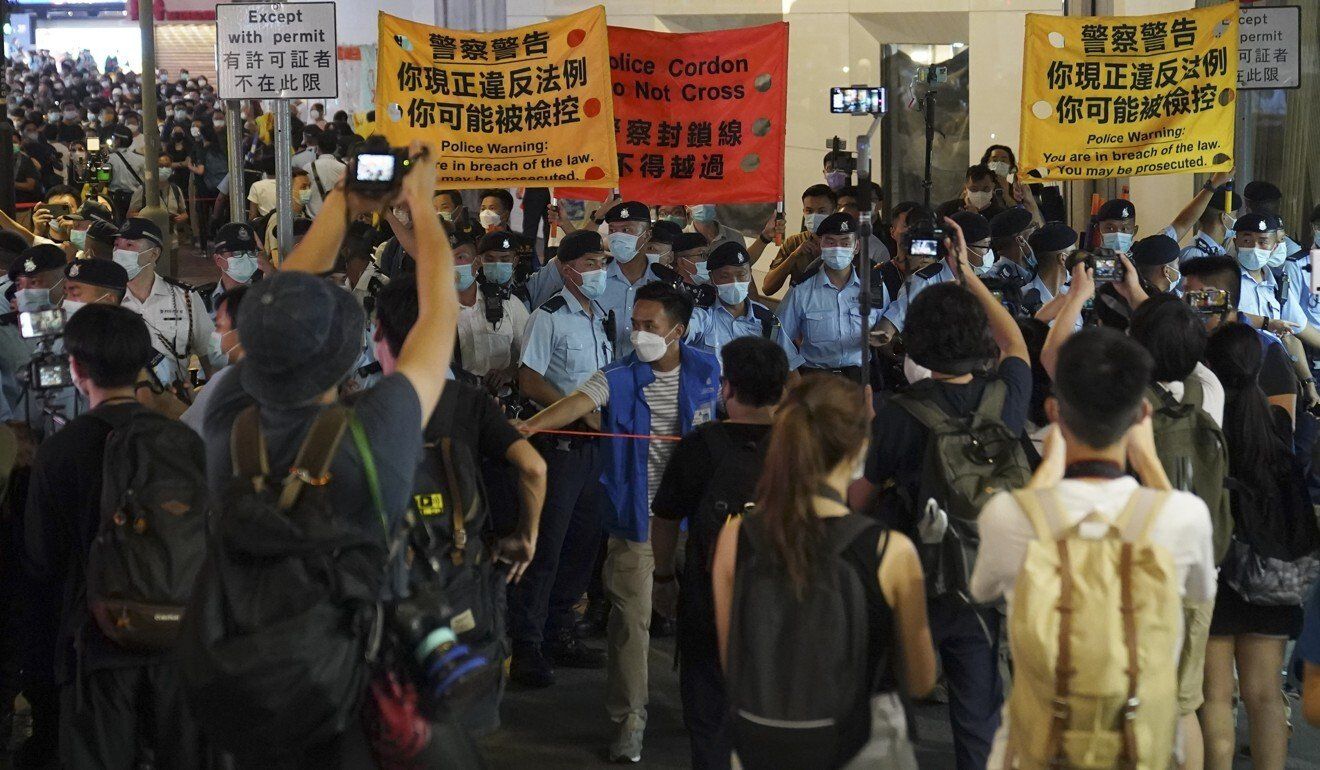 Police raise warning flags on Friday evening.

Across the harbour on the Kowloon side, dozens gathered in Mong Kok's Sai Yeung Choi Street, shouting, "Hong Kong independence, the only way out," again prompting police to raise the national security warning flag.

At around the same time, drivers honked car horns outside St Benedict Church in Sha Tin, while groups wearing black flashed their phone lights.

In Mong Kok, a woman in black summed it up for those who remained resentful after the 2019 protests.

"Today is not just about Tiananmen Square but about 2019 … This is the first time [in many months that] we have been able to gather and have our voices heard," she said.

"Hong Kong people still have the same ideas as before. That has not gone away."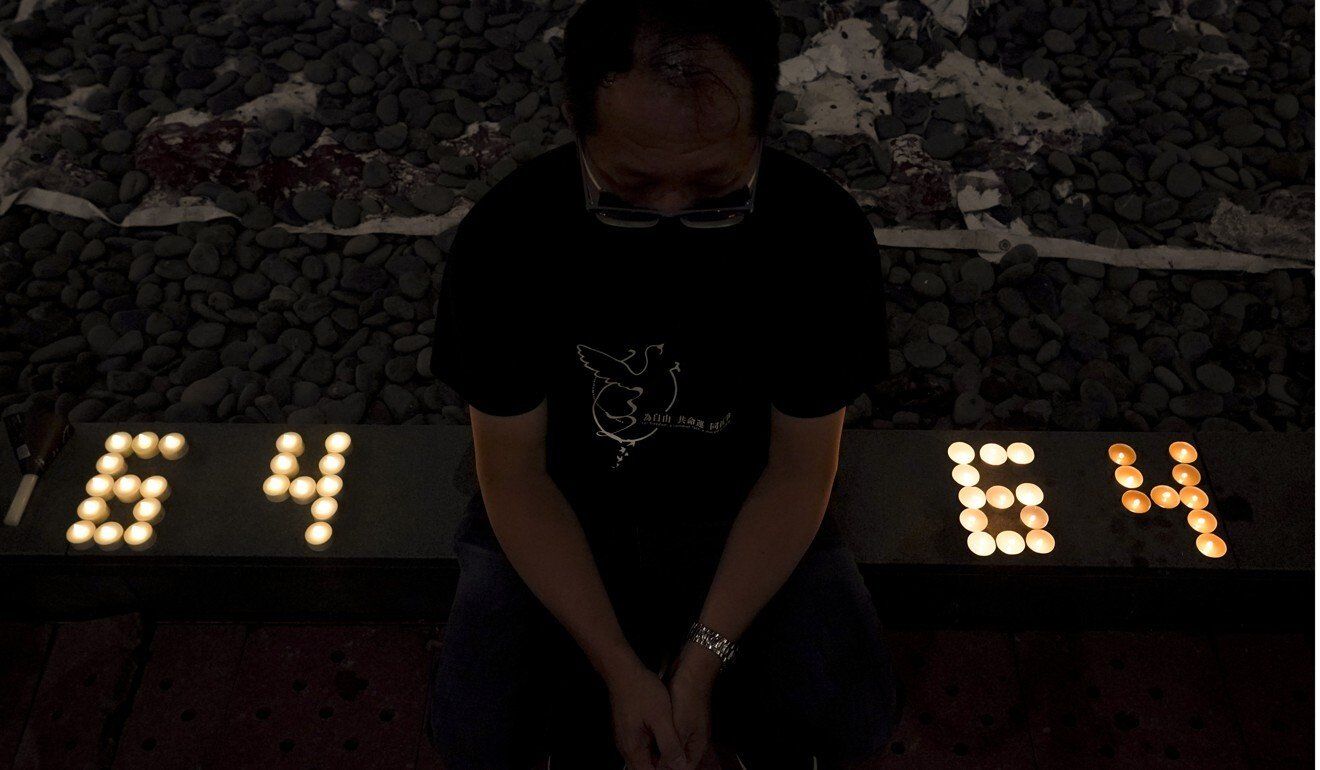 Richard Tsoi of the Hong Kong Alliance in Support of Patriotic Democratic Movements of China marks June 4.

At a small candlelight vigil in Tsuen Wan, a 66-year-old security guard said she preferred to counter the Victoria Park ban by taking part in such scattered gatherings elsewhere.

Cardinal Joseph Zen Ze-kiun, retired bishop of Hong Kong, led hundreds in prayer at St Andrew's Catholic Church in Hang Hau, saying authorities still failed to listen to people's voices after decades.

"The tragedy of June 4 will not leave us gradually. It may re-emerge … if the authorities still believe they can kill patriotic young people for the so-called common good," he said.

Analysing the defiance on the streets, political scientist Ivan Choy Chi-keung from the Chinese University of Hong Kong suggested that those who were shouting pro-independence slogans only constituted a small minority.

"The laws are too harsh, and people are angry about it," he said. "Authorities have also been high-handed, making people worry about wearing black, or switching on their phone lights. Hong Kong people value their freedom, and measures like these will not win hearts."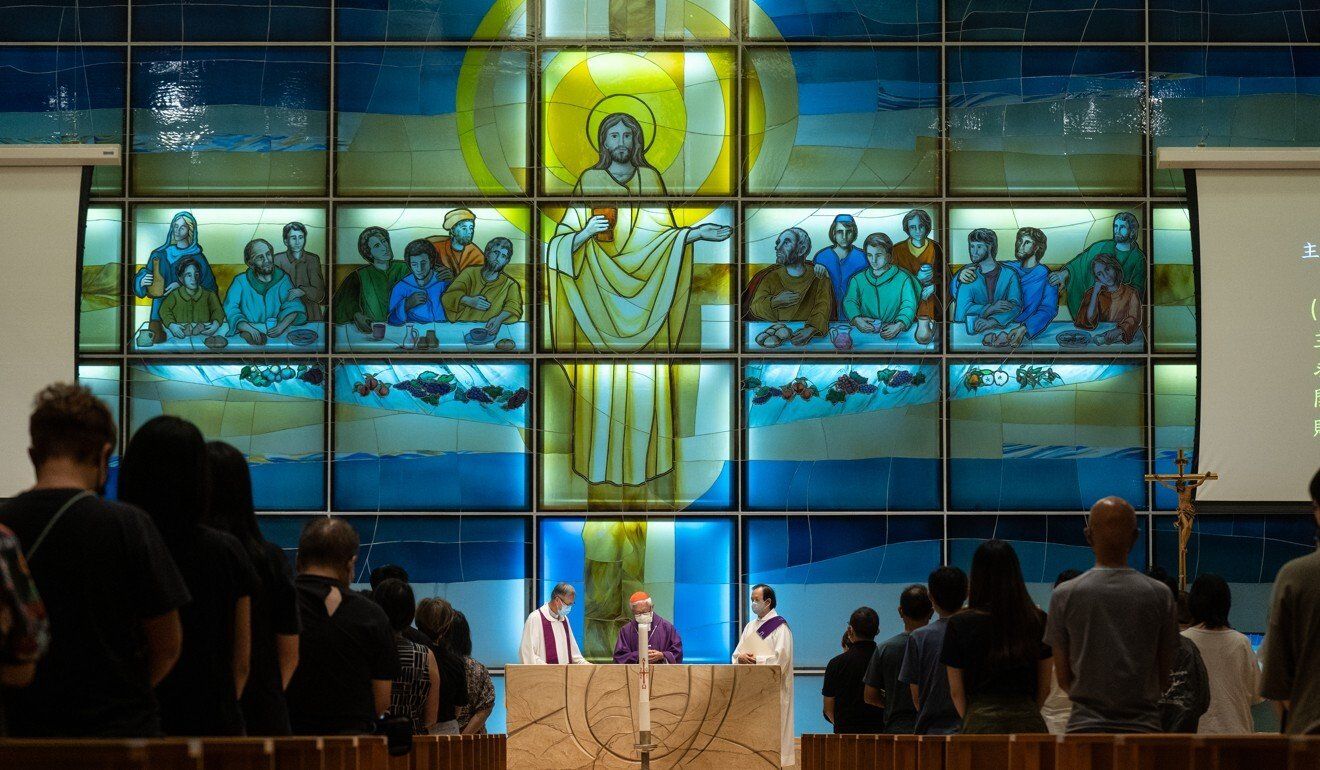 Cardinal Joseph Zen leads hundreds in prayer at St Andrew's Church in Hang Hau.

Dr Cheung Chor-yung, a political scientist at City University, was not surprised that people were still protesting even after many activists had been charged and detained under the national security law.

"In the last two years, the people's mistrust in the unpopular government has not eased. It's because Hong Kong people are peaceful and rational, that they have not vented until now," he said.

Liberal and pro-establishment political commentators alike were of the view that even after the pandemic in future, the sweeping national security law spelled an end to mass vigils at Victoria Park.

Lau Siu-kai, vice-chairman of Beijing-based, semi-official think tank the Chinese Association of Hong Kong and Macau Studies, said it was foreseeable authorities would ban such activities, deeming them harmful to national security.

"The local government this year was not courageous enough to enforce the national security law, so it cited health grounds as the reason," he said.

"In the coming few years, the central government will not permit any activities that provide opportunities for the public to vent their anger, including such vigils. I think 2019 was the last year that authorities permitted the annual vigil to be held in Victoria Park."

Ray Yep Kin-man, another political scientist at City University, expected a repeat of Friday's massive police deployment in dealing with future mass gatherings.

"The government now acts against intention rather than actual behaviour, and is expected to consider most democratic civil groups as threats," he said.

Shut out of Victoria Park, the alliance organising the annual vigils posted its traditional declaration on social media, vowing to continue pursuing its stated goals.

"Today the authoritarian regime may seem indestructible, but the tide of freedom and democracy will one day bring down its high walls," the statement read.

"Release the dissidents! [Vindicate] the 1989 pro-democracy movement! Demand accountability for the June 4 massacre! End one-party dictatorship! Build a democratic China!"

Calling for an end to one-party rule in China goes against the national constitution and could lead to the alliance being banned eventually.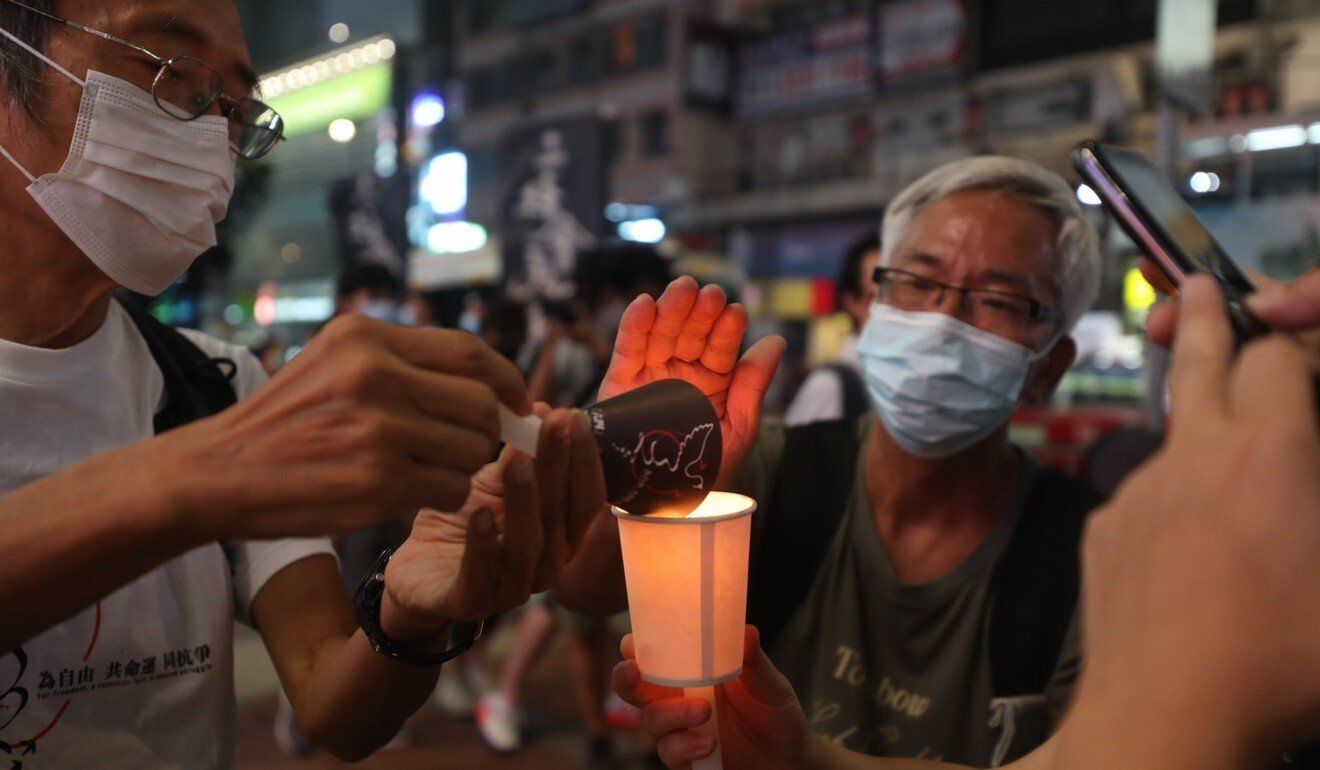 Many marked the date in their own way on Friday.

A leading legal scholar who spoke to the Post on condition of anonymity said the slogan could also be regarded as subversive under the national security law.

"It is likely that such activities will not be allowed in the future in the context of applications for assemblies under the Public Order Ordinance," he said.

But the scholar suggested other activities, such as vigils to remember those who died, were less likely to be considered as violating the security law.

Barrister Ronny Tong Ka-wah, a cabinet-level adviser to Hong Kong's leader, was also more optimistic that smaller-scale vigils without slogans deemed subversive would still be acceptable in the city when the political climate became more stable.

"This year, it's just because of the pandemic," he said. "I still believe there is freedom of assembly and simply mourning should be permitted."