The four men are facing charges arising from a confrontation between protesters and officers outside Sham Shui Po police station on the night of August 25, 2019.
A Hong Kong judge has warned four defendants to expect to spend up to nine months in jail after he found them guilty of taking part in an unlawful assembly outside a police station during the 2019 social unrest.

The four men were among eight others and one woman who stood trial at District Court last month over charges arising from a confrontation between protesters and officers outside Sham Shui Po police station on the night of August 25, 2019.

The remaining five defendants were acquitted on the grounds they could have been innocent passers-by.

Thousands of protesters took part in the 2km march from Kwai Chung to Tsuen Wan earlier in the day to protest against police's handling of anti-government rallies, fuelled by anger over a proposed extradition bill, which the leadership ultimately withdrew.

The approved procession later descended into chaos as demonstrators gathered in various districts at night to block roads and confront police with laser pointers.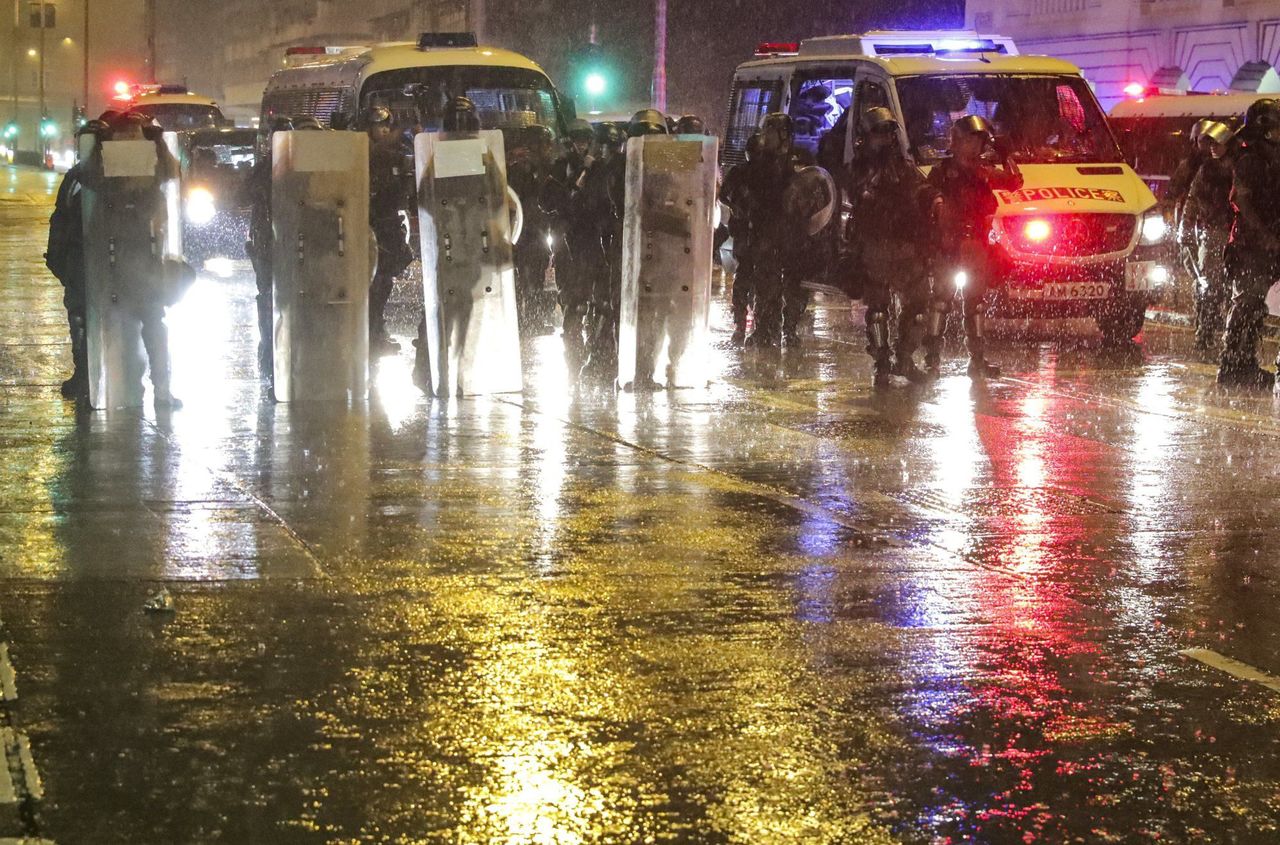 Hong Kong Police in Sham Shui Po on August 25, 2019.

The court heard that the illegal gathering in Sham Shui Po started at 8.26pm, when hundreds of protesters paralysed Yen Chow Street and confronted officers outside the police station. Some participants shone laser beams at the building and hurled insults at officers, who had unsuccessfully tried to disperse the crowd with tear gas.

The gathering ended at around 10.08pm after police began arresting people who refused to leave. Some people, including the nine accused, were stopped at a nearby junction.

Defence lawyers did not dispute the assembly was unlawful, but argued the prosecution had insufficient evidence to prove their clients' participation.

In particular, lawyers noted the lack of video evidence supporting the allegations against four of the accused: surveyor Lam Ho-ting, 30, construction worker Lam Yik-chun, 27, Lam Ka-fung and Hon Tsz-tung, aged 38 and 25 respectively and both jobless.

Judge Clement Lee Hing-nin agreed with the argument, saying that although police had seized items from the suspects that could link them with the unrest, he would grant them the benefit of the doubt as their overall appearance fell short of what was expected of a typical protester.

Another defendant, 23-year-old student Wong Chak-fung, was alleged to have appeared on live television that night roaming the scene dressed all in black, but the judge also cleared him of the charge, saying the footage was too grainy to prove the prosecution's claim.

That said, Lee found the prosecution had successfully relied on news footage to prove the involvement of four other defendants: MTR technician Kung Hon-man, 25, and students Ip Cheuk-pong, 19, Tong Hang-fai, 25, and Jeff Lo Yu-pak, 21.

Lee further convicted Ip of a second count of taking part in an unlawful assembly in relation to an earlier incident at the same location that night.

The judge remanded the four men in custody ahead of sentencing on March 7, adding that they should expect a prison term between six and nine months based on precedents.

Taking part in an unlawful assembly is punishable by up to five years imprisonment under the Public Order Ordinance.