Lawyers for Tong Ying-kit argue the prosecution has failed to make the case for a no-jury trial. Tong is charged with terrorism and incitement to commit secession in relation to a July 1 protest.
The first person to be tried under Hong Kong's national security law has mounted a legal challenge against the exclusion of jurors from his case, calling the prosecution decision unfair, irrational and an infringement of defendant rights.

Lawyers for Tong Ying-kit – who is accused of riding a motorcycle into police last year – said prosecutors had failed to show the measure was necessary and that the proceedings could be prejudiced by jury tampering or intimidation.

Applying for judicial review on Wednesday, Tong's defence team argued that no-jury trials should only be allowed once it was established to a high standard of proof they were required, or at least shown to have a "demonstrable rational basis", adding neither benchmark had been reached in this case.

Tong, 24, is set to stand trial in June before three High Court judges – all appointed by Hong Kong's leader to oversee national security law proceedings – on charges of terrorism and incitement to commit secession. He faces a maximum sentence of life imprisonment if convicted.

Invoking a provision in the national security law, Secretary for Justice Teresa Cheng Yeuk-wah previously instructed the judiciary to dispense with a jury trial.

Cheng said the arrangement under Article 46 of the Beijing-imposed legislation aimed to protect the personal safety of jurors and their relatives, as well as to safeguard the administration of justice, but she did not detail her reasoning.

Tong's lawyers did not challenge the constitutionality of the provision, but argued the prosecution lacked any basis for believing the pending trial would be prejudiced by jury tampering or intimidation, pointing to the absence of any history of actual or attempted attacks on the integrity of the judicial process.

Cheng's decision was also tarnished by procedural impropriety as she had failed to provide adequate reasons and give the defendant an opportunity to make representations, according to the court filing.

"The [secretary for justice] has only specified the [Article 46] grounds … without providing any demonstrable rational basis for, or reasons explaining, the finding of such grounds," the lawyers wrote.

Cheng's failure to explain her decision could lead to an inference that her reasons were legally flawed, or that she had abused her powers, the filing added.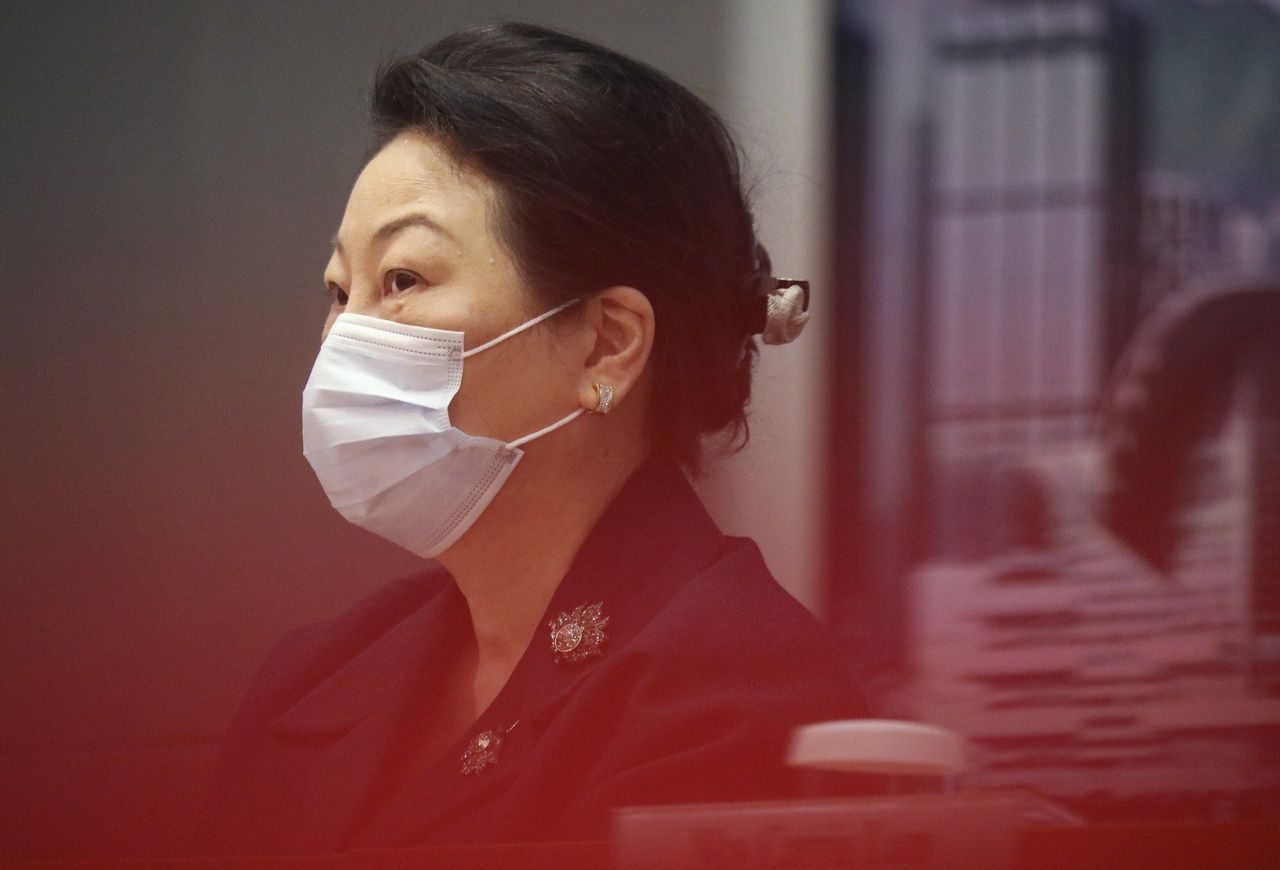 Justice secretary Teresa Cheng.

The prosecution accused Tong of ramming his motorcycle into a group of police officers during a demonstration on July 1 last year. It also alleged he carried a flag bearing the popular slogan "Liberate Hong Kong; revolution of our times", arguing that had the effect of inciting others to commit separatist acts.

Prosecutor Anthony Chau Tin-hang said in a pretrial hearing last month the case against Tong would rely on testimony from history professor Lau Chi-pang, vice-president of Lingnan University and a council member of the Chinese Association of Hong Kong and Macau Studies, a semi-official think tank.

In a 30-page report, Lau set out his understanding of the security law's secession provision, as well as explaining how the rallying call of the 2019 anti-government protests constituted an offence based on how the wording was historically understood.

In another pretrial hearing on Thursday, Chau asked the three judges – Esther Toh Lye-ping, Anthea Pang Po-kam and Wilson Chan Ka-shun – to treat Lau's statement as expert opinion that could determine the trial's outcome.

But the judges questioned why they should consider the historical meaning of the slogan's words when ruling on the defendant's culpability. The panel struck down most parts of the report, but agreed to take into account two sections where Lau gave his definition of the slogan as understood in modern times.

Tong will return to court on April 28, when counsels of both parties are expected to settle disagreements on the elements of the offences. The trial is slated for June 23.