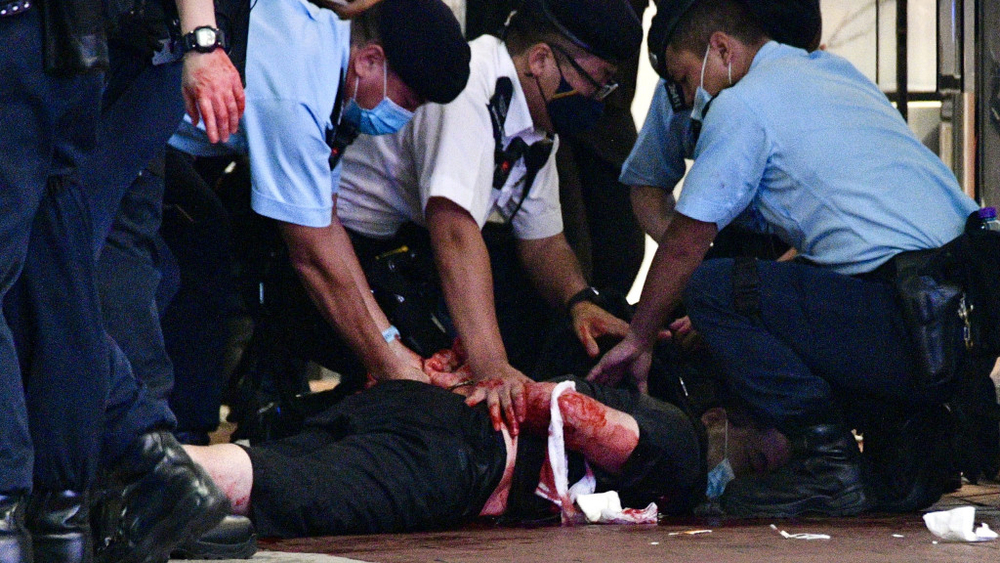 Death of man who stabbed self after stabbing cop ruled a suicide
A Hong Kong Court ruled on Wednesday morning that a man who stabbed himself in the chest after stabbing a police officer in causeway bay last year committed suicide.
Principal Magistrate David Ko Wai-hung and a jury of five judged the cause of Leung Kin-fai's death in the Coroner's Court today.

The court learned that the 50-year-old Leung had attacked a police officer on duty on July 1 last year in Causeway Bay.

The force deployed multiple officers around the scene to keep away protester gatherings in Victoria Park earlier on the day of the incident. At around 10 pm, Leung was spotted suddenly appearing from the crowd outside SOGO Department and rushed toward So King-cho, the officer, stabbing him from the back before stabbing himself in the chest.

Officers rushed to surround Leung, who fell to the ground covered with blood, subduing him and sending him to Ruttonjee Hospital, where he was certified dead at 11:20 pm.

Officer So was injured on the left side of his back and his lung.

In the ruling today at the court, Magistrate Ko said that the deceased, described by his relatives as "quiet", had not publicly revealed his suicidal tendency and political stand, but left eight flash drives at the scene with four Word files inside.

Two of the files - named "To Hong Kong Police" and "To Hong Kong Uncle Auntie," respectively - claimed the reason Leung attacked police officers was that he believed that the police injured innocent citizens in the protests.

"The society was hence disrupted," he wrote, "I hope what will happen today can bring order to it."