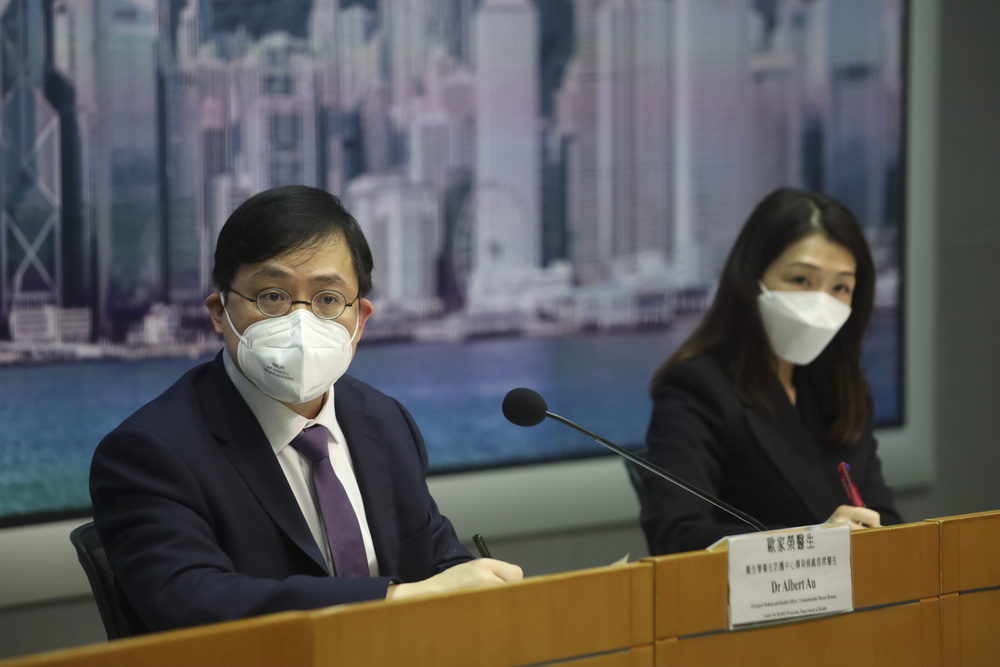 Database for recovered patients QR code updated as HK adds 628 Covid cases
Hong Kong reported 628 new Covid-19 cases on Thursday as health authorities said the database for positive cases has been updated over citizens' failed attempts to obtain designated QR code for recovered patients.
Among the new cases, 317 were confirmed via PCR tests including 25 imported cases. The other 311 cases were positive rapid antigen test results reported by citizens.

The overall tally of the fifth wave of pandemic outbreak now stands at 1,187,703.

The Centre for Health Protection's principal medical and health officer Albert Au Ka-wing said the Department of Health has uploaded all information of 1.18 million patients to the electronic QR code database for recovered patients.

Au also appealed to citizens who couldn't download the QR code to double-check if the information on the quarantine order is correct. He explained there may be two different dates when citizens had their samples collected or received their positive test results.

As of today, 250 primary schools and international schools have resumed classes. Authorities have detected seven positive cases so far, involving two students from two schools and five teachers and staffers from four schools.

Au continued that 16 of the imported cases were detected at the airport and nine were reported from quarantine hotels. These patients arrived from Thailand, the UK, South Korea, Pakistan, Singapore, Australia, the US, Malaysia, Canada, Germany and the United Arab Emirates.

Meanwhile, Hospital Authority's chief manager for patients safety and risk management Sara Ho Yuen-ha reported 26 related deaths, pushing the death tally to 8,999.

Three deaths on Monday and Tuesday were reported by forensics and 18 deaths were logged in public hospitals in the past 24 hours, including 11 men and seven women aged between 59 and 98. Ho also reported five deaths late due to delays in results.

Public hospitals and treatment facilities are now housing 2,583 patients. Among them, six are in critical condition, eight are in serious condition and 46 have been admitted to hospitals' intensive care units. A total of 298 recovered patients have been discharged.

Under Secretary for Food and Health Chui Tak-yi said collection points for rapid antigen testing kits designed for elderly have been restocked and reminded each senior to collect one testing kit at a time.

He urged citizens to maintain personal hygiene as the social distancing rules were eased today.