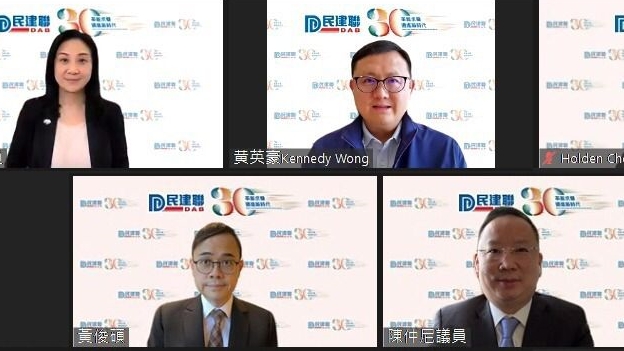 DAB proposes to enhance HK's status as a financial and IT hub
The city's biggest pro-Beijing party put forward several proposals regarding the Policy Address on October 19, including attracting investment and talents and enhancing Hong Kong's status as an international hub for finance, innovation and technology, and economy and trade.
The Democratic Alliance for the Betterment and Progress of Hong Kong (DAB) lawmakers Rock Chen Chung-nin, Edmund Wong Chun-sek, Kennedy Wong Ying-ho, Holden Chow Ho-ding and Elizabeth Quat Pei-fan announced the proposals through an online press conference on Tuesday.

The proposals included promoting the internationalization of the Chinese currency, strengthening the city's role as a major global capital formation center, promoting the interoperability of insurance business in the Greater Bay Area, and strengthening support for the development of the accounting industry.

Wong said the business sector was dissatisfied with the current three-day hotel quarantine plus four-day medical surveillance, as most international cities no longer have relevant restrictions. He hoped the government could soon remove the hotel quarantine.

Quat added that the DAB has proposed to the government to let citizens quarantine in mobile cabin hospitals in Hong Kong before entering the mainland, after which they can be taken to the mainland under closed-loop arrangements.