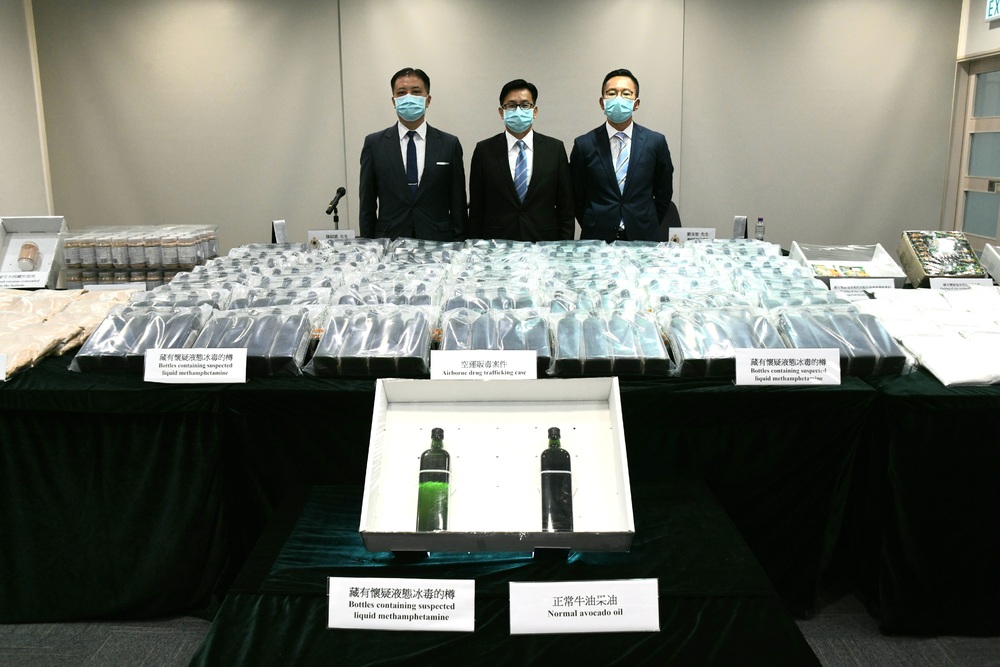 Customs seized drugs worth HK$230 million
Customs busted three drug trafficking cases with drugs worth a total of HK$230 million, including cocaine hidden in health food and liquid "ice" mixed inside avocado oil within 13 days.
The series of anti-narcotics operations was conducted between July 12 and 24, and officers seized 278 kilograms of drugs. Four men and a woman aged between 31 and 60 have also been arrested.

All three cases were believed to be related to local drug syndicates controlled by mobs, and officers are looking into whether there are any connections between the cases.

Officers first seized 72 kilograms of suspected cocaine, worth about HK$85 million, from 6,865 bottles of maca powder, egg fruit powder and chia seeds in a Fo Tan industrial building on July 12.

Divisional commander of Customs Drug Investigation Bureau, Chan Siu-kau, said the case was done "at all costs and meticulously," as only 2.6 percent of the total batch of goods — 180 bottles of maca powder and egg fruit powder— contained the drug.

The officer said the labels stuck onto the bottles with cocaine were positioned lower than the normal ones, as the drugs were hidden at the lower parts of the bottles. The aluminum seals of the cocaine bottles were also tighter to avoid officers from smelling the sour odor of the drug.

"It is believed that the drug traffickers try to hide a small amount of goods in a large amount of goods to lower their chances of being intercepted," Chan added.

A 43-year-old man claimed to be a driver was arrested in Sha Tin on July 15 and has been released on bail.

Meanwhile, customs at the airport seized about 145 kilograms of suspected liquid "ice" worth about HK$80 million while inspecting an air cargo consignment from Mexico declared as 1500 kilograms of avocado oil on July 20.

The seizure broke the record of the largest quantity of meth to be seized at the airport in the past 20 years.

This is also the second time the law enforcement have found liquid ice hidden in avocado oils this month, as police seized 39 liquid meth mixed in 130 bottles of avocado oils in mid-July.

Among the 876 bottles of avocado oil, 288 glass bottles were found to each carry around 500 grams of the suspected drugs.

"Light cannot pass through normal bottles that contain avocado oil, but for those which contain suspected drugs, we can clearly see that there are precipitates at the bottom of the bottles," Lau Leung-chi, divisional commander of Customs Drug Investigation Bureau, said.

A 60-year-old male truck driver was arrested in Tsing Yi on Saturday, but was later released. Customs are investigating whether the drugs seized were for local use or would be transported overseas.

Separately, customs seized around 61 kilograms of suspected heroin worth about HK$65 million in instant rice vermicelli seasoning packets while examining a seaborne consignment declared as snacks from Thailand on July 22.

Two men and one woman, aged between 31 and 42, were arrested on July 23 while they were carrying the goods to a flat in a Kwai Chung industrial building.

They are charged with a count of attempting to traffic in a dangerous drug and will appear at the Tuen Mun Magistrates' Courts tomorrow.

Between January and July this year, customs have seized a total of 1.4 tonnes of drugs, marking a 20 percent increase compared to the same period in 2020.