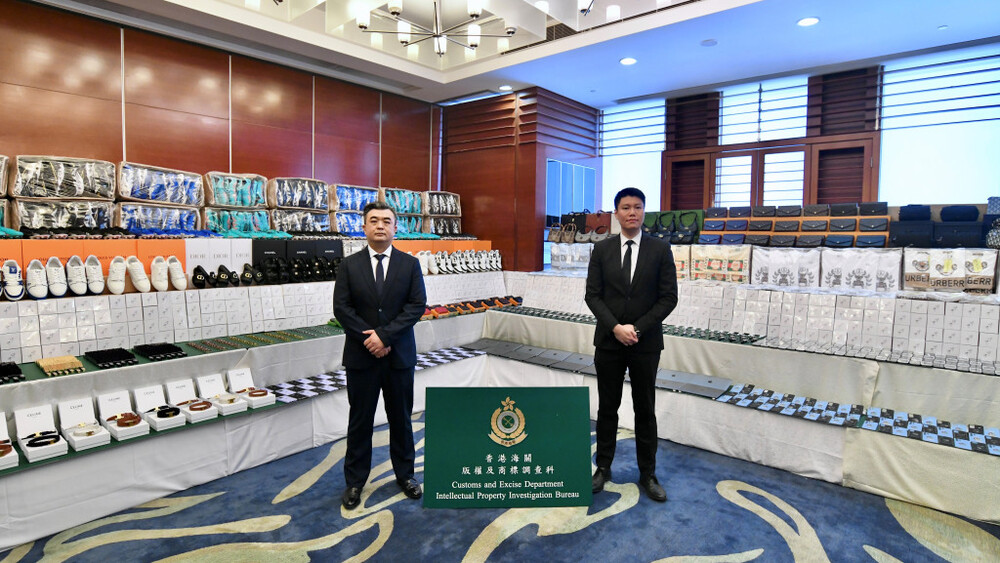 Customs Seizes HK$44 Million Worth of Counterfeit Goods in Operation 'Tracer'
Hong Kong Customs has seized a large quantity of suspected counterfeit goods, including wristwatches, sneakers, clothing, and phone accessories, with an estimated market value of HK$44 million.
The two-week-long operation, codenamed "Tracer," targeted counterfeit goods activities involving cross-boundary transhipments and local deliveries.

During the operation, officers arrested two drivers and one CD store owner, aged between 55 and 57.

The batch of counterfeit goods seized is the highest estimated market value of products seized by Customs so far.

Customs officers identified and raided a number of devanning areas, which were mostly located far from public roads and inside industrial buildings to avoid law enforcement agencies.

The smugglers used these areas to transfer the counterfeit goods to Europe, America, the Middle East, Africa, and South Asia.

Risk assessment was used by customs officers to identify and raid the devanning areas.

One of the drivers, aged 55, was arrested while carrying about 900 pirated disks when crossing the Shenzhen Bay Port on Monday (May 15), and the 57-year-old disk store owner was arrested in a Mong Kok mall the next day (May 16), seizing about 2,100 additional pirated disks.

All three have been released on bail pending further investigation.

The operation marks a significant success in the fight against counterfeit goods in Hong Kong.