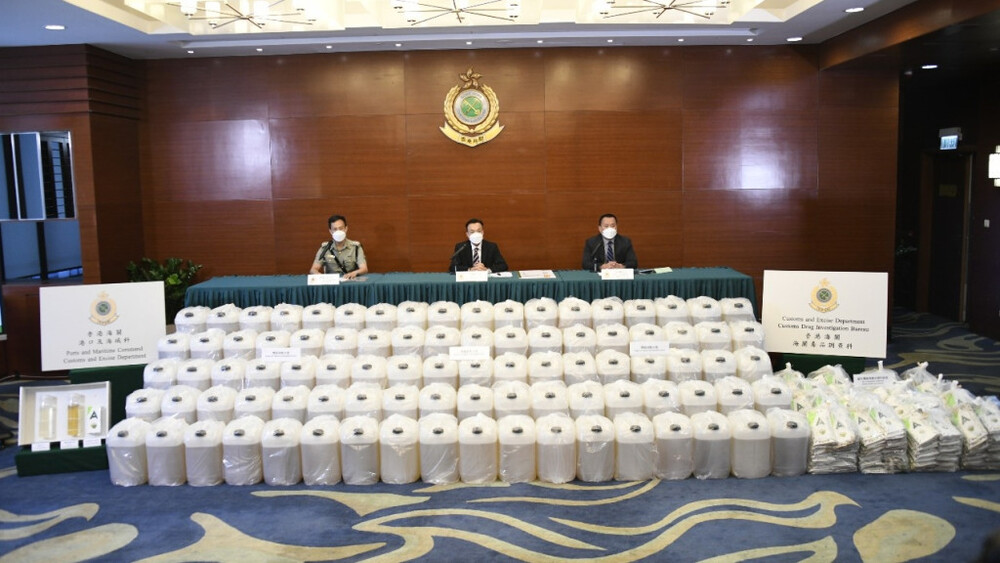 Customs seize 1.8 tons of meth in Hong Kong's record HK$1.1b drug bust
Customs seized record 1.8 tons of suspected liquid methamphetamine worth about HK$1.1 billion in Kwai Chung, marking the biggest drug in the city's history.
The drugs were hidden in a shipment claiming to be containing coconut water. It arrived in waters from Mexico, and its final destination was Australia.

Customs added the price of methamphetamine ranges differently depending on the country and said the 1.8 tons of "ice" was worth about HK$18 million in South American countries. Yet, its value jumped 60 times to over HK$1.1 billion after arriving in Hong Kong.

Its value will increase seven times to HK$8 billion if it reaches Australia, customs noted.

Officers' suspicion was raised after finding over four tons of coconut water would be imported from Mexico in the database, given Mexico is not the country of origin of the coconut water.

Customs also failed to find any information about the Australian company reviving the shipment and learned the sender in Mexico and the recipient in Hong Kong were both international logistic companies.

Last Sunday (Oct 23), officers opened a container at the Kwai Chung Customhouse Cargo Examination Compound and found 150 boxes of coconut water suspicious, with stains on the cardboard boxes and weird white crystals on the surface.

After an X-ray scan and further testing, the 150 boxes of "coconut water" tested positive for methamphetamine. It weighed 1.8 tons in total, with a market value of HK$1.1 billion.

Customs noted that as of October this year, they have seized 3 tons of methamphetamine, marking a 140 percent increase compared with last year's 1.25 tons.

Customs said that no one has been arrested and reported the case to World Customs Organization to combat drugs with other continents.