Speedboat gang flee from officers when spotted loading goods at third-runway building site. Officers arrest suspected owner of the fishing vessel involved in the smuggling bid.
Customs officers have seized HK$31 million (US$4 million) worth of products bound for mainland China, swooping on sea smugglers as they loaded their cargo near Hong Kong International Airport.

Dried fish maws and shark fins were confiscated in Friday's operation, but the gang escaped by boarding its speedboat and zigzagging through the more than 100 platform workboats in the airport's third-runway construction site to reach open water.

Officers arrested a 43-year-old man said to be the owner of the fishing vessel, which was also detained for further investigation.

Conducting an anti-smuggling operation around the Chek Lap Kok building site, officers spotted several suspicious men moving boxes from a fishing vessel to a speedboat at about 2am.

As law enforcers went in for arrests the suspects immediately jumped onto the speedboat and fled at high speed towards mainland waters.

The Customs and Excise Department revealed on Saturday that officers used two pursuit crafts to chase the culprits, who were described as travelling at high speed without navigation lights and posing great danger to workboats and officers. The speedboat was out of Hong Kong waters within about 10 minutes.

Only authorised vessels are currently allowed to enter the water off the construction sites. Officers believed the smugglers sought to blend in with workboats at the crowded site in an attempt to hide their illicit activities.

The seized haul from the fishing vessel included HK$16 million of expensive food such as dried sea cucumbers, fish maws, and shark fins. Also confiscated were smartphones, computer gadgets, cosmetics and 288 graphic cards worth a total of HK$2 million.

The head of customs' syndicate crimes investigation bureau, Mark Woo Wai-kwan, believed the recent trend for smuggling by sea was linked to the rebound in economic activity on the mainland now the Covid-19 crisis was under control, as well as the land border restrictions still in place.

"People across the border have huge demand for high-value products such as expensive food. As transporting over land is still difficult, smugglers turned to the water route to make profits," said the senior superintendent.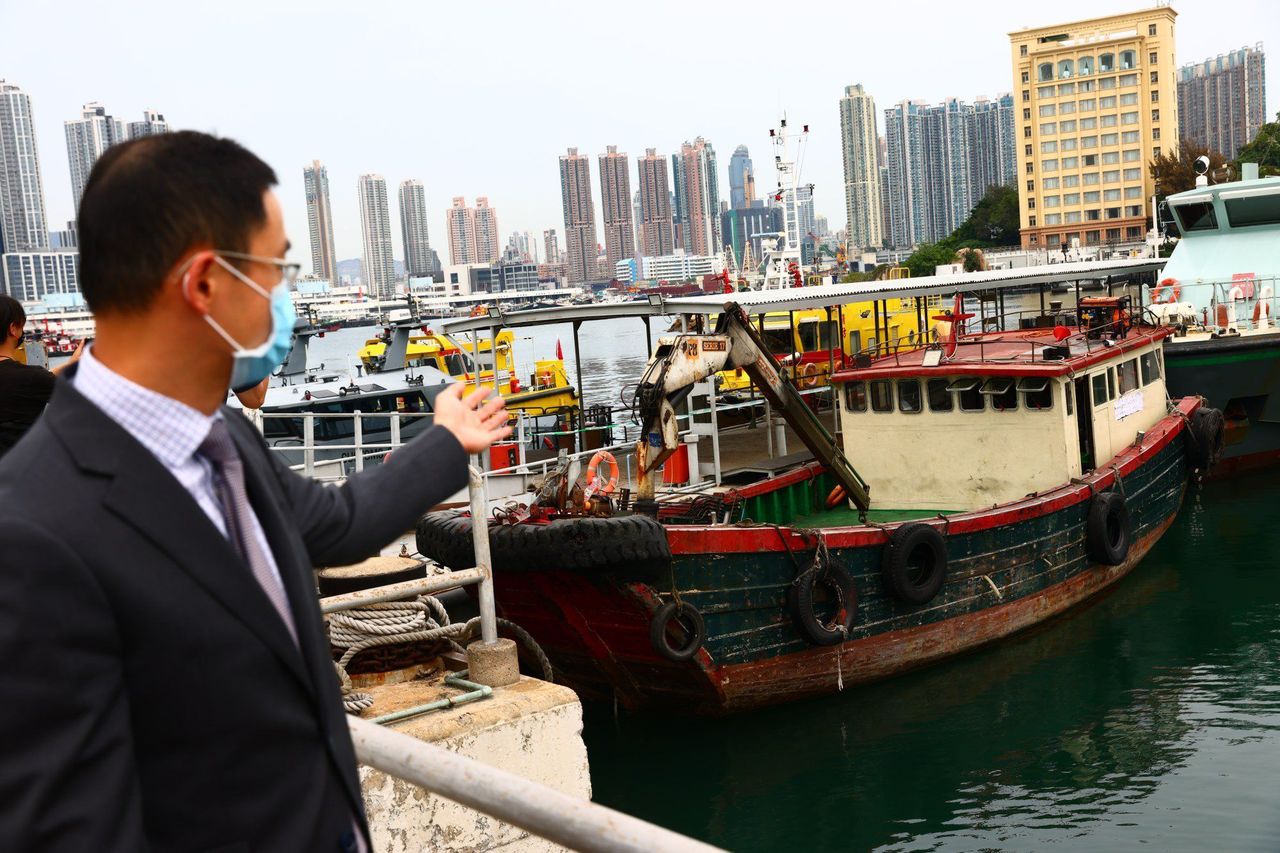 The fishing vessel said to be used in the smuggling operation.

Woo said sea smuggling cases had jumped from 13 cases to 22 in the first four months of this year, compared with the same period last year. The value of smuggled goods seized by officers also doubled to HK$120 million.

Smuggling is a serious offence under the Import and Export Ordinance, and those convicted face a maximum jail term of seven years and a fine of HK$2 million.

Around 650 hectares of land north of the existing airport island are to be reclaimed for building a third-runway passenger building and associated apron for aircraft.

The new runway is expected to be 3,800 metre long, with the government aiming to complete construction in 2024.