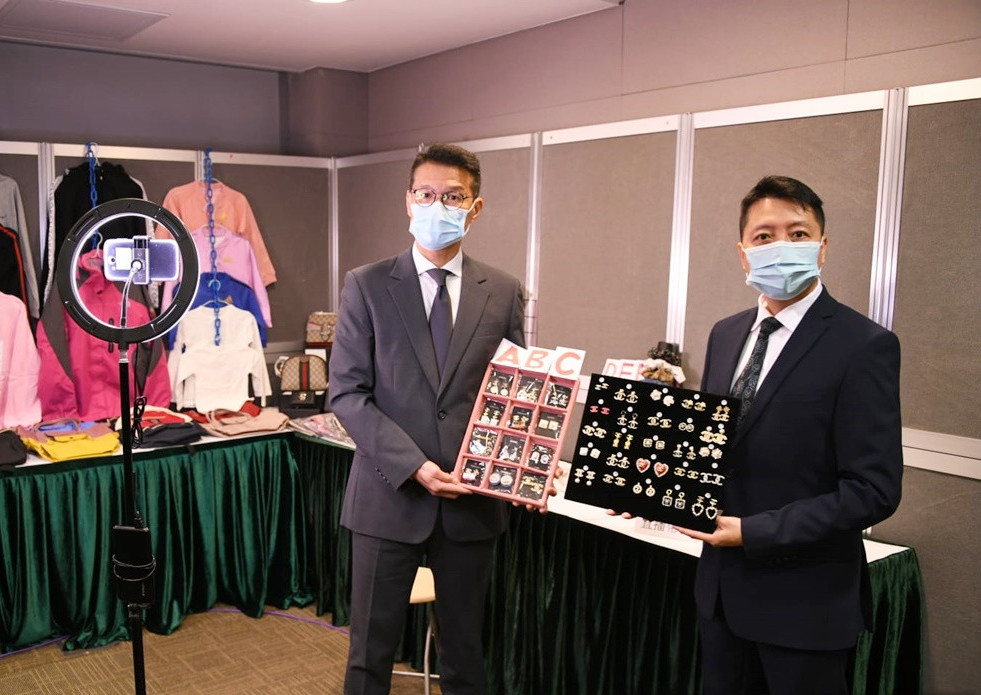 Customs combats online sale of counterfeits
Customs officers have seized about 2,700 pieces of counterfeit goods with a total estimated valued at HK$1.8 million from online overseas purchasing agents and online live broadcasts between last November and February.
During the operation, Customs officers pretended to be online buyers and smashed 17 online accounts that sold counterfeit goods while arresting 22 sellers aged between 20 and 69.

"The online sellers claimed to be able to contact foreign manufacturers or large suppliers directly. They said they had a purchasing team buying goods overseas, who can show the real receipt and boxes," Henry Wong Chi-yin, divisional commander at intellectual property transnational investigation, said.

He added that the sellers displayed the official advertisement or claimed the counterfeit goods as limited editions or giveaways. It misled the buyers to believe that the products are real.

"Some sellers promoted counterfeit goods by selling at a 60 to 70 percent discounted price," Wong said.

Moreover, some sellers also promoted counterfeit goods through social media live broadcasts, according to Wong.

"They sell counterfeit goods in a live broadcast by different methods, including limited-time live broadcast and online bidding. It aimed at attracting consumers to buy goods simultaneously."

"In the live broadcast, customers can comment and purchase the goods immediately, which then follow-up with the sellers in private messages," Wong said.

He stressed that sellers do a live broadcast at night for about two to three hours. But a few sellers prefer live broadcasting at midnight for five to six hours to avoid customs detection.

However, some sellers requested the buyers to pay for the goods first and refused to refund, which forced buyers to accept delivery. They also used the pandemic as excuses and refused to meet with the customers in person while delivering the goods, Wong said.

"Customers only realized that it was counterfeit goods after being forced to accept delivery," he explained.

The 2,700 pieces of counterfeit goods seized by customs included leather goods, clothes, handbags, shoes, accessories, and home appliances.

They have also arrested six males and 16 females, aged between 20 and 69, who have been released on bail pending investigation.

Tse Kwok-keung, the head of the intellectual property investigation bureau, said that some sellers reopened their social media accounts after being accused of selling counterfeit goods.

"They use different identities to sell the products on different online platforms," Tse said. He reminded the sellers that customs and officers can still track those who sell fake goods online with big data.

Tse also advised the public to do online shopping carefully. They should not be misled by the photos online and should be aware of the reputation and launch day of the online stores.

Buyers should be alert to payment methods, refund mechanism, shop size, and credibility of the online stores. Before transferring payment, they should consider whether the discounted price is reasonable in the market, Tse added.