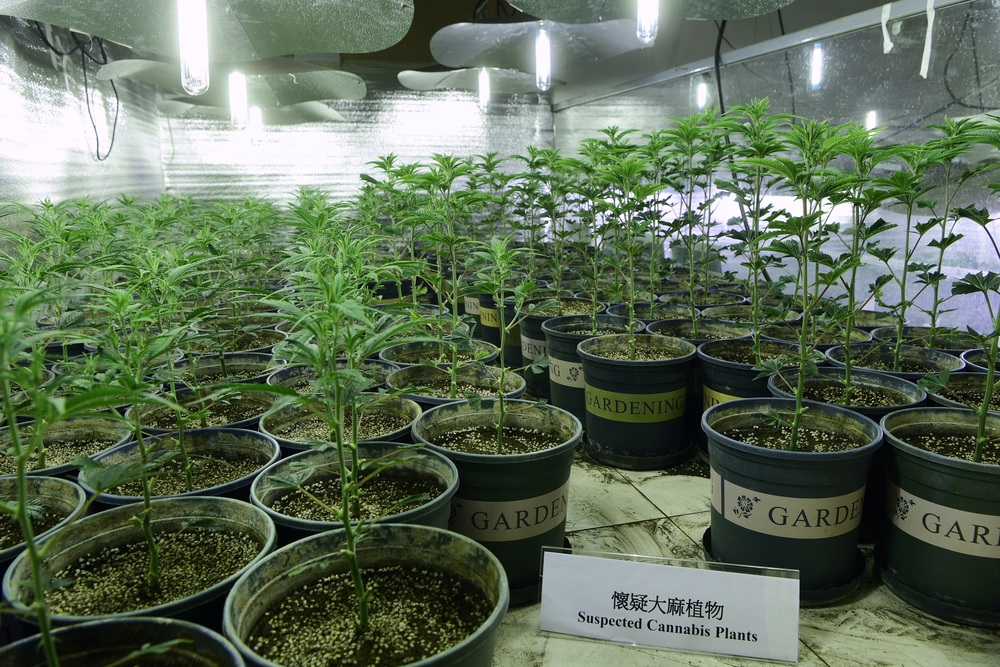 Customs bust largest-ever case of suspected cannabis growing den
Customs busted a suspected cannabis growing den in Yuen Long last night, and confiscated HK$70 million worth of suspected cannabis plants and buds, marking the largest case of a cannabis growing den ever detected.
Officers on Thursday night intercepted a 47-year-old man in Yuen Long, followed by a search of a nearby residential premises.

A total of 1,043 suspected cannabis plants, weighing about 460kg, and about 5kg of suspected cannabis buds were found in a three-storey village house on Tai Shu Ha Road West.

Officers also confiscated a batch of suspected cannabis growing equipment, including solar lamps, ventilation facilities and carbon dioxide generators.

The man was subsequently arrested and officers didn't rule out more arrests to be made.

Customs said the den has been running for only three to four months and the suspected cannabis plants are yet to be harvested. Officers believed that they have prevented a huge batch of cannabis drug from infiltrating into the community.

Officers estimated that the den can grow up to two tonnes of cannabis within a year, which is worth about HK$270 million.

Under the Dangerous Drugs Ordinance, both cultivation of cannabis and trafficking in a dangerous drug are serious offenses.

The maximum penalty for cultivation of cannabis is a fine of HK$100,000 and imprisonment for 15 years, and that for trafficking in a dangerous drug is a fine of HK$5 million and life imprisonment, Customs reminded the public.