University keen to see 'inclusive' body with locals, non-locals and postgraduates among members.
A group of Chinese University of Hong Kong (CUHK) students are setting up a new union and have begun rebuilding ties with the management, which accused the previous body of exploiting the campus for political purposes.

Student representatives said there was a need for a platform to represent their interests but given the current "repressive political climate" in the city, they would steer clear of politics.

The new student union is expected to be inaugurated next March with the blessings of the university's management.

The previous union chose to disband last October, eight months after CUHK management cut ties with it, citing possible breaches of the national security law imposed on Hong Kong by Beijing in 2020.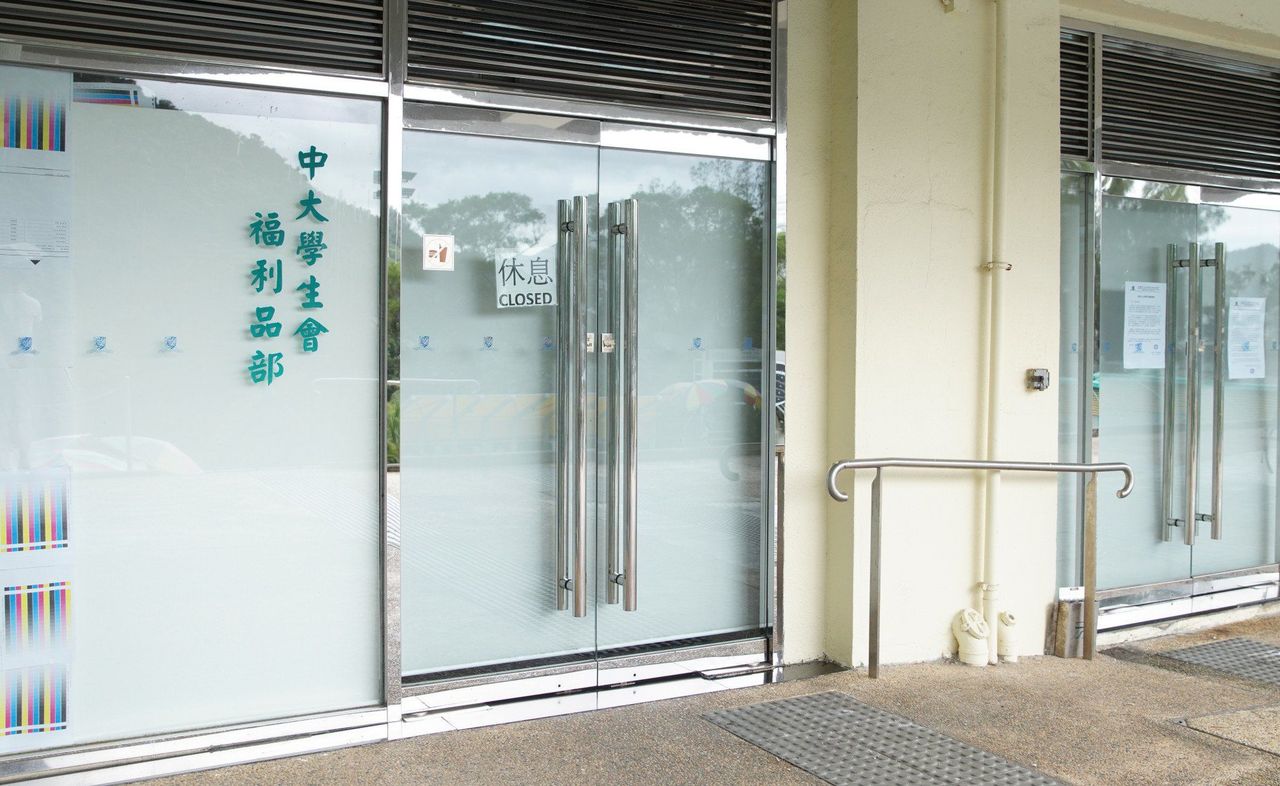 The closed office of the former CUHK union.

Before union elections in February last year, members of the leadership team accused the university of calling police to arrest students following an attack on security guards, and of bowing to the government, among other allegations.

Some candidates also published an 80-page manifesto, saying the national security law infringed upon basic human rights and freedoms, calling it a disgrace to Hongkongers' dignity.

The management responded by cutting ties with the union, accusing its executive committee of making false allegations against CUHK and exploiting the campus for their political propaganda, which went against the university's mission and brought it into disrepute.

Student unions at several other universities also ran into problems with campus authorities last year.

The University of Hong Kong withdrew recognition of its student union after the latter issued a statement praising a man who stabbed a police officer before killing himself.

Education University stopped recognising its student union over governance issues, while ones at the University of Science and Technology, Lingnan University, Polytechnic University and City University were told to vacate their offices or leave the campuses for different reasons.

CUHK undergraduates Alex Yip Tsz-chun and Anson Law Chun-yin, who are among the group of about 30 working to re-establish the union, said students and university management were looking forward to restarting the body.

Yip, 22, a fourth-year history undergraduate, said representatives from eight of the university's nine colleges formed a working group, Joint College Student Unions, in April. The last, Morningside College, joined recently.

The group was drafting a new constitution and would consult students in early October before holding a referendum on it the same month.

If the majority voted for it, the university council, CUHK's governing body, was expected to give its approval in January.

A CUHK spokeswoman said it was pleased to see the formation of an inter-college student representative organisation.

"The university is engaging in constructive dialogue and collaboration with students about the best model to develop as a student body that is inclusive of a wide and representative range of students, including local, non-local, undergraduate and postgraduate cohorts," she said.

She added that CUHK believed there was a need to establish an effective channel for student-university communication.

Yip said the student group expected that the new union would take care, avoid adopting radical positions on issues and would not be as politically active as the previous group.

"We need to survive and consider the legal risks before doing anything … we regard students' safety as our priority," he said.

While this did not mean the union would not say anything at all on current affairs, he added, it would not issue comments as much as the previous student body did.

"We could still speak out for minorities and the disadvantaged, such as the LGBT community," he added.

He said the university management, which met the student representatives in April, had three conditions for supporting a new union.

It wanted the group to be registered as an independent society, use Chinese and English as official languages, and open membership to full-time postgraduate students, Yip said.

Previously, the union was not required to register as a society, used only Chinese and limited its membership to local undergraduates.

Yip said the working group was willing to fulfil these conditions, with CUHK's administrative and legal support.

He hoped the public would understand the need for the student union to make "adjustments" in its role in social activism.

Law, 21, a second-year journalism student, said the new union would not be as high profile as the previous one.

The two students said rebuilding the union would be beneficial to both students and the university management alike.

"We need our status to be recognised by the university while CUHK needs us to keep student life active," Yip said.

Without a union, students who felt aggrieved by university actions or policies found it hard to express their unhappiness through a legitimate channel.

Yip recalled a student protest outside the university administration building in February after the management gave all students living in dormitories short notice to leave following the outbreak of Hong Kong's fifth wave of Covid-19 infections.

"The university said the students initiating the protest had no mandate from the students. It regarded the students as nothing more than individuals who could not represent the whole student body," he said.

The protest did not lead to a change of policy, and left students asking whether it was time for a union to come back, he added.

The absence of student representatives elected by the union to sit on different university bodies such as the senate or catering committee, also meant that their views could not be presented there.

On the other hand, Yip noted, the university, particularly its Office of Student Affairs, would also welcome help with "tons of administration work" that used to be handled by the union.

"They have no manpower and mandate to handle all matters from over 100 societies and problems raised by students are not easy to deal with as the office is not supposed to handle such matters," he said.

"I would say they want to give this big load of trouble back to the students."