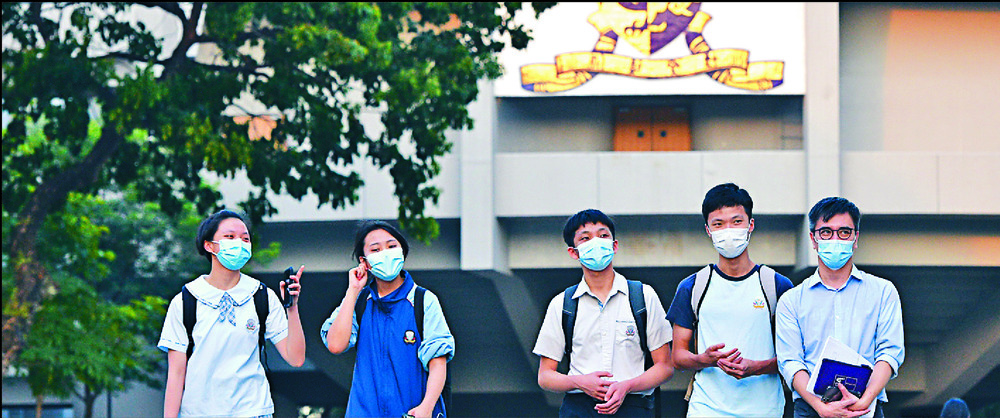 CUHK remains favorite among dse top scorers
The Chinese University of Hong Kong surpassed the University of Hong Kong for the second year in a row as the most popular school among Diploma of Secondary Education top scorers, with it being the university of choice for six out of eight star pupils this year.
The announcement came a day before over 39,500 students are set to get their Joint University Programmes Admissions System results from 9am today.

CUHK has admitted six of the eight top scorers - students who obtained 5** in seven subjects - including three "super scorers," meaning those who also achieved 5** in their math extended part two subject.

Of them, five - including two super scorers - have enrolled in the medicine program as part of the global physician leadership stream, CUHK said.

The remaining super scorer was admitted to the quantitative finance and risk management program. The university added that it also admitted 57 percent of students who received 5** in four subjects or more, including 70 percent of those who got at least six 5** scores. CUHK also offered scholarships, which ranged from HK$5,000 to full-tuition coverage, to 778 students who got 5** in at least one subject.

The university's medical program has long been popular among top scorers, with four of last year's seven choosing to enrol in the program.

As for HKU, it announced yesterday that it offered 16 high-scoring students scholarships of HK$100,000 or more each this year.

"These young people have the vision and determination to achieve their goals," said Bennett Yim Chi-kin, director of undergraduate admissions and international student exchange.

HKU also rewarded 52 students with a scholarship of HK$50,000 or more for being among the top 1 percent of DSE scorers.

The news came as some 39.2 percent of JUPAS applicants, or about 15,500 students, were offered places at nine local universities this year - 1.1 percentage point higher than last year.

JUPAS received a total of 39,523 applications this year, 1,135 fewer than last year.