Seventy-six per cent of rooms in designated compulsory quarantine hotels have already been snapped up between June 20 and July 19.
Hotels designated for compulsory quarantine in Hong Kong are in such demand in the coming weeks that overseas students' plans to return to the city and even the impending "cruises to nowhere" are under threat.

Families and cruise operators are fighting for rooms in the summer season, with the Food and Health Bureau's latest figures showing a surge in bookings for June and July compared with previous months.

Between June 20 and July 19, the average booking rate for a total of 8,500 hotel rooms was 76 per cent, compared with 70 per cent for 8,300 rooms between April 21 and June 19, the bureau told the Post.

Michael Li Hon-shing, executive director of the Federation of Hong Kong Hotel Owners, said on Wednesday that it was negotiating with the government over releasing about 2,000 backup hotel rooms and sourcing more space from establishments not previously selected as designated suppliers.

"The government will discuss the matter individually with hotel operators," he said. "We want a win-win situation."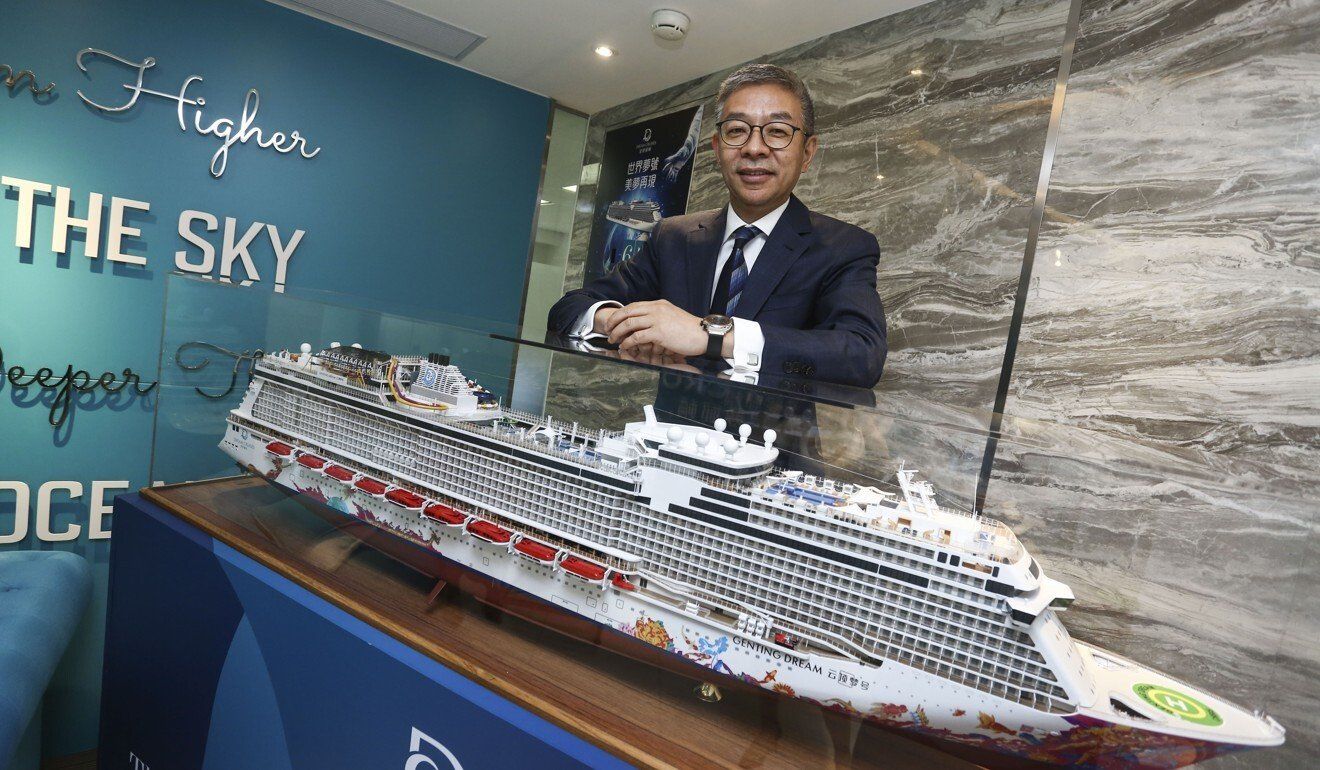 Kent Zhu Fuming, president of Genting Cruise Lines.

But Genting Cruise Lines and Royal Caribbean Cruises are urging the government to allow their crew members to undergo mandatory quarantine on board their ships, after failing to secure rooms for them.

Genting, which will use the Genting Dream for the no-stop voyages, needs 500 hotel rooms for 500 crew members in June, while Royal Caribbean, which will operate its cruises to nowhere using the Spectrum of the Seas, needs 800 rooms for incoming crew.

The crew members are required to go through a 21-day mandatory quarantine at a designated hotel upon arrival in Hong Kong, and cannot fly to the city without a valid hotel booking.

"We are struggling to find enough rooms for our crew," Christine Li, the Genting spokeswoman, said, adding most staff would come from mainland China.

The Post has contacted the government for comment. Last week, officials said the cruises to nowhere could start in July at the earliest, 15 months after sailings from Hong Kong were halted.

Bookings for the new cruises have been brisk, with the ships emerging as an alternative venue for wedding receptions and corporate activities, and the public desperate for a summer holiday amid the Covid-19 pandemic, according to Genting.

The company on Wednesday said 90 per cent of slots for its first two trips – on July 30 and August 1 – had been snapped up within a week. The figure was 50 per cent for Friday departures in August.

Royal Caribbean would open bookings for voyages in the next couple of days, its spokeswoman said.

The two cruise firms have also urged the government to ease the requirement for compulsory Covid-19 testing of passengers within 48 hours of embarking on a cruise, by extending the time frame to 72 hours. This would bring it in line with rules for the long-delayed air travel bubble between Hong Kong and Singapore.

"Getting tested within 48 hours is too rushed, because it takes time to test and wait for the results," the Royal Caribbean spokeswoman said.