More than 380 residents surveyed by the Society for Community Organisation say they are unable to go to mainland to meet their relatives.
Cross-border families on low incomes who are separated by Covid-19 travel restrictions have urged the Hong Kong and central governments to lift the 14-day quarantine requirement and provide cheaper coronavirus tests so they can return to mainland China to reunite with relatives.

More than 380 low-income residents in Hong Kong surveyed by the Society for Community Organisation (SoCO) said they had elderly parents, children and spouses stranded on the mainland, many of whom were unable to enter the city since they were not Hong Kong residents.

"It would be best if the governments on both sides can implement a health code system. We think authorities need to balance daily life with virus prevention," said SoCO community organiser Sze Lai-shan.

"Many of the residents we surveyed are even willing to be vaccinated so they can travel across the border again, as long as the shots are safe," she added.

On Saturday, Chief Secretary Matthew Cheung Kin-chung said there could be a conditional reopening of the borders once the city had the current wave of infections under control, with vaccination being one of the possible conditions.

But on Sunday, Secretary for the Civil Service Patrick Nip Tak-kuen said the city's Covid-19 vaccination programme would be further delayed until March
, after purchasing difficulties had already postponed the scheme to late February.

Hong Kong's coronavirus tally currently stands at 10,767, with 193 related deaths. The situation has shown signs of easing, with the rolling seven-day average of local infections falling to 20.1 as of Friday, down sharply from a peak of 75 in late January.

Although Hong Kong eased restrictions for residents returning from the mainland last November, allowing up to 5,000 people to enter the city without having to undergo mandatory 14-day quarantine, authorities over the border have yet to ease its rules.

Residents wanting to travel to China could be quarantined for up to 28 days in hotels and at home depending on their destination. Travellers would also have to pay for their hotel stay during the quarantine period, a cost low-income families could not bear, Sze said.

Nearly 90 per cent of the residents SoCo surveyed hoped they could be exempted from quarantine rules if they had a valid "health code", the digital certificate confirming a negative coronavirus test result which would be used once cross-border travel resumed.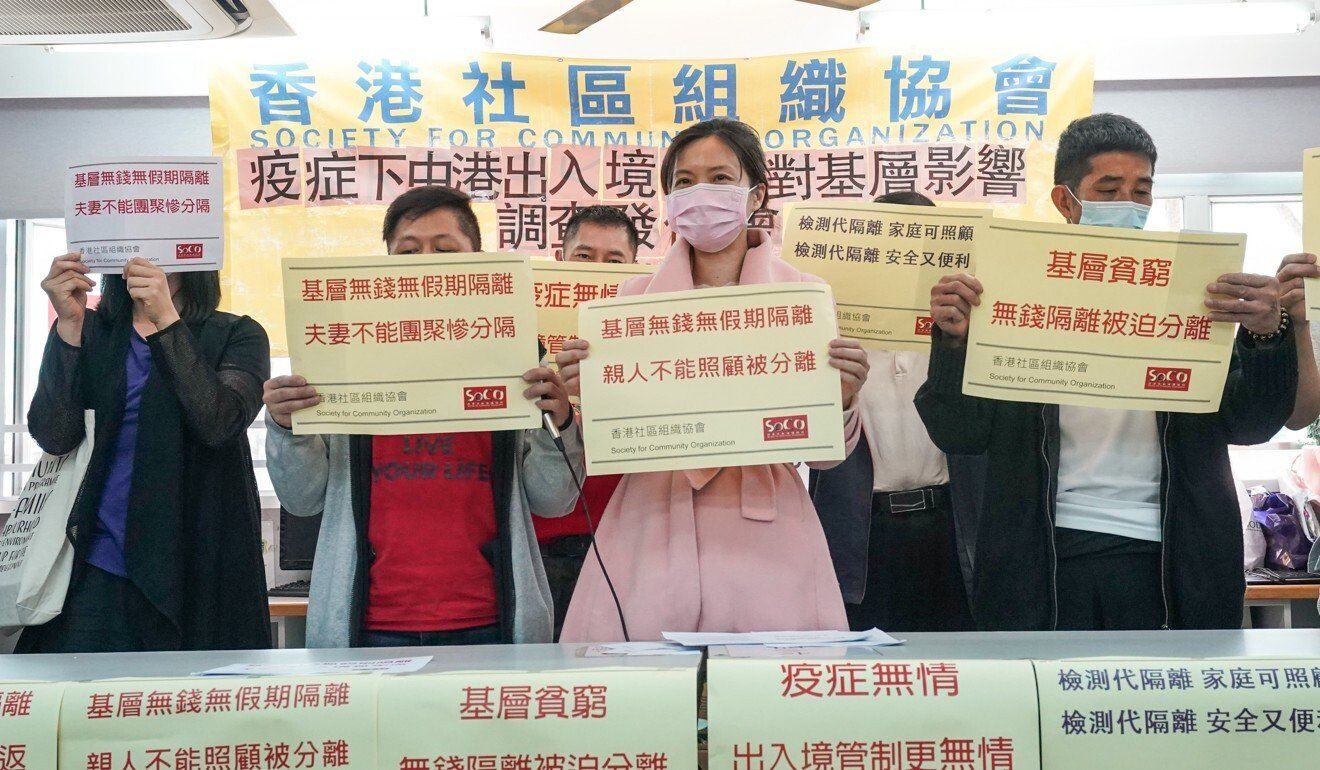 Society for Community Organisation says border control arrangements between Hong Kong and the mainland affect low-income families.

Preparations for implementing the health code were completed last October, but the system was not launched as the fourth wave of infections started in Hong Kong in November.

SoCO's survey also found two-thirds of the low-income families hoped the government could lower Covid-19 testing fees. Currently, residents pay HK$240 (US$31) for coronavirus screening at government-run community testing centres.

"It's a reasonable price for people who only need to go back to China once in a while, but for some frequent travellers it is not affordable," Sze said.

A 58-year-old masseuse, who wished to be known by his surname Wei, has been apart from his 81-year-old mother and two children, 9 and 11, since they returned to the mainland for Lunar New Year in 2020.

"My mother's health is not good, she had to undergo a breast cancer surgery, but now she is looking after my children by herself in Shenzhen," he said. "Both my kids also need to go to school, but they can't. My mother is old and she can't help with the computers so my children can take their online classes," he added.

Wei has not had a stable job for a year, especially as massage parlours have been closed as part of the government's social-distancing measures to curb the spread of the coronavirus. He said he sometimes made house calls, but was afraid of getting infected.

The single father said he hoped the costs for the test and the hotel quarantine on the mainland were cheaper so he could return to China to bring his children back for their classes in Hong Kong.

Another mother, surnamed So, said her four-year-old daughter had also been stuck on the mainland after travelling with her grandmother for a funeral last year. With schools set to reopen on February 22, she has been trying to bring her daughter back.

Her husband, who does not have Hong Kong residency, cannot travel to the city.

"The quarantine period there is 21 days, my bosses will not allow me to take such a long time off from work," she said. "I will have to quit [the job], but I cannot afford to do that," she added.