The candidates say they have almost no chance of reaching Hongkongers over the border, pointing to short advance notice of the new voting scheme, pandemic restrictions and mainland censorship concerns.
Drumming up support among Hong Kong voters living in mainland China is almost impossible, centrist candidates running in this month's Legislative Council poll have told the Post, accusing the government of "moving the goalposts" by allowing them to cast ballots with just weeks to go until election day.

Their inability to reach the residents would only benefit their pro-establishment rivals who had deep-rooted networks across the border, they said.

The government on Monday revealed that Hongkongers who lived on the mainland would for the first time be allowed to cast ballots in the Legco poll, slated for December 19.

But the centrist hopefuls argued that the government made the announcement so close to voting day they had too little time to develop an effective campaign strategy targeting the group.

"If this had been announced before I had signed up for the election, I would have had to make do with it," said candidate Jeffery Chan Chun-hung, from the Path of Democracy party. "But they have only just announced it lately, moving the goalposts in the middle of an election."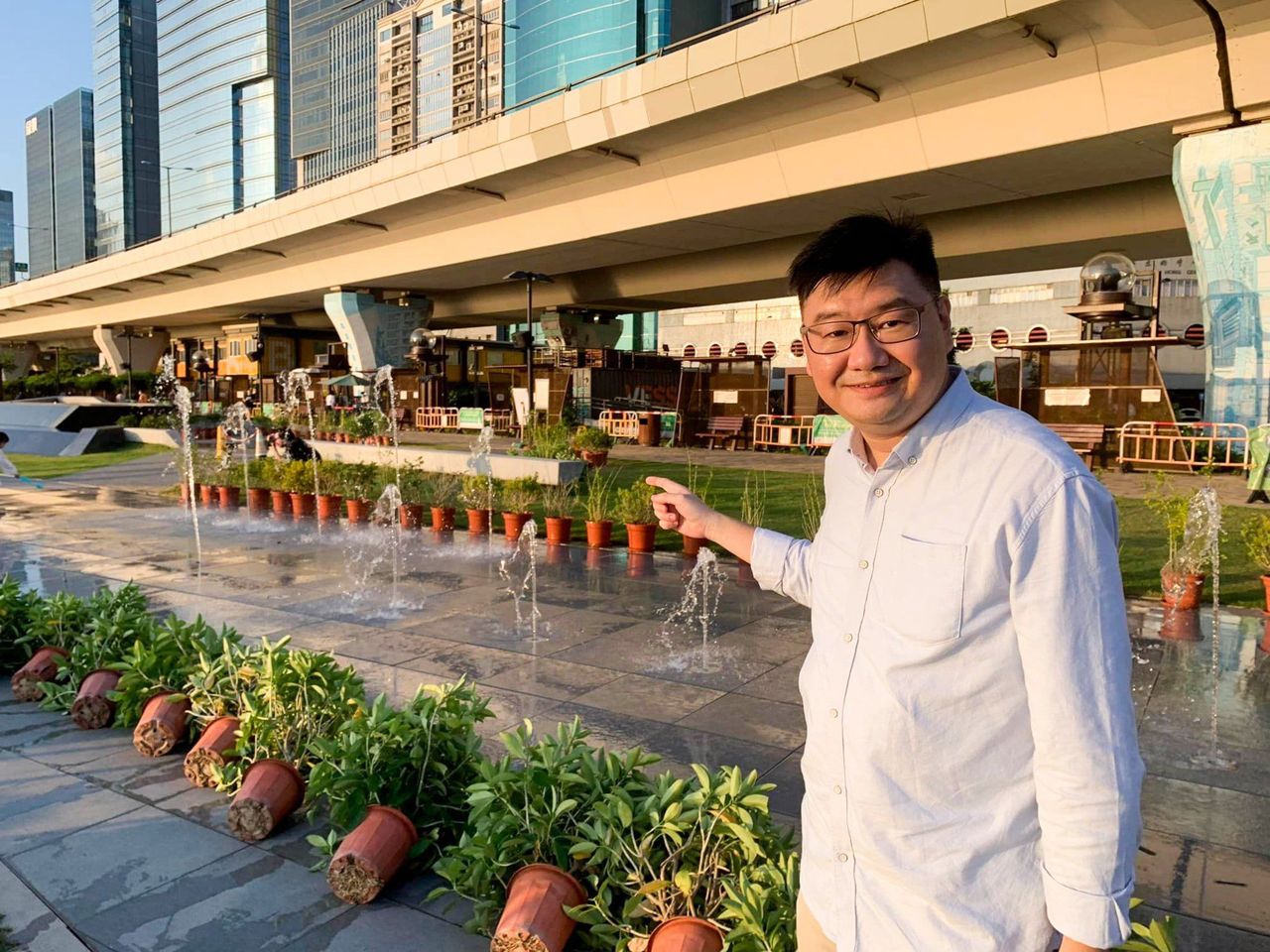 Jeffery Chan from the Path of Democracy party.

To cope with the changed battlefield, the candidates said they would instead ramp up their local campaigning in an effort to win over the supporters of traditional opposition parties, whose members have stayed away from an election they view as no longer fair after Beijing overhauled the electoral system to ensure only "patriots" governed Hong Kong.

On Monday, Secretary for Constitutional and Mainland Affairs Erick Tsang Kwok-wai announced that the government would set up polling stations at Heung Yuen Wai, Lo Wu, and Lok Ma Chau Spur Line control points.

As many as 110,000 voters registered with the geographical and functional constituencies living over the border could end up casting ballots at the three stations and were able to sign up for the initiative from Wednesday.

Chan said traditional pro-establishment parties, such as the Federation of Trade Unions (FTU) and Democratic Alliance for the Betterment and Progress of Hong Kong (DAB), would enjoy the greatest advantage under the new scheme as they had strong networks on the mainland. The FTU, for instance, has six consultation centres in Guangdong province.

But information about Hongkongers living over the border is scarce, and even the government does not have an exact figure. Chan said that given the Registration and Electoral Office was unlikely to provide many details about the demographic, it was extremely difficult to gauge how many people in his constituency were over the border, let alone reach out to them.

Independent Jason Poon Chuk-hung, who is running in the Hong Kong Island East constituency, said: "If you had announced it earlier, at least we could have tried try our best to bridge the differences."

With cross-border quarantine restrictions still in place, campaigning in person in Guangdong is unfeasible, forcing candidates to make their pitches online but which creates yet another hurdle for non-pro-establishment candidates.

They mostly rely on social media platforms popular among Hong Kong residents, such as Facebook, to get their message out. But those platforms are banned by the mainland authorities, which also censor messages they deem sensitive on the platforms they do allow, such as the Twitter-like app Weibo.

Poon, an engineer by trade, said trying to start a political campaign on Weibo from scratch with less than three weeks to go before election day would be futile.

"What's more, I am only familiar with Hong Kong laws but not those of the mainland. I have no idea whether my electoral platform will cross the [political] line over the border," said Poon, who has called for greater democracy and a review of "political court cases" in his manifesto.

In his campaigning, he has also pointed to his role in exposing shoddy construction work that plagued the city's railway provider MTR Corporation in 2018.

With the schedule so tight, consulting mainland lawyers on how he should tailor his message to ensure it did not run foul of local laws was not possible.

Li Ka-yan, an independent candidate from Kowloon East, backed by pro-establishment lawmaker Paul Tse Wai-chun who is seeking a second term, said the government's decision on the border polling stations came "very late" She too believed the change to the voter base would affect her.

A vote for pro-establishment candidates "with parties' backing" was just a call or message away, Li said, and urged the government to improve the arrangement if it was used again in the next Legco election.

Li, a traditional Chinese medicine practitioner, said she had worked on projects involving students and young entrepreneurs living over the border and, for now, she would try to use that network.

New People's Party's chairwoman Regina Ip Lau Suk-yee, a pro-establishment veteran seeking re-election in Hong Kong West, said she would make use of various groups on WeChat, the popular instant messaging app, to connect with voters across the border.

"I am a member of lots of such patriotic groups with lots of members on the mainland," she said, dismissing concerns that cross-border campaigning would be affected by censorship.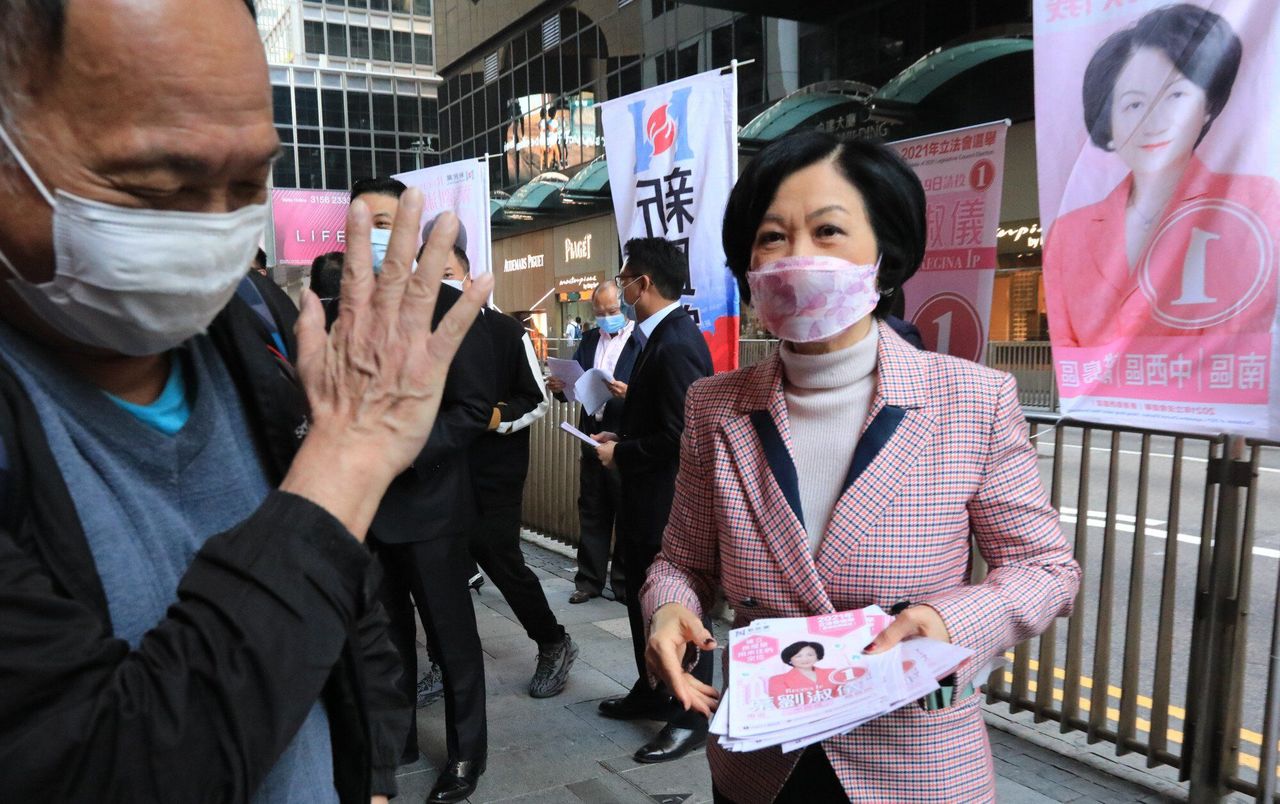 New People's Party's chairwoman Regina Ip hands out leaflets in Central on Tuesday.

The DAB's Vincent Cheng Wing-shun, who is vying for a seat in Kowloon West, and Edward Lau Kwok-fan, who is competing in New Territories North West, said they might tap their party's network to reach out online to voters, but the group had yet to devise a concrete strategy.

Alice Mak Mei-kuen, from the FTU, said she would not be affected by the voting arrangement as she was running in the newly created Election Committee constituency. The committee's 1,500 members will return 40 lawmakers in the expanded 90-seat Legco. But she shared a glimpse of her party's tactics.

She said the FTU was familiar with bodies representing Hongkongers living on the mainland, which they contacted through digital means. But the party would not use its consultation centres on the mainland for campaigning, she said.

Click here for the full list of candidates running in the 2021 Legco election.