Police insider says high-profile policing 'deterrent' to thieves and that undercover officers will also patrol crime hotspots.
Police in Hong Kong are to swamp major shopping districts and other areas popular with tourists in a crackdown on crime designed to coincide with the Labour Day "golden week" holiday and an expected influx of 600,000 mainland Chinese visitors, the Post has learned.

A police insider explained that the "high-profile police presence would pose a deterrent effect" to crooks over the holiday period, which starts on Saturday.

He also revealed that undercover officers would also be deployed on surveillance duty to monitor thieves and pickpockets who looked for targets at railway stations, shopping malls, restaurants and hotels.

The move came against the backdrop of a 37 per cent increase in crimes of theft in the first two months of the year compared with the same period in 2022.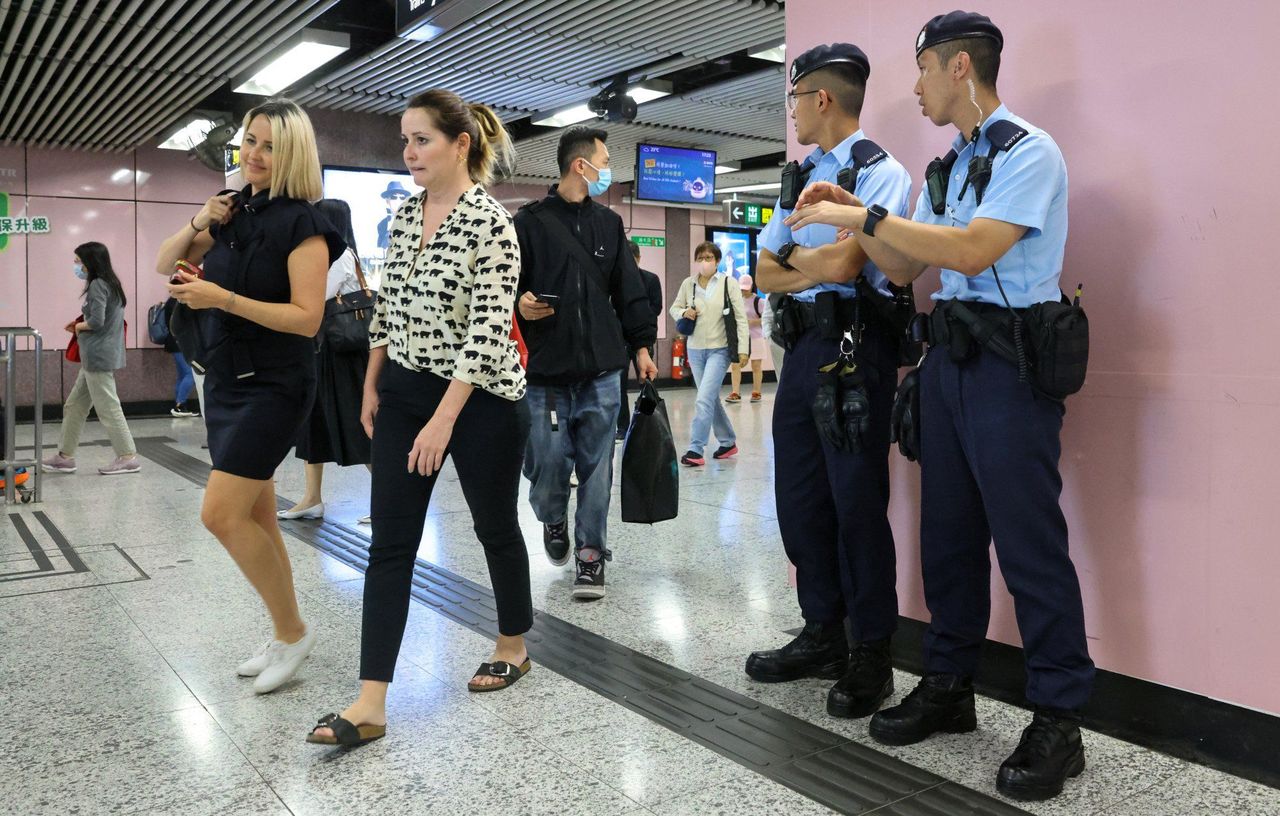 Police on guard at Causeway Bay MTR station.

There were 3,341 reports over the period, compared with 2,442 cases logged in the same time frame last year.

Police statistics showed the number of pickpocketing incidents had increased by 96 per cent to 51 from 26 over the same period.

The insider added that about 1,200 officers from the Police Tactical Unit will also be on the streets in five police regions to back up regular beat officers.

He said the tactical unit personnel would patrol public transport interchanges, such as the West Kowloon high-speed railway station, busy shopping districts, and other popular spots for tourists.

These include the Avenue of Stars on the Tsim Sha Tsui promenade, shopping malls in Ocean Terminal and Harbour City on Canton Road in Tsim Sha Tsui, as well as Times Square and other shopping centres in Causeway Bay.

The surge in the number of theft cases sparked a warning from the Japanese consulate in the city to its nationals to remain vigilant, keep an eye on their belongings and to avoid smartphone use or listening to music as they walked around.

The consulate on April 13 said at least two of its nationals were robbed earlier this year in Tsim Sha Tsui, a shopping district popular with tourists. One of the victims had their bag stolen by someone in a passing car.

Rail giant the MTR Corporation said it would increase services on its eight lines from Saturday to next Monday.

A total of 460 additional train trips will be provided, a more frequent service than on normal weekends and holidays.

The MTR Corp added the cross-border high-speed rail link would provide an additional 11 services each way between West Kowloon station and Futian from Thursday to May 4 to cater for increased demand.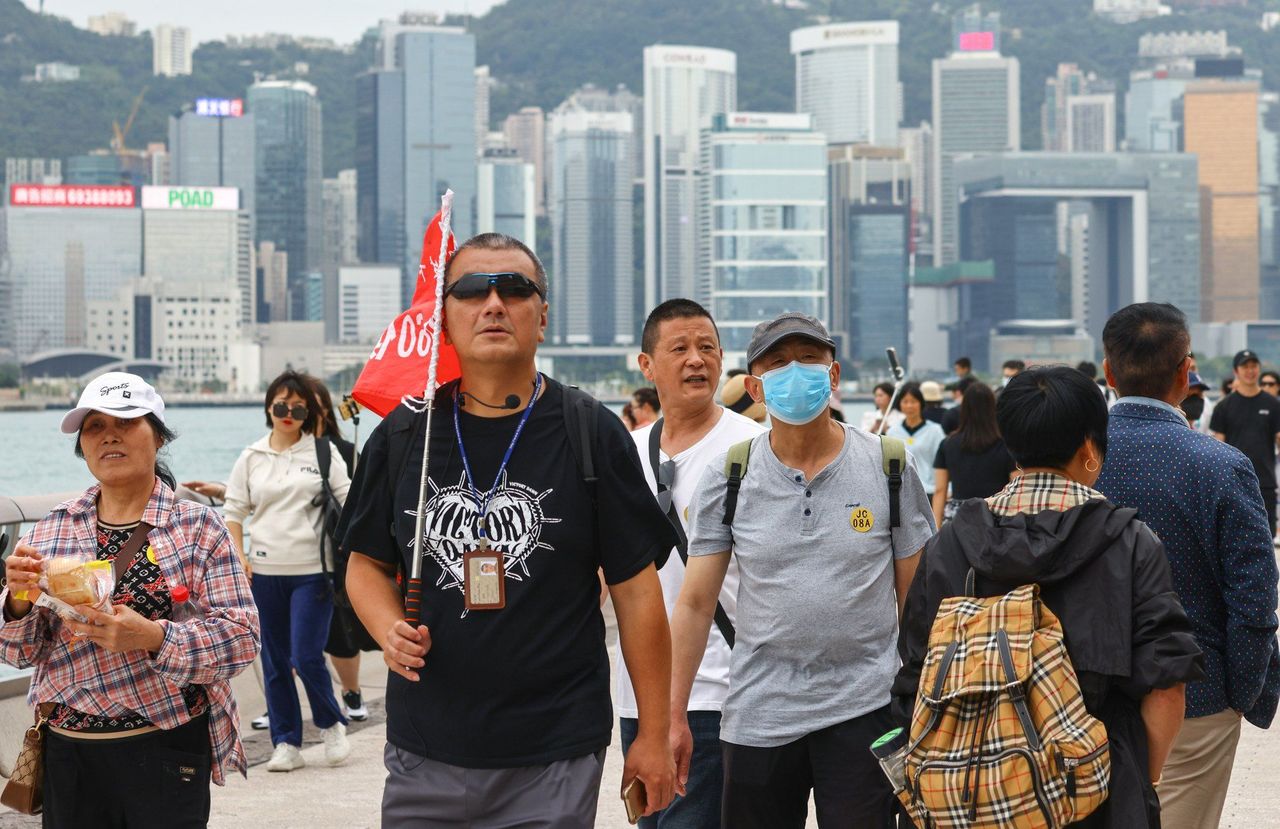 Tourists visit the Avenue of Stars in Tsim Sha Tsui.

Major destinations such as the M+ Museum and the Palace Museum at the West Kowloon Cultural District will extend their operating hours and cancel days off. The two museums will open from 10am to 6pm on May 1 and 2.

Many shopping malls have geared up to offer discounts and millions of dollars worth of perks to entice shoppers.

Another police source said traffic officers would also be out in force over the holiday period.

He said officers would carry out traffic control in sightseeing areas across the city, such as Golden Bauhinia Square in Wan Chai, Repulse Bay Beach and Stubbs Road Lookout.

"Officers will also ensure the smooth flow of tourist buses that take mainland visitors to restaurants in the areas such as To Kwa Wan, Hung Hom and North Point to avoid causing traffic jams and nuisance to the public," he said.

He said drivers of tourist buses had been warned that they could only drop off and pick up passengers and were not allowed to park on the streets.

The source said police had liaised with those in the catering and tourism industries since the border with mainland China reopened in February.

The return of cross-border tour groups in areas like Hung Hom, Kowloon City and To Kwa Wan last month sparked complaints about traffic jams, noise disturbance and hygiene problems from residents.

People on the mainland will be on holiday from Saturday to May 3 for the traditional Labour Day holiday – the first golden week after more than three years of pandemic travel restrictions.

The Immigration Department on Wednesday estimated that about 4.61 million people, including local residents and visitors, would arrive in and depart from Hong Kong, with 84.9 per cent of them passing through land crossings from Saturday to next Thursday.

The department added it expected Lo Wu would be the busiest border checkpoint, with an estimated 1.1 million inbound and outbound passengers, averaging about 188,000 people a day over the golden week period.

The Lok Ma Chau Spur Line was expected to see an average of about 134,000 people a day and the Hong Kong-Zhuhai-Macau Bridge control point was likely to deal with 92,000 passengers a day.

Officials said the number of outbound and inbound passengers using land crossings would peak on Saturday and Monday, with about 359,000 and 422,000 passengers, respectively.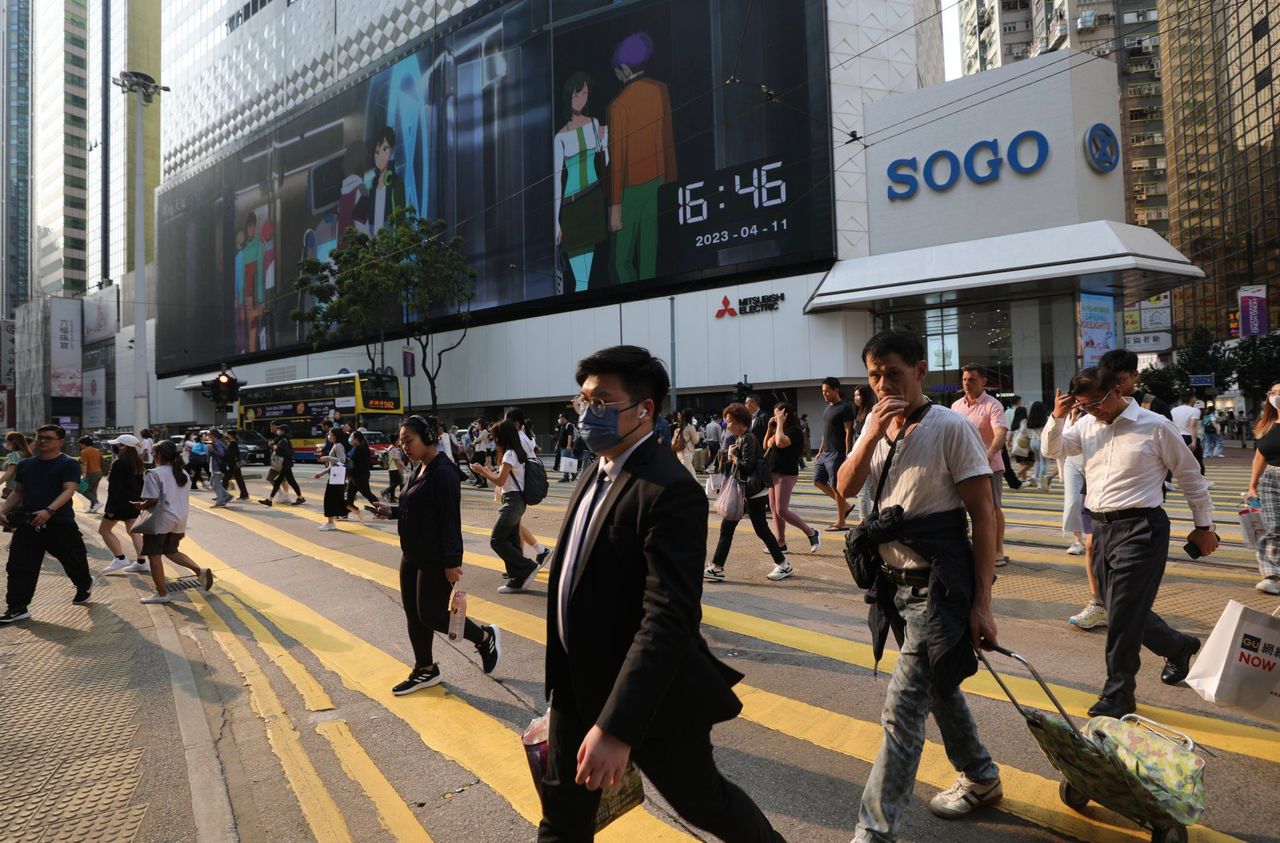 The force's tactical unit is expected to patrol areas such as Causeway Bay.

The Travel Industry Authority on Wednesday announced special arrangements for tour groups over the holiday, including the inspection of tourist attractions, registered shops and catering premises popular with tourists.

A spokesman said the measures protected the interests of tour group members and also appealed for consideration of the public by tour bus operators.

The authority said it would also relaunch its "red list" of "Quality and Honest Hong Kong Tours" with its Guangdong province counterpart. The programme means travel agents cannot organise budget tours to the city and force visitors to shop.

"The Travel Industry Authority will exchange views with relevant mainland tourism departments and units on optimising the management of inbound tour groups from the mainland in Hong Kong, including the arrangement of group meals, to promote the healthy development of Hong Kong's tourism industry through a multipronged approach," the spokesman explained.

The authority will also extend the service hours of its special helpline at +852 3698 5900 to 11pm.

The Travel Industry Council estimated that more than 80 per cent of the 600,000 mainlanders who will visit Hong Kong over the seven days between Saturday and May 5 would be individual travellers.

But the predicted tourist influx is still well below the levels experienced before the pandemic.

Immigration statistics showed that 1.27 million people from the mainland entered the city between April 30 and May 5 in 2019.