Professor Philip Li Kam, president of Hong Kong College of Physicians, says almost 350,000 residents aged over 60 still have not received a single shot.
Unvaccinated residents aged over 60 have been 21 times more likely to die from Covid-19 during Hong Kong's fifth wave of infections than those who received at least two doses of a vaccine, health experts have warned, urging the elderly to get inoculated as soon as possible.

Professor Philip Li Kam-tao, president of Hong Kong College of Physicians, on Sunday said almost 350,000 residents aged over 60 still had not received a single shot.

"If the sixth wave comes, they will be exposed to very high risks [of serious conditions and death]," he said.

"Already 9,000 people have died from Covid-19 in these three months. Many elderly were hospitalised or might have died without dignity. I hope the elderly who are still alive will understand that vaccination can help their families and themselves."

The Chinese Centre for Disease Control and Prevention, the US Centres for Disease Control and Prevention and the University of Hong Kong analysed data collected in Hong Kong from January 6 to March 21, as the fifth wave raged.

They found that the fatality rate among unvaccinated residents aged over 60 was 21.3 times that of people in the same age group who had received at least two doses.

As of Sunday, the Omicron-fuelled fifth wave, which began in January, had caused 9,036 deaths, of which about 70 per cent involved unvaccinated residents aged 60 or above.

In total, 90.9 per cent of residents aged 60 to 69, as well as 83.3 per cent of those in the 70-79 group, had received one dose of a Covid-19 vaccine, but only 61.9 per cent of people over 80 years had done so.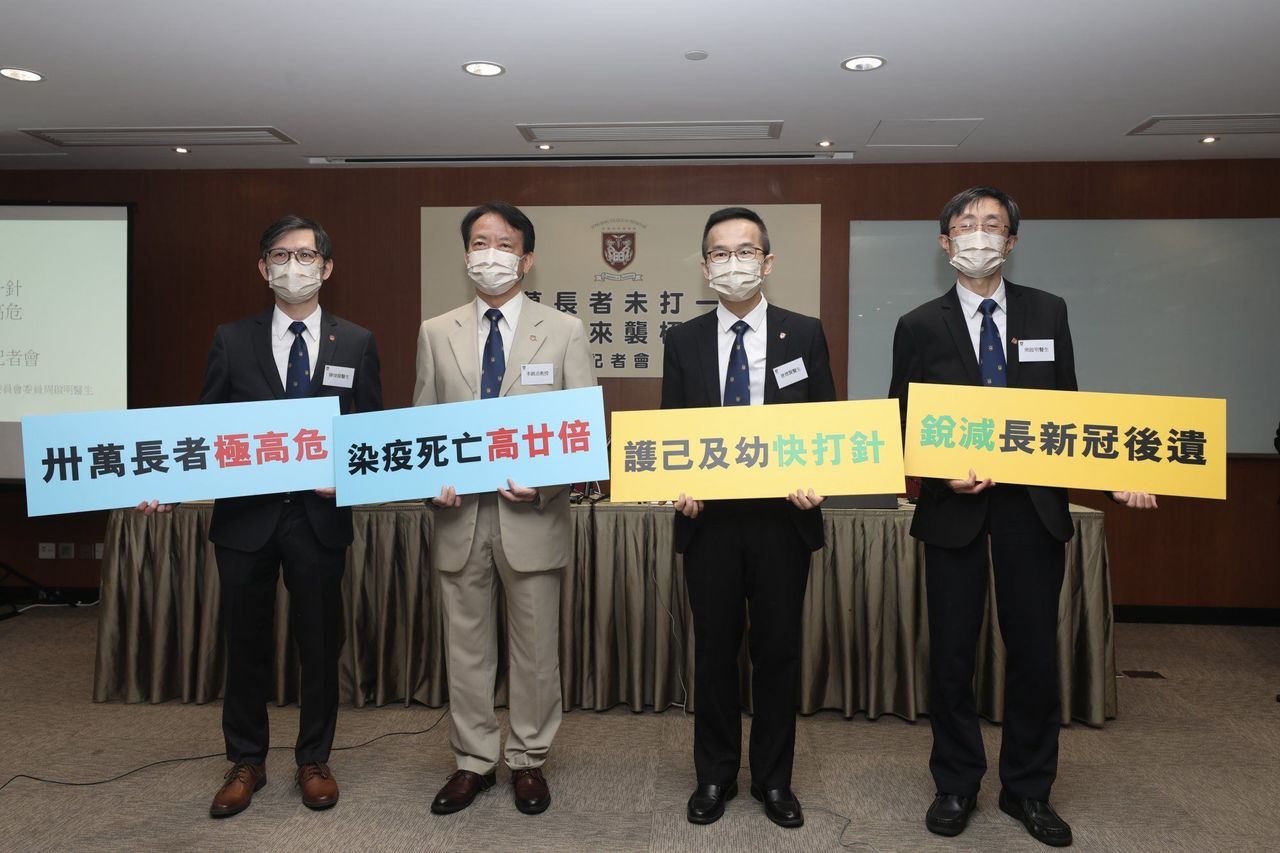 Urging the elderly to get vaccinated are (from left) Dr Chan Tak-yeung, Professor Philip Li, Dr Owen Tsang Tak-yin and Dr Chow Kai-ming of the Hong Kong College of Physicians.

In a bid to boost the rate, the government launched a home vaccination programme last Tuesday for people aged over 70 and those who have difficulty travelling to inoculation centres.

An outreach vaccination programme at care homes is also in progress to inoculate those who have recovered from the virus or had received at least one dose.

But Li said many of the city's elderly were still hesitant to get jabs because of misconceptions about safety and side effects.

"They may also think that they will be safe as long as they stay at home or the Omicron variant is similar to the flu, which is a misconception," he noted.

"We hope families can encourage and accompany the elderly to get inoculated."

Dr Chow Kai-ming, consultant and chief of service of Prince of Wales Hospital in Sha Tin, said unvaccinated elderly patients often suffered severe symptoms after being infected with the virus, describing it as "heartbreaking".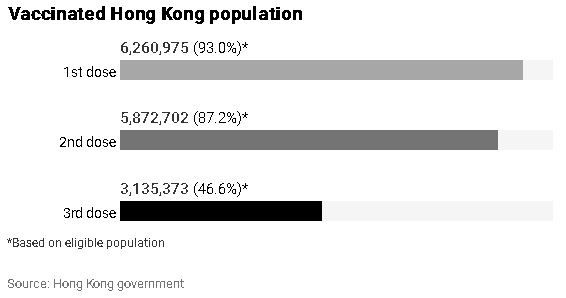 He said some patients suffered from severe oxygen depletion.

"One of my patients told me it was his birthday … but he did not know it was his last birthday," he said. "He could not blow out the candles on his cake even when inhaling 60 litres of oxygen per minute."

He added that one in five elderly Covid-19 patients at his hospital were readmitted 30 days after their recovery because of complications such as acute kidney failure and pneumonia.

Li, the college president, also warned that the unvaccinated faced higher risks of developing long Covid symptoms as a study by British authorities had shown in February.

"If the patients were not vaccinated before infection and got a jab after their recovery, their long Covid symptoms have generally reduced," he said.

"They also have fewer long Covid symptoms than those who did not receive any vaccines after recovery."

The doctors also called on the elderly who had received at least one dose to get the second one as well as boosters, which could reduce their fatality rate by 14.7 times.

The government announced this month that people aged over 60 who had received a third vaccine dose at least three months ago were eligible for a fourth shot.