Chinese University study finds low-strength atropine eye drops can reduce risk of children developing short-sightedness.
The Covid-19 pandemic has contributed to a rise in myopia in Hong Kong children, but a study has found that prescription eye drops used to dilate pupils can cut the risk, a team of scientists have revealed.

Ophthalmologists from Chinese University on Monday said they found that a dose of low-concentration atropine eye drops every night could reduce the risk of children developing myopia, or short-sightedness, by 46.4 per cent, with the incidence rate dropping from 53 per cent to 28.4 per cent.

"As our younger generation becomes more reliant on digital devices and we are facing a surge in myopia in the future, our findings suggest low-concentration atropine eye drops is an effective preventive strategy for myopia onset among high-risk children," said Dr Jason Yam Cheuk-sing, the principal investigator in the two-year study.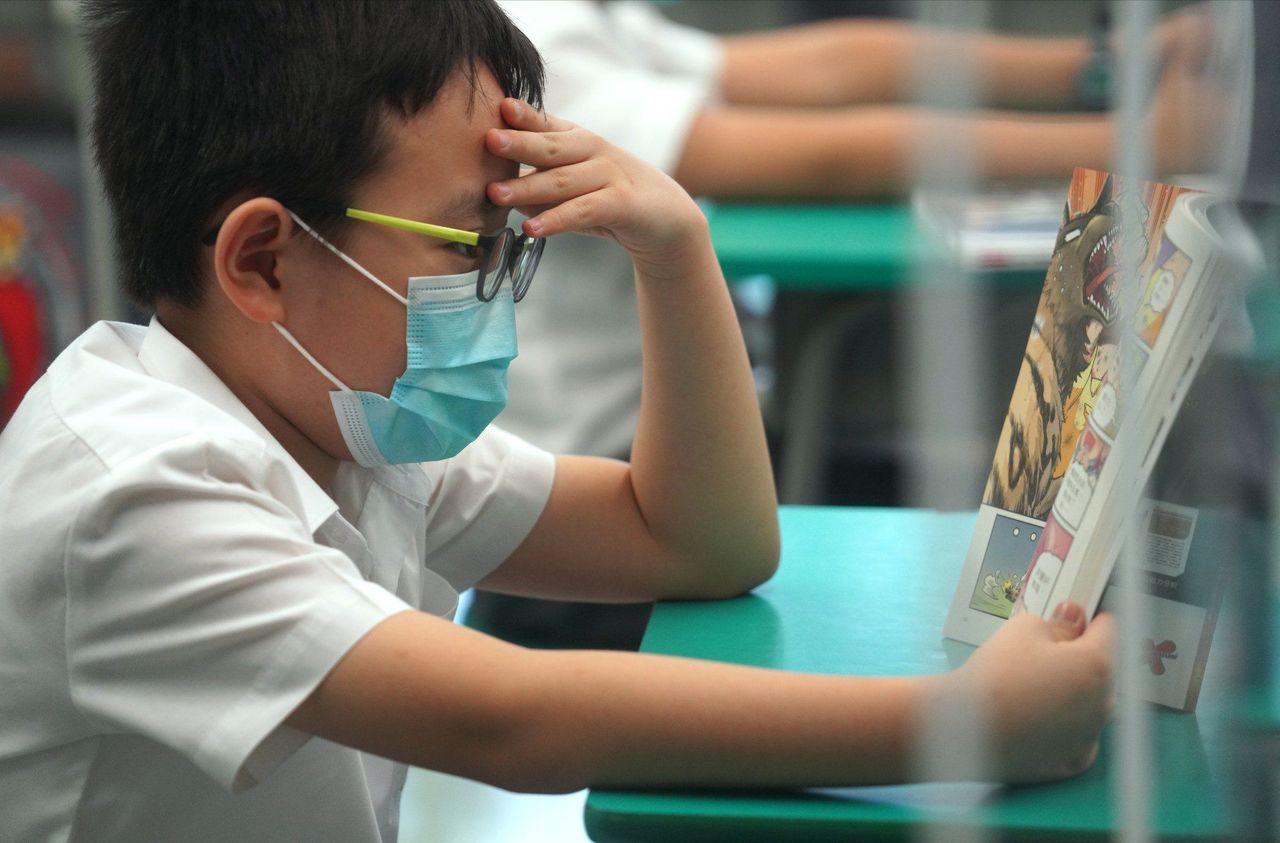 The Covid-19 pandemic has led to an increase in myopia among Hong Kong's children, according to a professor.

School closures and social-distancing measures during the Covid-19 pandemic have been found to have affected the eyesight of schoolchildren who have had to learn remotely.

Professor Clement Tham Chee-yung, of the university's ophthalmology department, said that since the pandemic began, the myopia incidence rate had risen by 2.5 times and the speed of eyesight deterioration had doubled.

"The Covid-19 pandemic has triggered a myopia boom in schoolchildren due to school closure and social-distancing measures," he said. "Strategies to prevent myopia onset and to reduce its progression have become paramount."

The second-phase study, involving 474 children aged from four to nine years old with no myopia between 2017 and 2020, followed a 2019 test that found the same type of eye drops slowed myopic progression in children by up to nearly 70 per cent.

Atropine drops have been used to dilate pupils before eye exams and treat some other conditions, such as lazy eyes and paralysis of the eye muscles.

The medication is available in Hong Kong only with a doctor's prescription.

Hailey Cheung, 10, was one of the participants in phase two. She was found to be at moderate risk because her mother had developed over 900 degrees of myopia.

She said that, because she spent up to four hours doing homework online every day, her eyes sometimes felt tired.

But, after three years of involvement in the trial, her left eye had a lower chance of developing myopia and her right eye had suffered no further deterioration.

"I felt my vision blurred after using the eye drops at first, but I soon got over it," she said.

The prevalence of short-sightedness in children has been on the rise and the World Health Organization highlighted that the condition affected up to 90 per cent of school leavers in East Asia by last November.

The public health agency also warned that half of the world's 7.9 billion population would develop short-sightedness by 2050.

The Hong Kong Children Eye Study said the 40.76 per cent incidence rate among children aged 8½ years old has made the city one of the areas most affected by myopia.

Professor Calvin Pang Chi-pui said: "The earlier a child develops myopia, the higher the risk of developing profound myopia and vision-threatening eye diseases when they grow up."

Pang added that although present optical treatments and surgery could mitigate short-sightedness, the treatments could not reduce the risk of developing eye diseases, such as macular degeneration and retinal detachment.

Yam, however, warned that the findings did not mean all children should use atropine eye drops to prevent myopia. He also offered advice on how children could protect their eyesight.

Yam suggested children should have reading materials at least 30cm (11.8 inches) away from their eyes.

He said they should take a break from their studies every 30 minutes after reading or computer use and spend at least two hours outdoors every day.