Five crematoriums will also extend opening hours past 8pm, and potentially make more sessions available.
Hong Kong public hospitals will begin storing corpses in private mortuaries in a bid to ease the pressure on overwhelmed morgues due to surging Covid-19 deaths, while crematoriums have extended their service hours to cope with a backlog.

Health authorities said on Tuesday that a contingency plan had been drawn up as many mortuaries had already reached their capacity, while some corpses were kept temporarily at accident and emergency departments.

"Diamond Hill Funeral Parlour run by Tung Wah Group of Hospitals will lend us 45 spaces from Tuesday. We have also borrowed 40 spaces from two nursing homes starting Wednesday," said Dr Albert Au Ka-wing, principal medical and health officer at the Centre for Health Protection.

Au added that 800 temporary refrigerated storage spaces would also be set up around Fu Shan Public Mortuary in Sha Tin by next month as part of an expedited expansion at the funeral home.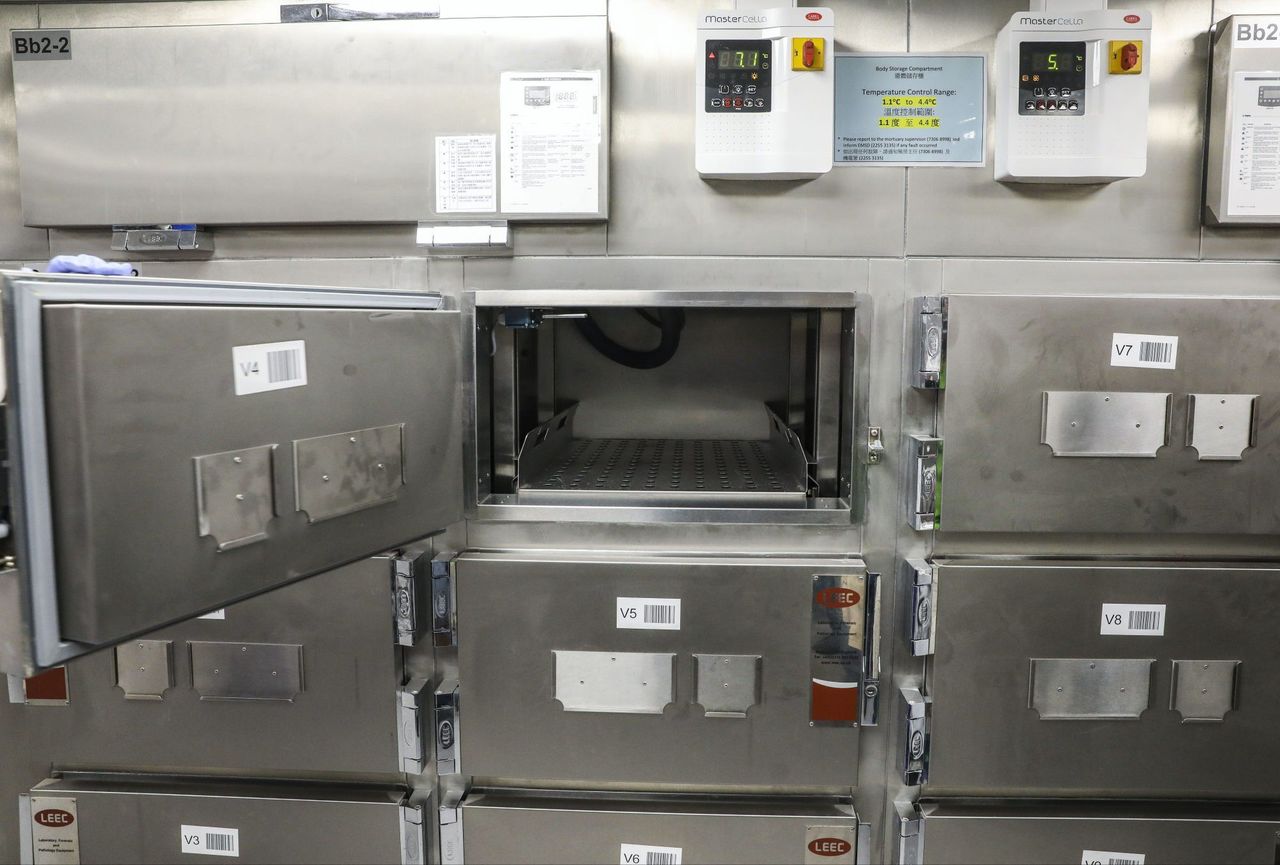 A new mortuary at Queen Mary Hospital in Pok Fu Lam.

Currently, the Fu Shan Public Mortuary, Kwai Chung Public Mortuary and Victoria Public Mortuary in Kennedy Town can store a total of 1,350 corpses. However, authorities said earlier the mortuaries were all rapidly reaching 90 per cent of their capacity.

Family members of the deceased who are in isolation after being deemed close contacts are barred from receiving the body in the mortuary. Au said a new measure had been put in place to exempt them from quarantine.

"Police will notify the Department of Health if an identifier of the body is under home isolation. As a temporary emergency measure, we will allow them out to receive the body."

"We hope to speed up the process of identification of the deceased," Au said.

Authorities on Tuesday revealed another 172 infected residents had died, including 117 in the past 24 hours. The remaining 55 had succumbed earlier but the deaths were only just reported due to a backlog. The overall death toll has now risen to 1,023, including 808 cases in the city's fifth wave.

Hong Kong also confirmed a record 32,597 infections, bringing the tally of cases to 225,746.

Regarding the recent backlog, Secretary for Food and Health Sophia Chan Siu-chee said on Monday that more spaces in public mortuaries would be provided and the cremation process would also be sped up.

Hong Kong has six government crematoriums with a total of 32 cremators and capacity for about 52,840 cremation sessions a year.

A spokesman for the Food and Environmental Hygiene Department said due to the recent demand for cremation services, the daily cremation slots had been increased from about 130 to the current 180 to 200 – meaning at least 180 bodies would be handled per day.

Five crematoriums would also extend their opening hours past 8pm, and more sessions would be made available if necessary, according to the spokesman.

Hong Kong Funeral Business Association chairman Ng Yiu-tong welcomed the new policies and said he believed they could help ease the backlog.

"It was impossible to meet the demand before. Normally there are just three sessions per day and the crematorium closes after 5pm," Ng said.

But he added that hospitals also took a longer time to issue death certificates which could delay the body identification process.

"Before the fifth wave of the epidemic, it took only three days for the death certificate to be issued. Now it takes at least seven days," Ng said.

"Without the death certificate, the family can't receive the body for cremation."