Chinese Vice-Premier Han Zheng met Chief Executive Carrie Lam in Beijing on Sunday, and told Hong Kong's leader her administration must be ready to implement plan to overhaul electoral system.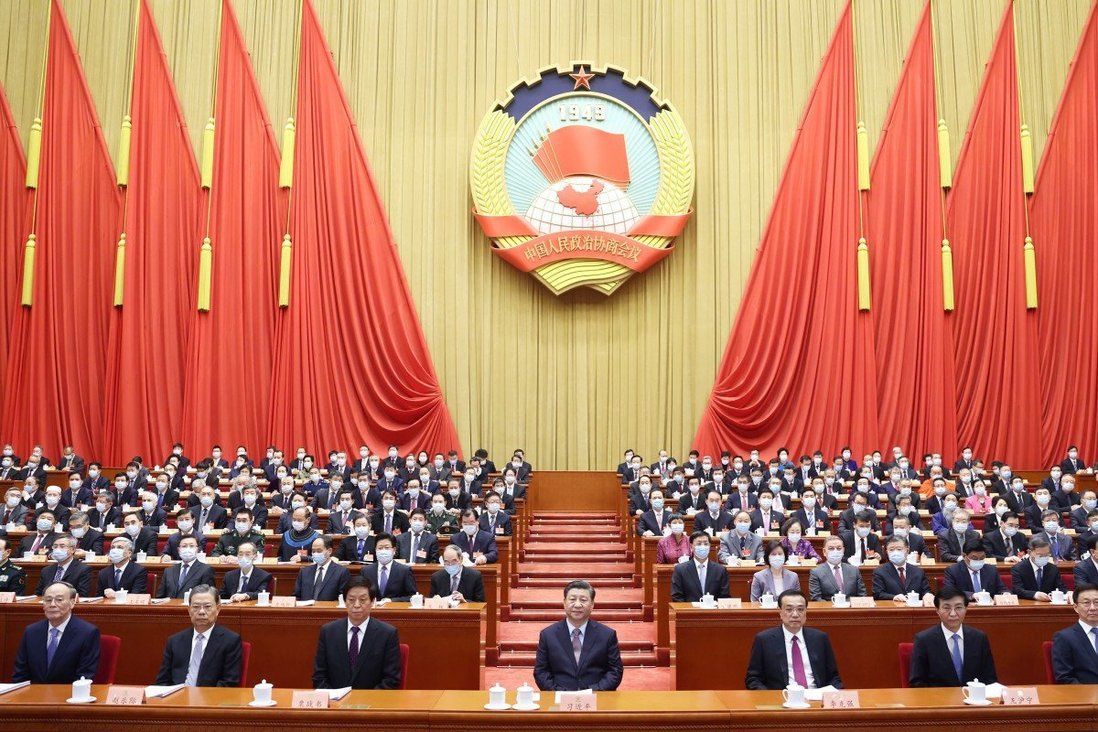 A top Beijing official has described the central government's plans to overhaul Hong Kong's electoral system as a 'battle' to defend rule of law.
Chinese Vice-Premier Han Zheng has urged Hong Kong's leader to continue to treat the coronavirus fight as her top priority, but the city must implement Beijing's plan to overhaul its electoral system, which he described as a "battle" to defend the rule of law against subversion.

State news agency Xinhua reported that Han had met Hong Kong Chief Executive Carrie Lam Cheng Yuet-ngor, and Macau Chief Executive Ho Iat-seng on Sunday.

"Han fully acknowledged the Hong Kong and Macau government's work in controlling the pandemic, alleviating people's hardship, and rebooting the economy in the past year," the report read.

On Hong Kong, Han hoped the city's government would continue to regard pandemic containment as its "core task ahead".

"Under the prerequisite of effective epidemic control, it must coordinate and do well in various socio-economic aspects, and seriously implement the local legislation that would follow, after the National People's Congress (NPC) makes a decision on reforming Hong Kong's electoral systems," Han said.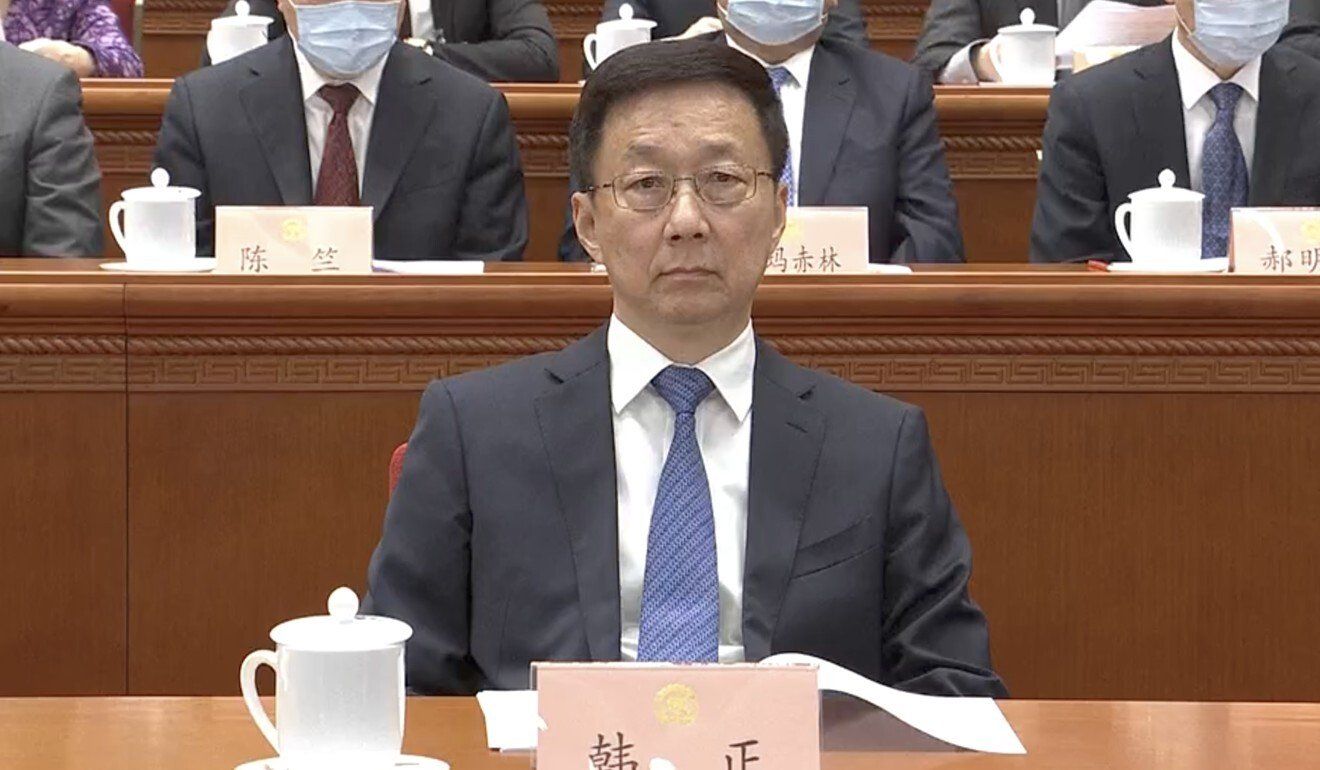 Vice-Premier Han Zheng attends a meeting in Beijing earlier this week.

On Macau, Han hoped that Ho's administration could continue its good work, further improve on its national security protection, and diversify its economy.

Both Lam and Ho thanked Beijing for its support, and pledged to maintain the cities' prosperity and stability.

Xinhua's report came hours after Han offered his justification of the electoral shake-up in a Sunday morning meeting with 36 Hong Kong deputies to the NPC who are in Beijing to attend its weeklong plenary session.

The session will conclude on Thursday with the endorsement of China's next five-year plan, and a resolution on changing Hong Kong's electoral laws to ensure that "patriots" are firmly in control of the executive, legislative and judicial branches of government.

According to the NPC's schedule, delegates will be discussing the draft resolution on electoral reform on Monday, and then the draft could be amended for further deliberation on Tuesday.

Under Beijing's multipronged plan, the 1,200-member Election Committee – which selects Hong Kong's leader – could be expanded by 300 seats to further cement the pro-establishment camp's dominance. The number of Legislative Council seats could also be increased from 70 to 90, with the Election Committee nominating all candidates for the legislature and even filling 30 of the seats itself. Beijing has also called for more stringent vetting of candidates for office to ensure they are sufficiently loyal, effectively leaving the fate of the opposition camp at the mercy of their political rivals.

The meeting on Sunday came as Hong Kong's chief secretary and finance chief took to their blogs to support the electoral reforms, while two pro-Beijing heavyweights, Elsie Leung Oi-sie and Lau Siu-kai, said the new vetting committee proposed by Beijing would be given investigative powers to scrutinise local politicians' actions throughout their tenure in public life.

In a press conference, Chinese foreign minister Wang Yi was asked to comment on comments from overseas that the electoral reforms would harm democratic development in Hong Kong.

"All countries around the world would require public officers and electoral candidates to abide by the basic political moral that they must bear allegiance to their countries," he said. "This is the same in Hong Kong, a special administrative region in China.

"During the colonial times, there was no democracy in Hong Kong to talk about. In the 24 years since the handover, no one is more concerned about Hong Kong's democratic developments, prosperity and stability than the central government."

State broadcaster CCTV reported that during Han's meeting with Hong Kong delegates, the vice-premier said the central government's insistence on "patriots governing Hong Kong" had never changed, as the principle was crucial to the city's effective administration.

Basic Law Committee member Wong Yuk-shan, deputy convenor of Hong Kong's NPC delegation, said during their meeting with Han, the vice-premier also accused the United States of double standards.

"Han noted that on July 1, 2019, the Legco complex was stormed by protesters, who caused very serious destruction," Wong said.

"He said this was a struggle between subversion and anti-subversion. In the US, protesters were arrested as terrorists as they carried American flags in storming Capitol Hill, but Hong Kong protesters carried other countries' flags and desecrated Legco – this is something that no government can tolerate."

Wong said Han also made it clear that Beijing had made up its mind about pressing ahead with the changes.

"Han also said this is a battle to defend Hong Kong's legal systems and the rule of law," he said. "To safeguard national security and developmental interests, the central government has no way to retreat; it must be resolute and determined."

Another NPC deputy, Chan Yung, said Han had told the delegation that the central government had to act, much as it had with the imposition of the national security law last June.

"It is not an issue of being democratic or not. Both the national security law and the electoral reform only serve one goal: to ensure Hong Kong's long-term prosperity and stability," Chan quoted Han as saying.

"The central government will continue to insist on 'one country, two systems', and Hong Kong people governing Hong Kong with a high degree of autonomy. This won't change."

Chan also said Han pledged to support Hong Kong in reinforcing its strengths in the realm of international finance, and its development into a global technology hub as well.

The vice-premier also urged the Hong Kong deputies to support the city's government in controlling the coronavirus pandemic, and to explain to the public the rationale behind Beijing's electoral reforms, Chan said.

NPC deputy Ma Fung-kwok, convenor of the delegation, said apart from listening to Han's speech, several deputies, including NPC standing committee member Tam Yiu-chung, also made speeches on electoral reform, national education and Hong Kong's financial industry.

In his meeting with Hong Kong delegates to the CPCC on Saturday, Han said the electoral system must "match the city's actual situation, manifest society's overall interests, and protect Hong Kong compatriots' broad and balanced political participation".

Tam said the vice-premier was referring to the Electoral Committee's bigger role under Beijing's plans.

"The committee is made up of representatives from all walks of life, these people's focus might be different from the lawmakers directly elected from the geographical constituencies," he said.

Critics previously described Beijing's proposals as "retrogressive", warning that voters' participation would decrease if the election failed to offer a genuine choice.

But Tam, a former lawmaker, said voter turnout was not among Beijing's major concerns.

"We do not just want a good atmosphere or turnout at Legco elections, we want a rational and healthy election in which patriots can win and safeguard national security wholeheartedly."