Magistrate clears 44-year-old woman of obstructing a public officer. One officer called her 'fatty' and accused her of feigning pregnancy, trial heard.
A Hong Kong woman was cleared on Friday of obstructing police during a search conducted seven months into her pregnancy, after a magistrate found that all the officers involved tried to hide the truth about the arrest.

Housewife Lau Siu-fan told the Kowloon City Court trial that she was manhandled and called a "damn fatty" when she challenged the decision to search her as part of a police operation targeting illegal immigrants.

The 44-year-old defendant, who gave birth prematurely just a few days after the search, was charged with obstructing a public officer after she was intercepted outside her To Kwa Wan flat in Wing Siu Street on January 20.

Station Sergeant Lau Chi-fun, who led the police operation, said suspicions were aroused when the defendant avoided eye contact with officers as she walked past.

The pregnant woman, who was taking a stroll near her residence, was said to be deeply agitated about the search, with police saying she repeatedly refused requests to show her identity card and was "making a scene".

The defendant testified she had produced her identity card on request but was told to stand to one side for further questioning.

She described getting into a row with Sergeant Lai Kam-yiu after refusing to wait next to another intercepted person who she knew had just completed quarantine.

Lai then called her a "damn fatty" and suggested she was feigning pregnancy, last month's trial heard.

When Constable Liu Yat-shan arrested the woman, the latter said: "Detain me as you wish."

Sergeant Lau claimed the defendant fell to the ground on her own accord during the ruckus.

But the defendant maintained she was forced to resist the officers because they had snubbed her request for an ambulance and tried to move her into a police van while she was handcuffed.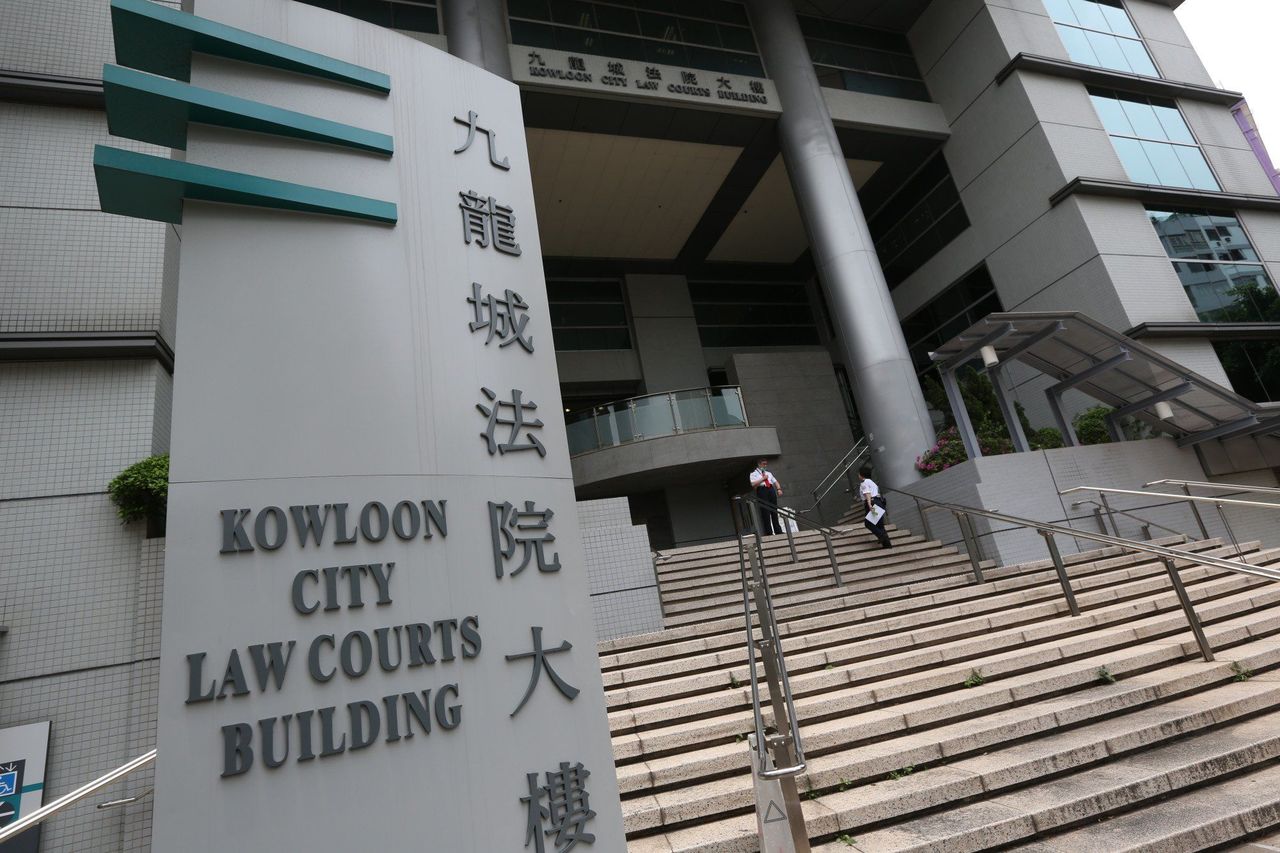 Kowloon City Court.

The defendant gave birth to a baby boy three days after the search and about two months before the due date.

The infant spent over two months in intensive care and requires regular medical check-ups to this day, according to the mother.

In Friday's verdict, deputy magistrate Nick Wong Tsz-ho found the testimonies of all the three officers contradicted security camera footage, which showed the defendant taking out her purse and handing over what appeared to be her identity card soon after she was stopped.

Wong said it was "a bit bizarre" that all three officers had, in their first written statements, denied seeing the defendant ever take out her purse, only to unanimously admit seeing her reach for it but not her identity card in supplementary accounts.

"Apart from trying to conceal the truth, I cannot think of other reasons to explain this," he said.

Wong rejected Sergeant Lai's evidence that he had acted in a calm and collected manner throughout the encounter, citing video evidence which showed the officer pointing his finger at the defendant on multiple occasions

Instead, he found the sergeant had exaggerated his evidence about the defendant's reactions in a bid to justify his decision to handcuff her.

Liu, meanwhile, had also fabricated evidence relating to the circumstances of the search by claiming the woman had obstructed police with her physical movements, although the video clip only showed she had spoken to the officers and taken out her purse.

The magistrate found the three officers to be dishonest witnesses and ruled there was reasonable doubt to be drawn from the prosecution's case.

Outside court, Lau Siu-fan said she was a victim of an arbitrary arrest and had lodged a complaint to police.

"To me, this case is already over, but the officers were in the wrong," she said. "It was wrong to handcuff me. I never put up resistance, as stated in the magistrate's findings. I am really, very disappointed with police."