Mr Justice Johnny Chan labels Yeung's original plea 'capricious' and says the TVB actor showed only an 'average' level of remorse.
Hong Kong television star Mat Yeung Ming lost his appeal against an 18-day jail sentence for careless driving, after the judge highlighted there was "ironclad" proof against him and the penalty was already lenient given the seriousness of the offence.

The 41-year-old TVB actor on Thursday left the High Court in a prison van as he was immediately escorted to Lai Chi Kok Reception Centre to serve the jail term a magistrate had imposed on him last year.

Mr Justice Johnny Chan Jong-herng found sufficient basis to jail Yeung as he was under the influence of alcohol when he crashed his black Mercedes-Benz in Mid-Levels two years ago, adding the artist had failed to learn from his past driving offences.

"The appellant's driving manner in the present case can be said to be continuously bad. The appellant, at the time, drove the vehicle regardless of the influence of alcohol on him, at the expense of other road users' safety," Chan said in his written verdict. "I accept [prosecutors'] submission that the court must mete out a deterrent penalty to the appellant."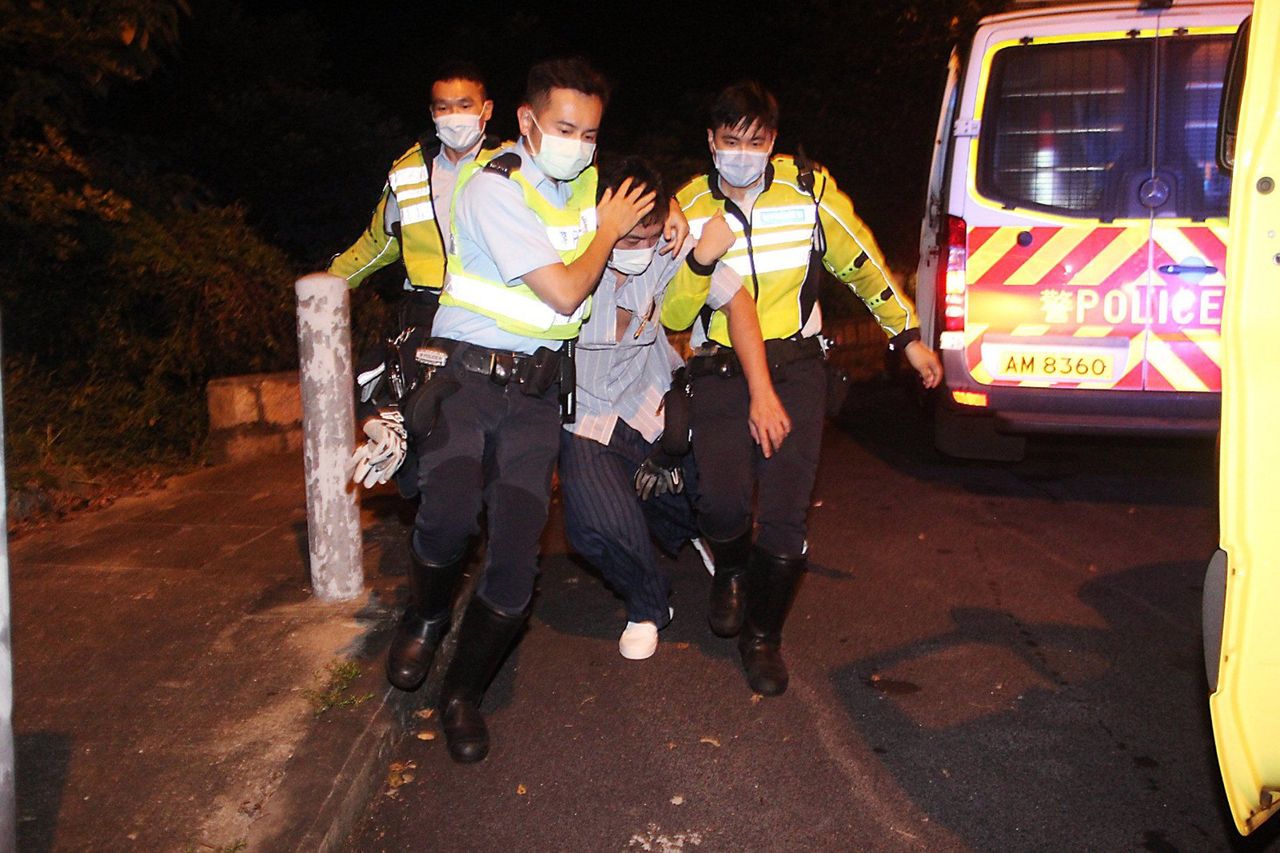 Yeung was arrested after crashing his vehicle on August 8, 2020 in Mid-Levels.
Chan also highlighted Yeung's "capricious" plea during the trial stage and said he deserved a longer period behind bars given the "average" level of his remorse.
"There is ironclad evidence to support the present offence of careless driving. The appellant has once reversed his decision to plead guilty to the charge. He cannot be said to have entered a timely guilty plea," the judge added.
Yeung, whose real name is Lam Ming-lok, lost control of his luxury vehicle while driving on Magazine Gap Road in the early hours of August 8, 2020.
Eastern Court heard last year the artist had steered the car in a zigzag motion before it ploughed through a curb, slid 20 metres downslope and smashed into a road sign.
Yeung pleaded guilty to charges of careless driving and illegally tinting his car windows, but was cleared after trial of a third count of failing to provide a blood sample, an offence related to drink-driving.
Just as Yeung was about to be remanded in custody at the conclusion of his trial, he reversed his two guilty pleas on the grounds that his original legal counsel, Cheng Huan SC, had misled him into believing he would be spared jail time.
The prosecution subsequently applied for a review of that decision, which was dismissed, before Yeung's new counsel, Martin Hui Siu-ting SC, indicated he would plead guilty again to the same set of driving offences.
In November last year, Magistrate Daniel Tang Siu-hung jailed Yeung for 18 days, disqualified him from driving for two years and fined him HK$2,000 (US$254), but released him on bail pending the present appeal.
On appeal, Hui contended the magistrate was wrong to cite his client's use of alcohol in bolstering his sentence, as he had not been charged with a drink-driving offence and there was no evidence of his level of intoxication at the time.
But Justice Chan said careless driving and drink-driving were "offences of comparable gravity" as they carried similar maximum sentences to punish drivers for failing to control their vehicles with adequate attention and care.
Despite a lack of medical proof, the judge said the lower court could still find the accused had consumed alcohol before driving.
He pointed to police testimonies that Yeung appeared "absent-minded" and "reeked of alcohol" when he was pulled out of the ravaged vehicle, and that he was so mentally unstable that he had to be placed in a straitjacket for medical examination.
Chan also highlighted Yeung's previous convictions and said the actor could reoffend in the future.
Yeung is known for roles as police officers in multiple TVB dramas, including the 2021 series Shadow of Justice. He has also filmed crime prevention and recruitment promotion clips for the police force.
The artist is also known for his pro-establishment stance during the 2019 anti-government protests, having openly backed police and signed a petition in support of the national security law.