Benny Tai, Chan Kin-man and Chu Yiu-ming are challenging their conviction on conspiracy and incitement charges stemming from their roles in the civil disobedience movement.
The three founders of 2014's Occupy Central movement engaged in what was merely a "conspiracy to inspire", not one to create a public nuisance – the actual charge they were convicted of five years later – their lawyers have argued on appeal.

Opening the three-day appeal at the High Court on Tuesday, solicitor advocate Eric Cheung Tat-ming said this was the first case in Hong Kong in which the organisers of a peaceful demonstration had been charged with conspiracy and incitement, and severely sanctioned by lengthy prison terms.

Cheung argued that the trio's conviction and sentence were "disproportionate", given that they had undertaken an act of "self-sacrifice" in seeking to motivate the public to fight for greater democracy, and could not have contemplated the extent of the obstruction their movement would cause. Occupy ultimately dragged on for some 79 days and brought parts of the city to a standstill.

The lawyer also noted that the Hong Kong of 2014 was very different from today's, and argued that the court should be careful in interpreting political rhetoric like that of his client, legal scholar Benny Tai Yiu-ting, as incitement. Labelling Tai's speeches as such, Cheung argued, could have "a very damaging chilling effect on freedom of expression".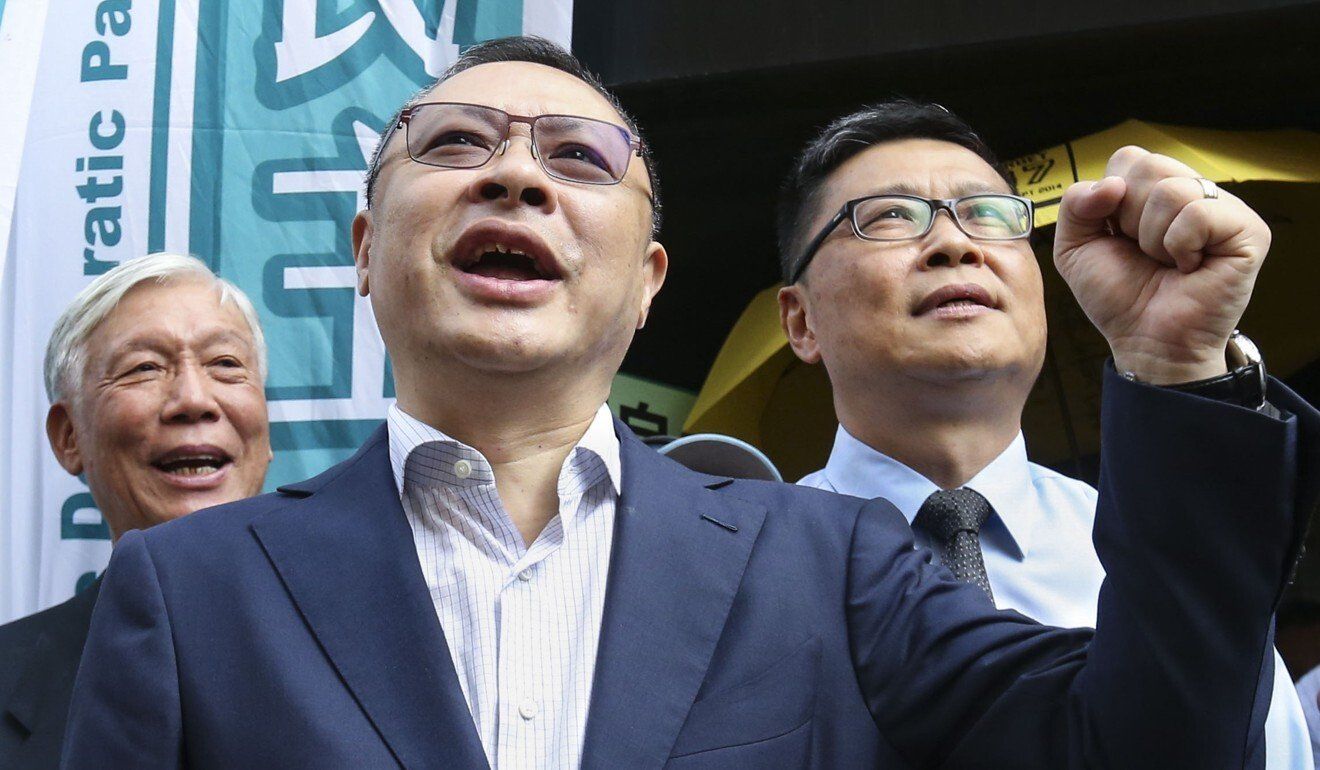 Occupy Central co-founders (left to right) Reverent Chu Yiu-ming, Benny Tai and Chan Kin-man appear at the District Court in Wan Chai in 2017.

Tai, 56, along with the movement's co-founders – retired sociologist Chan Kin-man, 62, and Reverend Chu Yiu-ming, 77 – were among nine democracy advocates returning to court this week in a bid to overturn their 2019 convictions on a host of conspiracy and incitement charges over their roles in the massive civil disobedience movement.

"Look at what the trio advocated for," Cheung told the Court of Appeal. "If there is an offence of conspiracy to inspire Hong Kong people, they may have been found guilty of the offence – but they are certainly not guilty of conspiracy to commit public nuisance."

The six other co-defendants are former lawmakers Tanya Chan, 49; Shiu Ka-chun, 51; Lee Wing-tat, 65; League of Social Democrats chairman Raphael Wong Ho-ming, 32; and former student leaders Tommy Cheung Sau-yin, 26, and Eason Chung Yiu-wa, 28.

Prosecutors had accused the three co-founders of developing a conspiracy to commit public nuisance as early as March 2013, when they first announced the "occupy Central with love and peace" campaign.

While district Judge Johnny Chan Jong-herng ultimately convicted the trio of conspiracy in 2019, he found that the plot was only formed on September 18, 2014, when Chu notified police of their plans to hold a five-day sit-in on Chater Road the following month after Beijing had announced election reform proposals that critics found restrictive.

Judge Chan further concluded that the trio had "modified" the plan when Tai kicked off the occupation with a call to "over-cram Admiralty" while addressing a crowd at Tim Mei Avenue in the early hours of September 28, 2014, after students had already spent two nights outside government headquarters.

Police tear-gassed the crowd later that day, but failed to disperse them.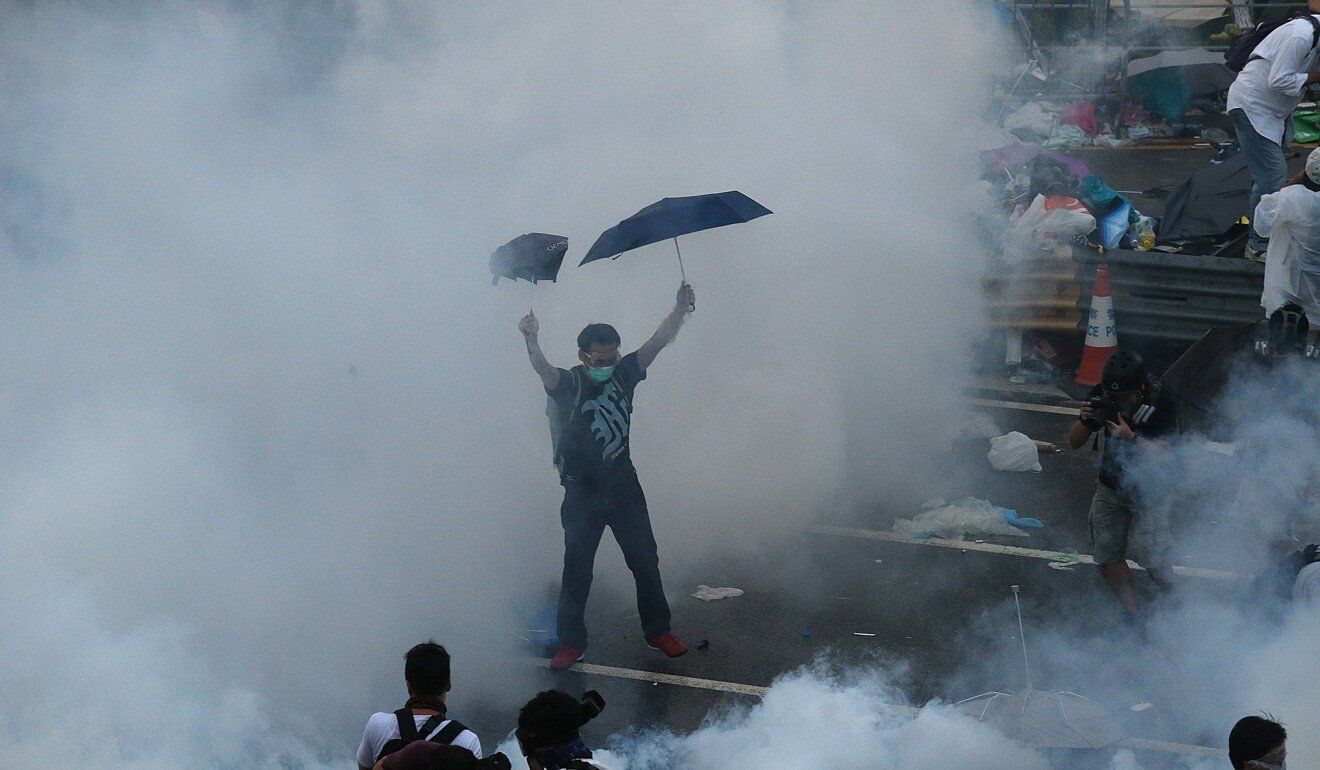 Police fire tear gas at protesters in Admiralty at the outset of Occupy Central in 2014.

Tai and Chan Kin-man were subsequently jailed for 16 months on one count of conspiracy to cause a public nuisance and another of inciting others to do the same. Chu, who was also convicted on the conspiracy charge, had his 16-month sentence suspended due to health concerns.

But Cheung argued that the eventual ad hoc call to "over-cram Admiralty" was "very different" from the original plan for a sit-in in Central, and the two should not be combined as a single conspiracy charge.

He also questioned the allegation that the ad hoc call constituted a "modified agreement" under the purported conspiracy, given that the trio had no time to discuss details, such as the duration and area of occupation, and were not leaders of the movement.

"The trio was caught by surprise by the action of students," Cheung continued. "What followed was largely unplanned and spontaneous."

The hearing continues on Wednesday before Court of Appeal vice-president Andrew Macrae and madam justices Maggie Poon Man-kay and Anthea Pang Po-kam.