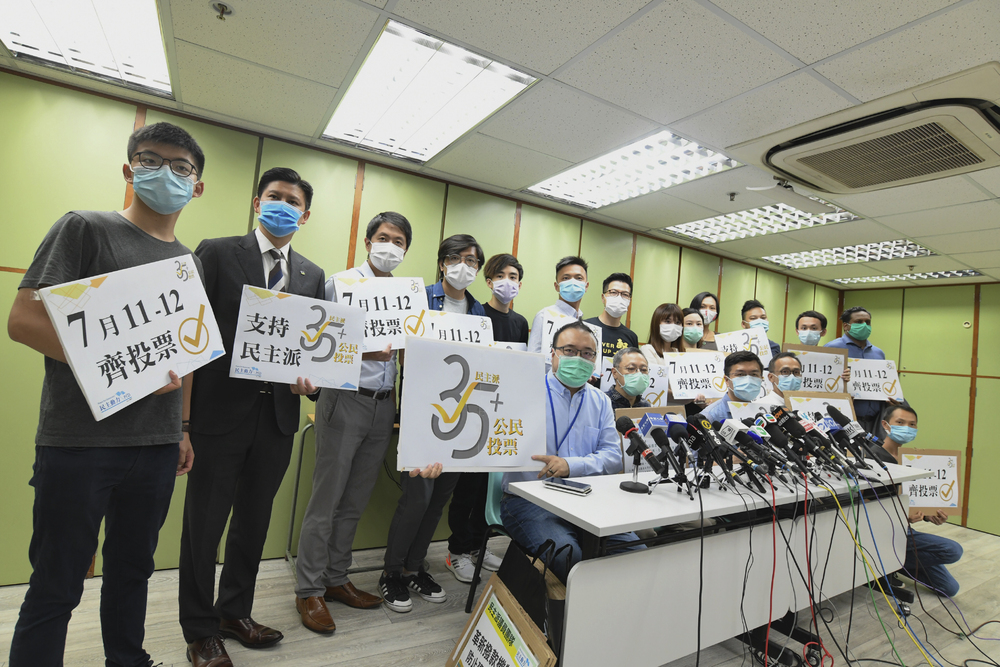 Court gets inside story on hatching of primary plan
Former legal scholar Benny Tai Yiu-ting had elaborated his plan to use a "highly lethal constitutional weapon" to force then chief executive Carrie Lam Cheng Yuet-ngor to dismiss the Legislative Council and step down during a meal gathering in January 2020, when the idea of organizing a primary Legco election among the pro-democracy camp was first raised, ex-lawmaker Au Nok-hin told a court yesterday.
That emerged as Au continued testifying on the seventh day of the national security trial before high court judges Andrew Chan Hing-wai, Alex Lee Wan-tang and Johnny Chan Jong-herng at a West Kowloon magistrates' court without a jury.

Sixteen of the 47 defendants have pleaded not guilty to conspiracy to commit subversion between July 1, 2020, and January 7, 2021.

Au, who had pleaded guilty, said Tai had explained during the meal that the "constitutional weapon" involved "vetoing of budget bills twice, dismissing Legco and leading the chief executive to step down."

Those present also discussed which group should be in charge of administering the primary election, such as collecting application forms and doing the promotional work.

Former Democratic Party vice-chairman Lee Wing-tat then said he believed Power for Democracy is "a pro-democracy organization that had done primary elections and coordination work before."

Au said although Power for Democracy convener Andrew Chiu Ka-yin wasn't mentioned then, he believed it was logical to contact him in an effort to get his organization to get all that work organized.

Lee also proposed Au and Tai become coordinators of the primary, to which the former agreed. But those present had divergent views on whether other groups should join in and whether the primary should be a poll or a referendum, as the latter costs more and necessitates more election expenses being declared.

Au said he and Tai also introduced the plan to the Civic Party's executive committee, with Tai talking about his vision of winning more than half the seats in Legco seats and to use the powers bestowed by the Basic Law to veto budget bills. However, former lawmaker Tanya Chan Suk-chong had reservations about Tai's plans.

Between February and March 2020, Au and Tai sought out people they thought might be interested.

Au met Fergus Leung Fong-wai, Wong Ji-yuet, Joshua Wong Chi-fung and Eddie Chu Hoi-dick.

But Au said he did not agree with the plan to tie down candidates' hands in Legco after being elected, so he only told the activists that the primary's purpose was just to select representatives for the pro-democracy camp.

Leung did not promise to join the primary, Wong Ji-yuet only wanted to know what it was, Chu did not pay attention, and Joshua Wong advised Au against hosting a primary.

Tai sought out Owen Chow Ka-shing, Sam Cheung Ho-sum, Hendick Lui Chi-hang, Democratic Party members, TSW Connection and Community Alliance.

Au said he and Tai met Michael Pang Cheuk-kei and Ventus Lau Wing-hong, with Tai revealing his plan to secure veto powers by winning over half the seats in Legco.

The trial continues today.