Hospital bed occupancy stood at 113 per cent on Tuesday, while authorities urge patients with 'non-urgent' conditions to visit outpatient facilities.
Residents flocked to the emergency departments of Hong Kong's public hospitals again on Tuesday, with some patients waiting up to eight hours to see a doctor and in the case of one desperate elderly woman, 16 hours to be admitted to a ward.

The surge in patients, which frontline doctors said started weeks ago when the city began recording an uptick in daily Covid-19 cases, has prompted hospital authorities to renew their appeal that people with mild or "non-urgent" conditions seek treatment at public outpatient clinics or family doctors.

Dr Gladys Kwan, a chief manager at the Hospital Authority, said that more than 5,300 people had visited the city's emergency departments at public hospitals on Monday, and about a fifth of them had been hospitalised. Bed occupancy stood at 113 per cent on Tuesday.

She said pressure on the public hospitals might mount during the holiday season, adding that the authorities would keep tabs on the situation and deploy more resources when needed.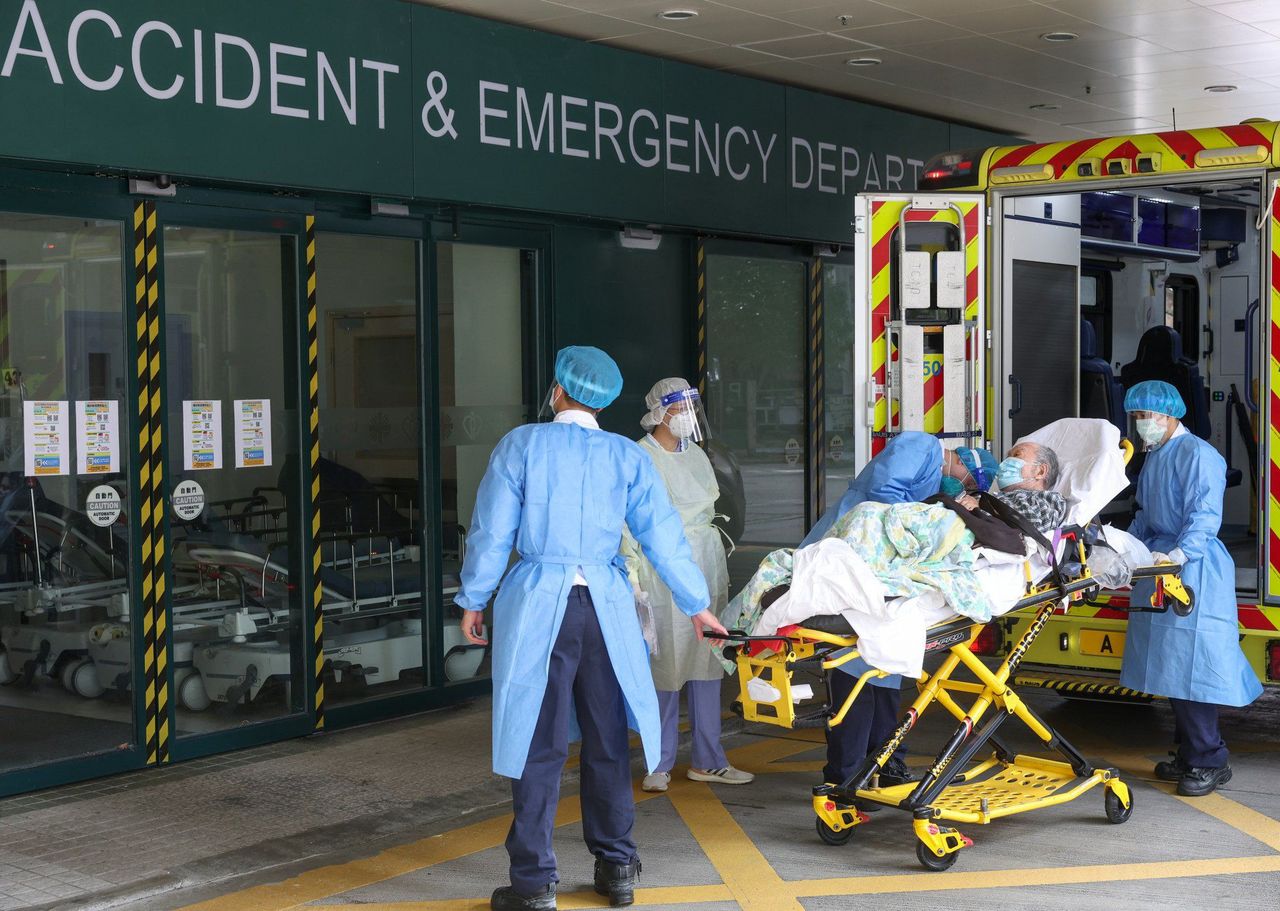 Patients face lengthy waits at emergency departments.
Hong Kong on Tuesday reported 14,982
Covid
-19 infections, 870 of which were imported, and 33 related deaths. The city's tally for the pandemic stands at 2,385,285 cases and 11,243 fatalities.
Patients at United Christian Hospital in Kwun Tong were required to wait for up to eight hours before they could see doctors on Tuesday morning – similar to the situation on Monday.
Among the patients was an 84-year-old woman, who was taken to the hospital by her 58-year-old daughter at 7pm on Monday, after she tested positive for
Covid
-19.
While they were able to see a doctor about an hour after their arrival, the mother had to wait until around 11.30am on Tuesday before she was sent to a makeshift facility on Lantau Island.
Ip said the 16-hour wait at hospital took a toll on her elderly mother, as limited space in the processing area meant only those who were very ill could rest on beds.
"Whoever can sit has to sit as there is really no space. [The emergency ward] was cramped with wheelchairs that kept bumping into each other," she said. "For 16 hours, she had been sitting without being offered a bed."
While health officials urged people with mild symptoms to seek treatment elsewhere, some patients told the Post they had no choice.
A 73-year-old retired garment factory manager, who only gave his surname as Ku, said the stomach ache that hit him after midnight on Tuesday was so acute that he had to call an ambulance, which sent him to the Caritas Medical Centre in Cheung Sha Wan.
Ku arrived in the waiting room at 2am, where about two dozen people were waiting. But he was still told he had to wait "seven to eight hours".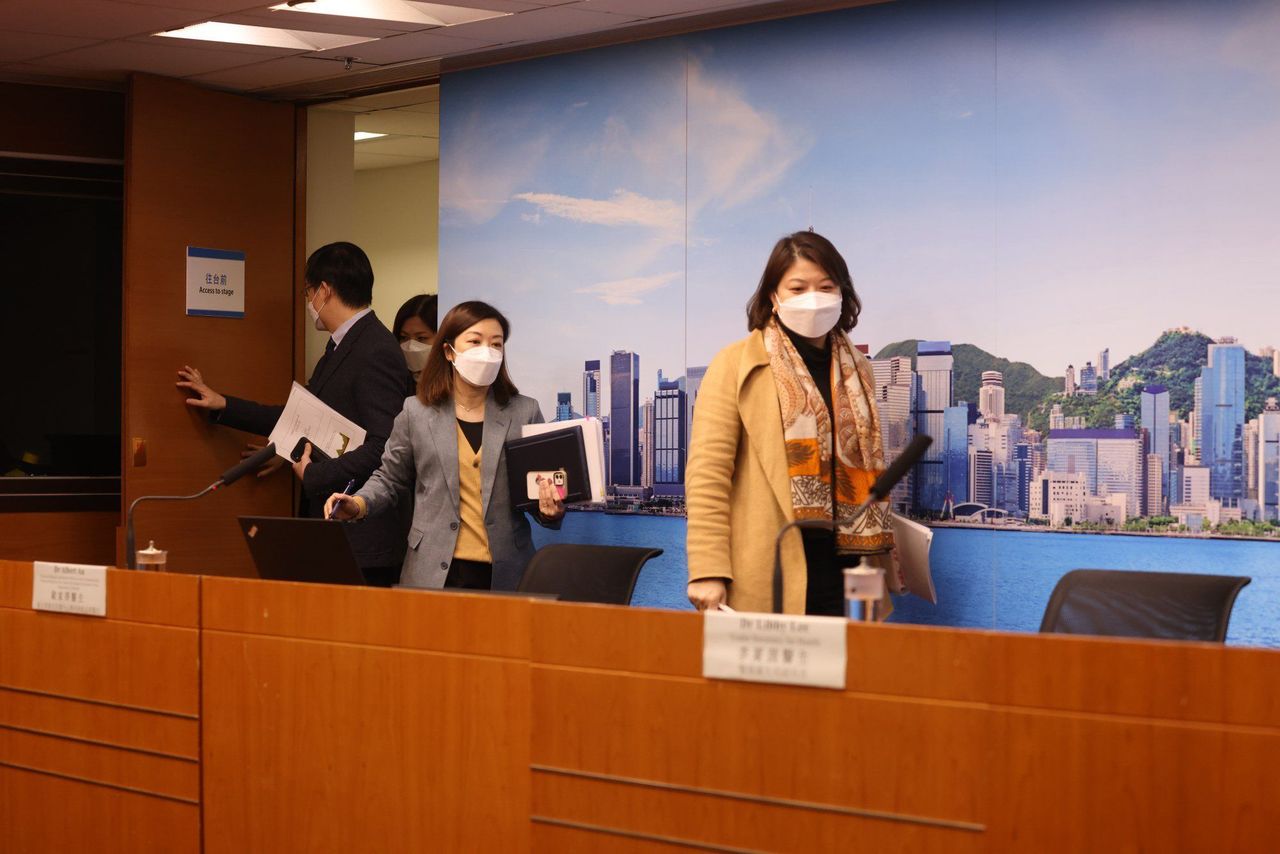 Authorities gave on update on the public health situation on Tuesday.

"Then I asked the staff if she knew if other private practitioners were open for the night," he said. "She said she had no idea and prompted me to ask people outside."

He eventually saw a doctor at 8am, when his pain had already eased.

Ho Kuen-po, a 72-year-old retiree, said she was referred by her private doctor to do a chest scan at United Christian Hospital after she suffered a fall recently.

"I'm prepared to leave if the wait takes too long, even if I would lose over a HK$100 [US$13]," she said, referring to the registration fee, after learning she had to wait for up to eight hours when she arrived in the morning.

For Wang, a 70-year-old retiree, it was the second time in a week that he had to take his wife – who was infected – to seek treatment at the Kwun Tong hospital, as she had shown signs of complications after taking a prescribed antiviral drug.

He said they had waited for nearly eight hours during the visit a week ago. After waiting for six hours on Tuesday, he decided to go home to make lunch for his wife.

"If I had loads of money, I wouldn't have come to a place like this," he said.

Frontline doctors at emergency wards and private clinics cautioned that the situation could worsen in the coming weeks, given an increase in non-Covid flu-like illness and more medical personnel taking leave during the festive holidays.

One emergency ward doctor told the Post that care homes had been sending residents with only mild Covid-19 symptoms to hospitals, instead of arranging their transfer to holding centres set up by the Social Welfare Department as suggested by the government.