Trigger mechanism for ban to be maintained at three positive cases on same flight.
Hong Kong will reduce a 14-day suspension for flights carrying in passengers infected with Covid-19 to a week with the trigger for this ban kept at three cases, a move the city's leader has justified as striking a balance between contagion risks and public tolerance without straining the healthcare system.

Authorities will also convert 13 hotels previously designated as isolation facilities for coronavirus patients or close contacts into quarantine premises for arrivals.

At her daily press briefing on Sunday, Chief Executive Carrie Lam Cheng Yuet-ngor dismissed calling changes in the suspension mechanism a "relaxation", adding that prevention of imported infections was still "a fundamental pillar" to the city's anti-epidemic policy.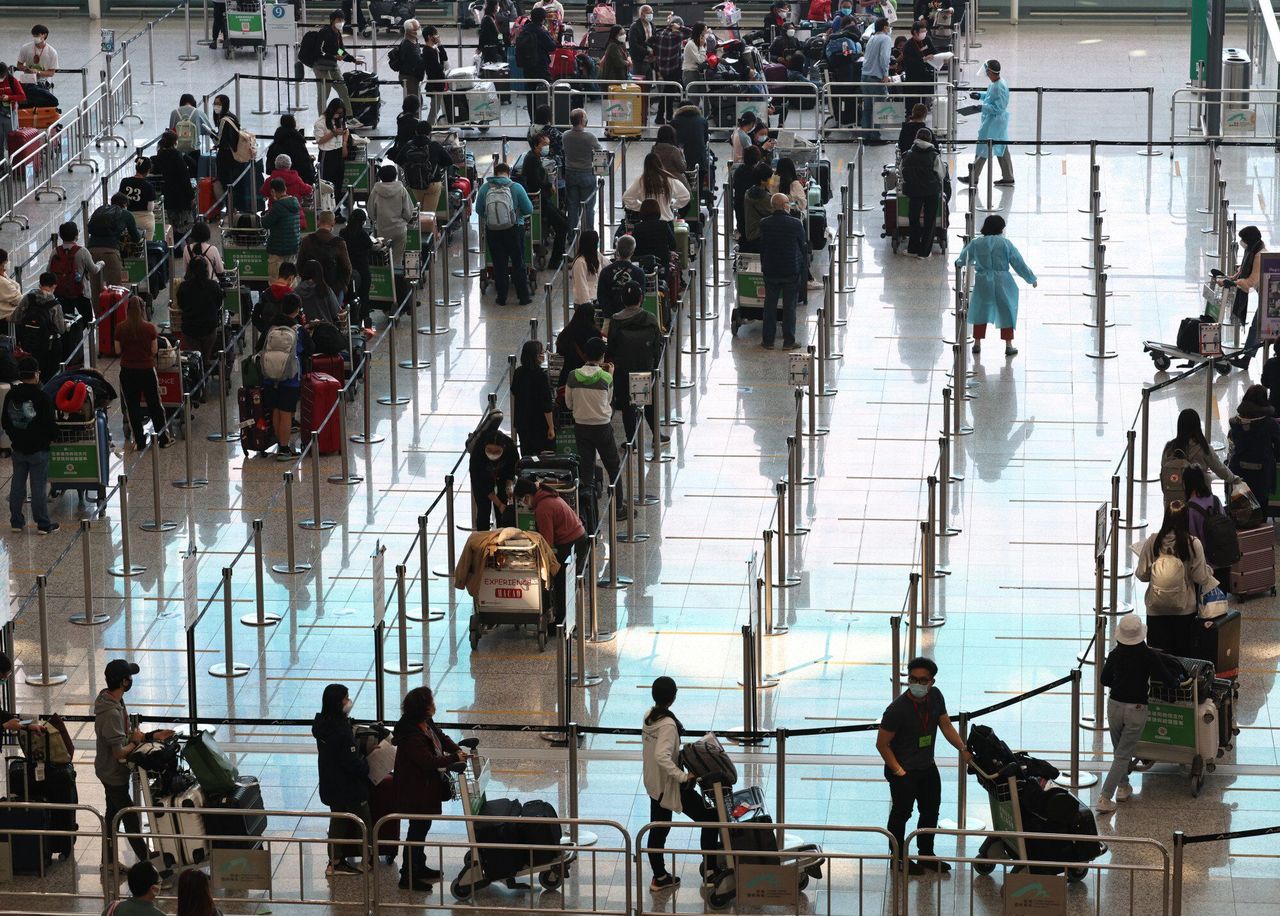 The easing of travel curbs comes amid a scramble among returning residents for flight and hotel bookings.

"The government considered it timely and necessary … to lift the ban in respect of these nine countries but it doesn't mean that we will loosen all the necessary anti-epidemic controls as far as importation of cases is concerned," she said, referring to another measure that will also take effect from April 1.

"What we announced last night [on the flight suspension changes] could be described as a streamlining of existing arrangements," Lam added.

In a late Saturday night statement, the Food and Health Bureau had said airlines must strictly enforce all boarding requirements in place.

Starting from April 1, if a flight is found to have three or more passengers who test positive for Covid-19 upon arrival, the airline will be banned from operating that route into Hong Kong for seven days.

The suspension also applies if one or more passengers on the flight test positive and fail to comply with rules regarding quarantine hotel bookings and pre-departure tests.

Under existing measures, the 14-day suspension will be triggered if four or more passengers on the same route within a week test positive for Covid-19. But with the changes to kick in from April 1, this mechanism will be scrapped.

Lam acknowledged the changes would lead to "a certain degree of risks", which would be "manageable'', as figures proved imported cases would not add to the burden on the healthcare system as most were asymptomatic or with mild symptoms.

Lam said that in February, the rate of inbound passengers who tested positive on arrival was 0.76 per cent, and for this month up to the March 23, the number was only slightly higher, at 1.1 per cent.

"None of these cases were sent to hospital. They just have to be isolated in community facilities," she said. "We believe that these percentages when compared with the community situation should be manageable."

The government earlier announced it would from April 1 lift flight bans on nine countries, causing a scramble for plane tickets and hotel bookings among returning residents. Aviation representatives had urged authorities to relax the flight suspension mechanism.

Representatives from 11 carriers, including United Airlines and British Airways, also wrote to Lam earlier, urging authorities to scrap Covid-19 tests for aircrew.

Lam on Sunday said authorities had communicated with the airlines, but added that they would "never be able to meet the aspirations and needs" of the industry in full.

"They are doing business, of course they will not like any limitations or restrictions on how they should conduct business. But we are in a public health emergency so every business has to make sacrifices," she warned.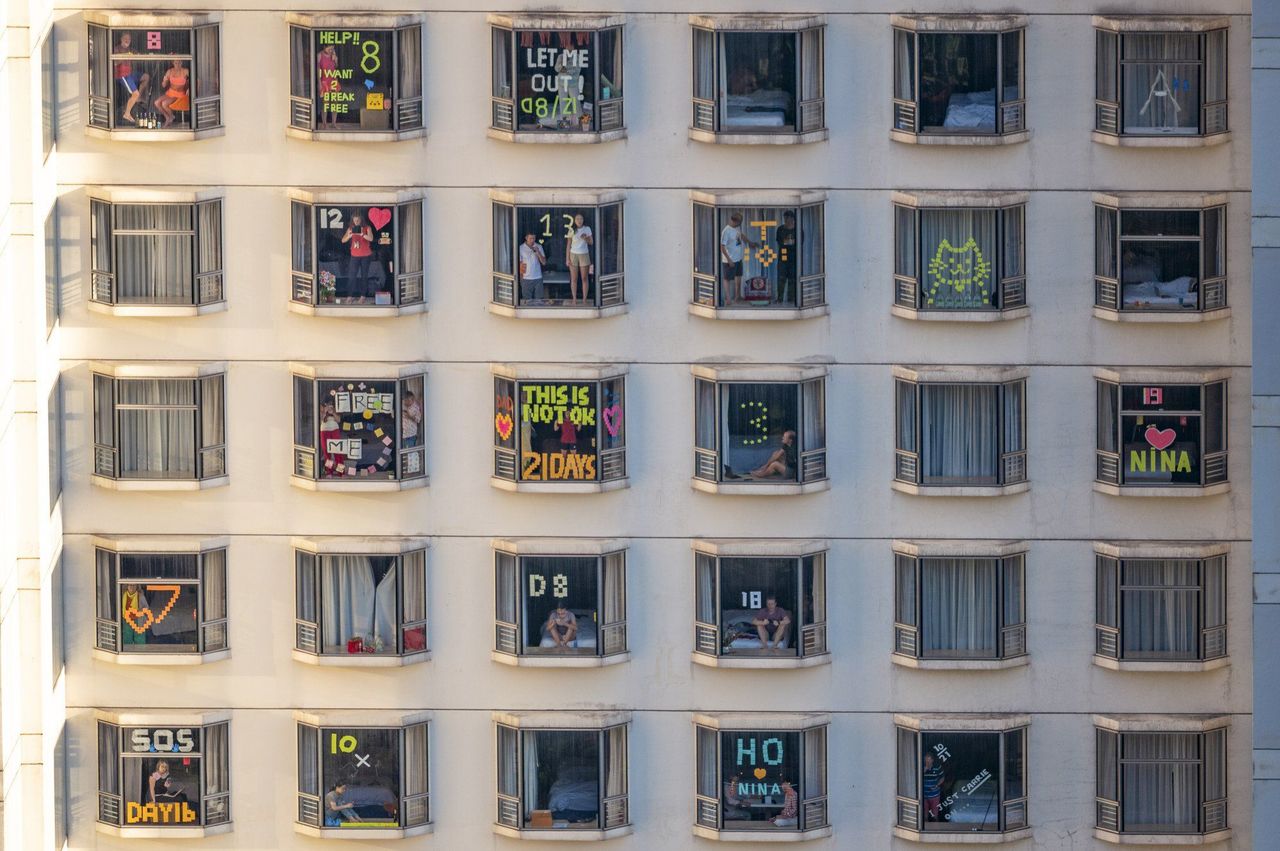 Guests at a quarantine hotel in Aberdeen get up to some fun.

On quarantine facilities, the government had previously identified more than 40 hotels for the quarantine of inbound travellers. But as the fifth wave of Covid-19 infections surged, 18 of the premises were turned into isolation facilities for confirmed cases or their close contacts.

Starting from next month, 16 – rather than 18 as previously indicated to the Post by the Food and Health Bureau – such hotels will become quarantine facilities again, with 13 reserved for residents returning from abroad, and three for incoming domestic helpers.

The 13 hotels converted back into quarantine facilities will open up more than 4,400 rooms for travellers on top of the current supply.

"These [hotels] will commence service progressively from April 1 onwards and will start to accept room bookings for the relevant period gradually," authorities said in the Saturday statement.

With the latest conversions, there will be 38 quarantine hotels providing more than 10,000 rooms in total for residents returning from overseas places other than mainland China and Macau.

The three hotels reserved for domestic helpers will take the total number of quarantine facilities for this group to four, accounting for some 1,600 rooms in all.

The government also announced on Saturday that starting from Tuesday, travellers would have to undergo an extra polymerase chain reaction (PCR) test when travelling from Hong Kong to the mainland and Macau via the airport. This screening process must be conducted within eight hours before scheduled departure.

Earlier this month, travellers heading to the mainland or Macau were already required to test negative in a free PCR test at Shenzhen Bay Port and the Hong Kong-Zhuhai-Macau Bridge port. That measure came on top of a negative, self-paid PCR result that travellers must present to immigration authorities.

A Cathay Pacific representative said the airline welcomed the government's decision to adjust the suspension mechanism and was working to resume more flights from April 1 to cater to the anticipated demand. Additional flights from Bangkok, Kuala Lumpur, London and Sydney have been added to its April schedule, while more to Hong Kong are being planned.

Tommy Tam Kwong-shun, chairman of the Society of IATA Passenger Agents, a coalition of the largest travel agencies in Hong Kong, also supported the measure.

With 14-day suspensions, airlines faced relatively higher costs when dealing with crew changes, flight handlings and passenger relocation, making them reluctant to resume more frequent service, he noted.

"The reduction from 14 to seven days will be helpful and improve travel," he said.

However, Tam said he still hoped the government could eventually remove the suspension policy entirely as incoming travellers would still be quarantined upon arrival.

Respiratory expert Dr Leung Chi-chiu said he believed the new regulations were appropriate to help more travellers to return to Hong Kong and minimise disruptions for them, but advised against abandoning the measures completely.

He noted that even though the number of imported cases was considerably lower than local ones, arrivals could still bring new coronavirus variants to the city.

"Without all these regulations, we could be facing [more imported cases] adding a burden on the healthcare system and isolating facilities," he said.