Spectrum of the Seas returns a day early so thousands of passengers and staff on board can undergo screening.
Hong Kong has ordered the two companies offering "cruises to nowhere" to suspend services for two weeks from Friday as part of ramped-up efforts to halt the spread of the Omicron variant, a move affecting thousands of customers.

About 2,500 cruise ship passengers were required on Wednesday to cut short their trip and return to Hong Kong for compulsory coronavirus testing after nine of them were identified as close contacts of a preliminary-positive case linked to a suspected new Omicron cluster. They all later tested negative.

In light of the health risks, the government told Royal Caribbean International and Genting Cruise Lines to suspend all voyages until January 20. Flights from several Western countries will also be suspended for two weeks, while 15 types of premises were ordered shut in a bid to snuff out a fifth wave of infections.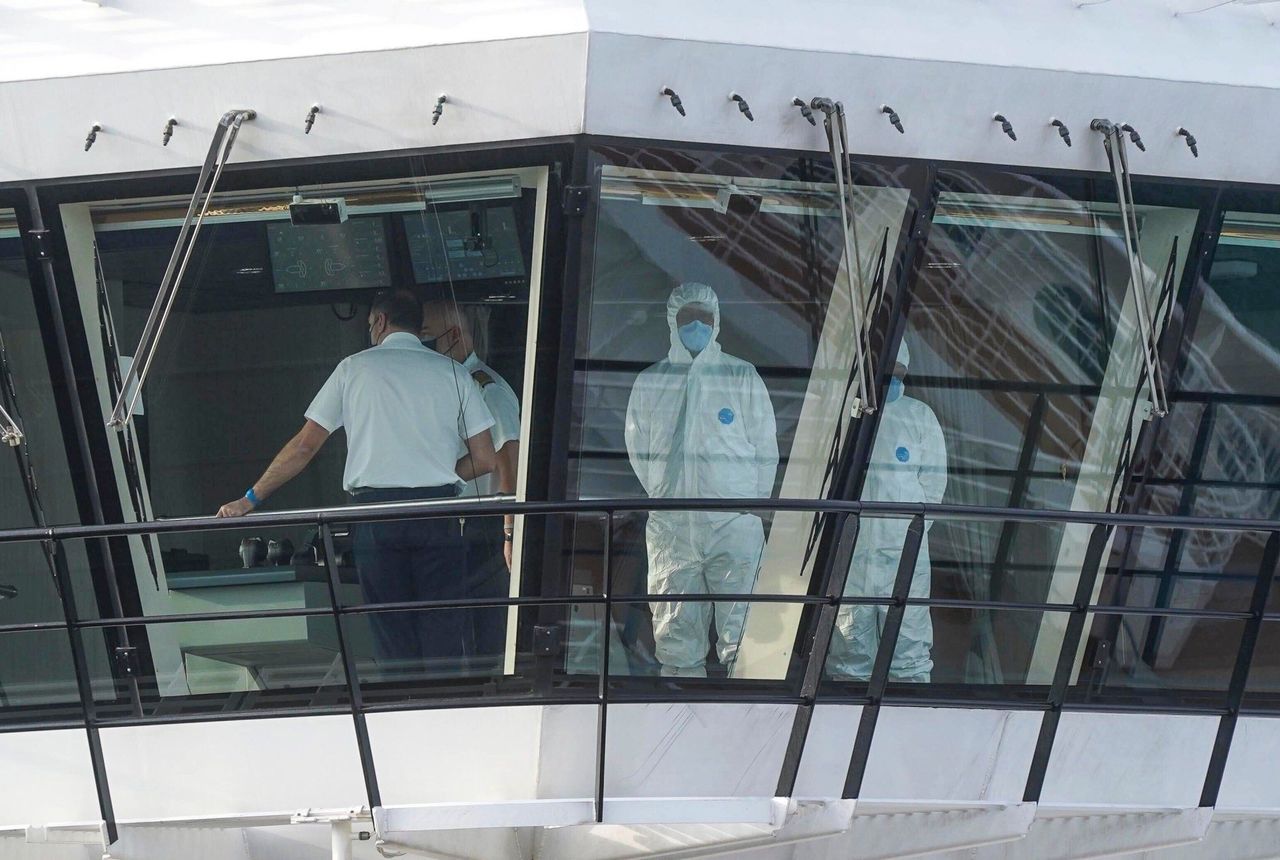 The Spectrum of the Seas was back in Kowloon at about 8am.

Tourism sector lawmaker Yiu Pak-leung said both cruise ships were fully booked over the Christmas holidays, as well as the coming Lunar New Year season, and he lamented that the suspension would affect thousands of customers.

"The cruise companies have done all they can by strictly complying with the vaccination and testing requirements. They have no choice but to be prudent," he said.

Under existing social-distancing rules, cruise ships are allowed to operate at 75 per cent capacity.

The preliminary case is part of a new cluster tied to a previously infected flight attendant that is separate to the one emerging from the Moon Palace restaurant in Kowloon Tong.

Health authorities on Wednesday said a domestic helper, 43, had tested preliminary-positive after her employer danced with the 62-year-old mother of an infected Cathay Pacific flight attendant in Causeway Bay on December 31.

The daughter was confirmed as infected with Covid-19 on January 2 and her mother was identified as a carrier two days later.

The employer, whose age is unknown, boarded Royal Caribbean's Spectrum of the Seas on Sunday, and after health authorities deemed her a close contact, they ordered the ship early on Wednesday to return to the Kai Tak Cruise Terminal so everyone on board including the 1,200-strong crew could take a mandatory coronavirus test.

None of the passengers or crew have tested positive, but the nine close contacts will be sent to the government quarantine facility at Penny's Bay.

Royal Caribbean International said in a statement that guests on the curtailed sailing would be refunded 25 per cent of the cost of their ticket. It said Thursday's departure had been cancelled and all those with bookings would receive a full refund on their cruise fare and pre-boarding purchases.

Passenger Leung Wai-hung, 40, and his wife found themselves in the middle of a major Covid-19 operation when they were supposed to be celebrating her birthday.

"I feel it's a bit sudden that the cruise needed to be cut short. Today also happens to be my wife's birthday. This is certainly very memorable," Leung said.

The on-board restaurant and breakfast buffet were still running and popular with passengers when the ship was back at the terminal, according to Leung. He added three mobile testing vehicles arrived at about 10.30am, at which point screening staff were yet to board.

Carrie Wong, a 56-year-old passenger working in retail, said she was waiting on the docked ship for a Covid-19 test but otherwise there was an air of relative normality. She said passengers were not being confined to their rooms.

"Our mood is not affected, we are still feeling happy. It's just a pity the trip has to end a day earlier," said Wong, who boarded with about 30 friends.

Another disappointed passenger, who boarded the ship with his wife, directed his anger at those Cathay Pacific staff found to have flouted home isolation rules and who he blamed for what he called the government's knee-jerk response in hunting down potential cases.

"We're all waiting for normalcy to return and for borders to reopen, but a handful of aircrew can't follow the rules and they drag us in the mud, potentially spreading the virus all over the city," said 35-year-old Chris Leung.

The first case of the Moon Palace restaurant cluster was detected on December 29 after an infected Cathay Pacific flight attendant who broke home isolation rules dined there and was found to have exposed others to the virus.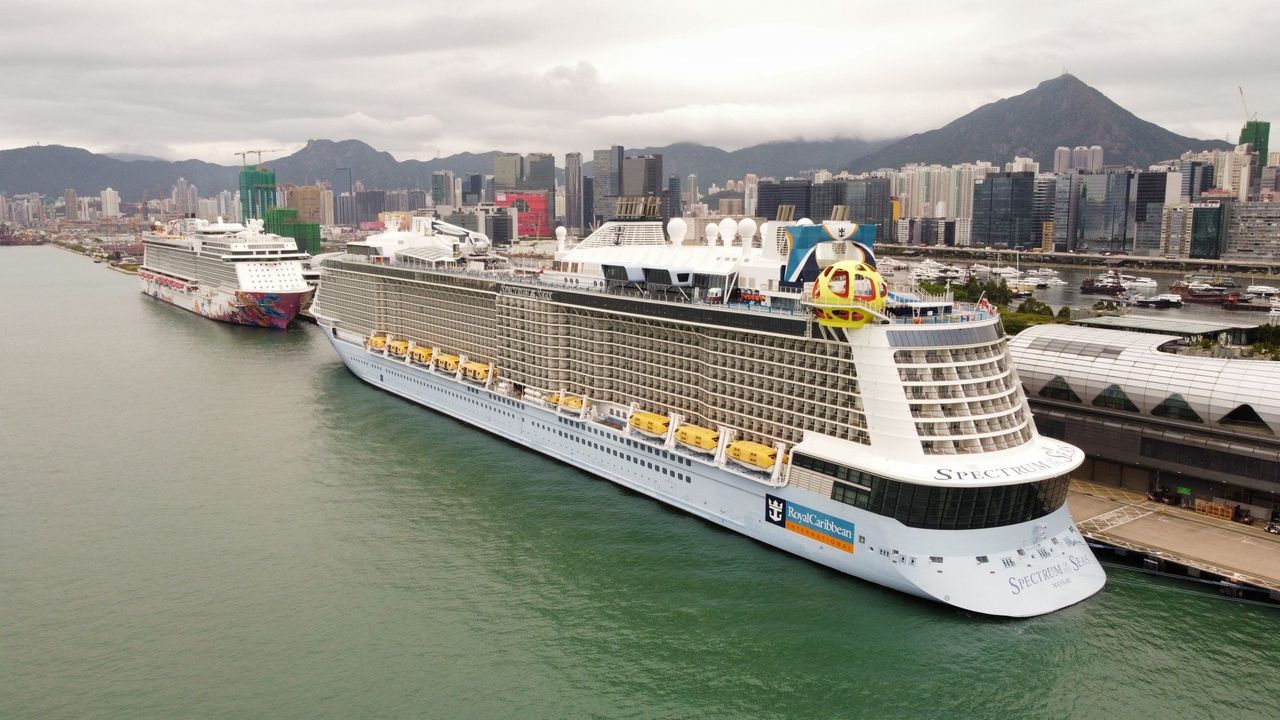 Spectrum of the Seas, pictured moored at Kai Tak Cruise Terminal last October, was ordered back to Hong Kong early on Wednesday.

The two-week suspension will force Genting's Dream Cruises to axe seven sailings.

"Dream Cruises would like to reiterate that this cancellation is due to the government's directive and not as a result of any Covid-19-related incidents on board the ship," the company said.

Under the "cruise to nowhere" scheme which launched last July, all passengers and crew are required to be fully vaccinated and must show a negative Covid-19 test result before embarking.

Last year, authorities ordered Royal Caribbean to suspend its sailings for 21 days over a crew member's repositive case.

In the current outbreak, the 28-year-old Cathay attendant was confirmed as infected, possibly with Omicron, after returning from the United States. She lives in North Point and had stayed at a friend's home in Tung Chung, triggering a lockdown there on Saturday.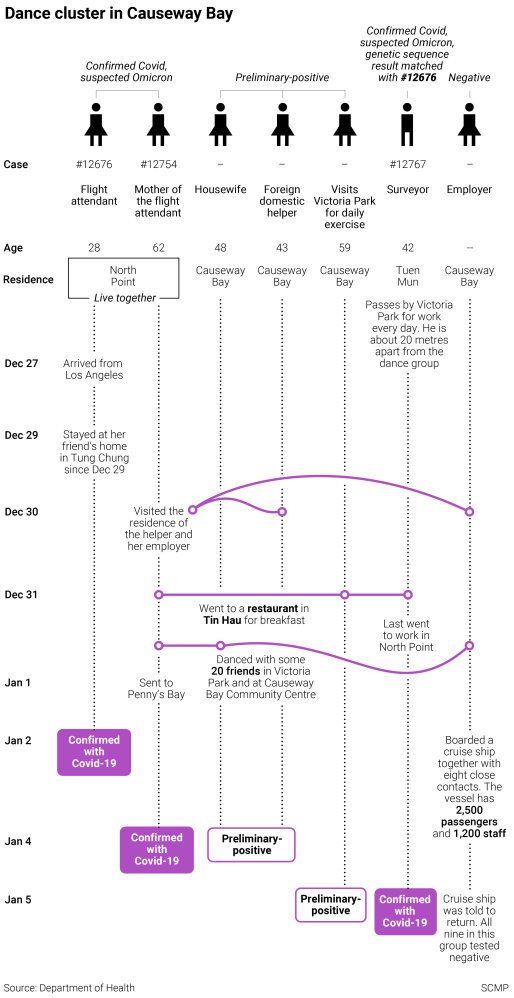 About 20 people were part of the dancing group, which gathered in Victoria Park and a Causeway Bay community centre on December 31. A 48-year-old housewife from the group tested preliminary-positive on Tuesday.

The emerging cluster is so far made up of three preliminary-positive cases and two confirmed ones, excluding the flight attendant.

The cases also led to the lockdown of two residential buildings in Causeway Bay on Tuesday night. So far none of the residents have tested positive.