Under the changes made to the vaccine pass scheme, residents aged 12 or above must get a third shot by May 31.
Hong Kong is bringing forward the timetable for the third phase of its "vaccine pass" that allows only residents protected against Covid-19 to enter most public places.

Under the latest adjustments announced by the government on Sunday, all people aged 12 or above must get a third shot by May 31, instead of by the end of June as originally planned, unless they received their second jab within the past six months of the deadline.

The vaccine pass will remain valid for residents who received their second shot in the past six months before the cut-off date, but they are required to get a third jab within the six months following their second dose to continue using the pass.

The government said the changes to the scheme, which has been in place since February 24, were introduced to further encourage the public to get vaccinated as soon as possible.

Liberal Party legislator Peter Shiu Ka-fai, who represents the wholesale and retail sector, urged authorities to make sure its vaccination centres had the capacity to deal with a possible surge in demand for booster shots.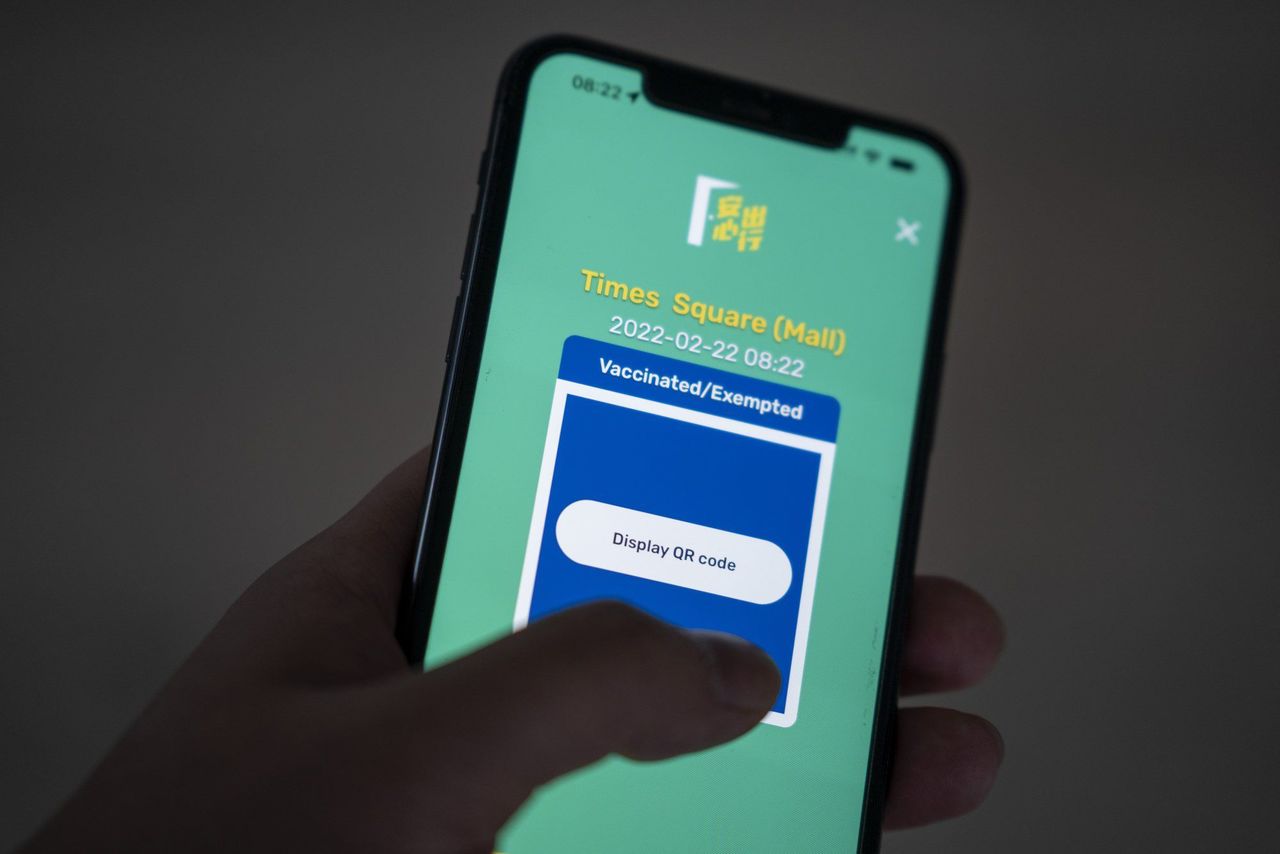 The government's 'Leave Home Safe' app displays vaccination records.

Under the programme, residents who are not fully vaccinated are barred from entering a series of designated premises including restaurants, barber shops, markets, supermarkets and shopping malls after the deadline.

In its last revision on March 4, residents aged 12 to 17 were expected to receive a second jab by June 30 if they got the first one more than six months ago, instead of only one dose as previously required. Residents in that age group were also expected to get a third dose by June 30 if they had received the second one more than nine months ago.

Recovered Covid-19 patients are not required under the vaccine pass scheme to get a third dose if they are double-jabbed, but those who only received one dose of a vaccine before their infection will need to get a second shot after six months of recovery starting from April 30 to continue using the pass. This does not apply to those aged between 12 and 17 who have been inoculated with the BioNTech vaccine.

"The current epidemic situation is still of grave concern. Both Covid-19 vaccines available in Hong Kong are safe and highly effective in protecting against severe disease and death from Covid-19 infection," a government spokesman said in a statement on Sunday.

"We call on members of the public who are not yet vaccinated, especially senior citizens, chronically ill patients and other immunocompromised persons who face a much higher chance of death after a Covid-19 infection, to get vaccinated as early as possible for better self-protection. Members of the public who are currently eligible for a third dose should also get the dose as soon as possible."

Shiu said the retail and wholesale sector welcomed the government's plan to bring forward the deadline.

"But the government should make sure it has enough capacity to accommodate everyone who decides to take the shot within the time frame. Otherwise, many people will not be able to go anywhere to shop or even to buy food without a valid vaccine pass," he said.

Simon Wong Ka-wo, president of the Federation of Restaurants and Related Trades, said he hoped the latest measure could help speed up economic recovery.

"I believe the government is keen on putting the fifth wave under control as soon as possible. Only if the epidemic is controlled, we can expect social-distancing measures to be eased and business to recover," Wong said.

Legislator Tommy Cheung Yu-yan, who represents the catering sector, also welcomed the changes.

"The vaccine pass has been in place for over a month and most people are cooperative and the sector has become used to the scheme."

Hong Kong enforced the vaccine pass programme from February 10 for some restaurants and extended it to cover all designated premises, ranging from mahjong parlours, gyms, barber shops to markets and shopping malls, from February 24.

All visitors aged 12 or above entering or staying in those places are required to be vaccinated unless they have an exemption due to age or medical reasons.

The vaccine pass scheme also applies to some other premises such as schools, universities, government offices, hospitals and care homes for the elderly, but how those requirements are enforced might differ. For example, students are not subject to vaccine pass requirements imposed by schools.