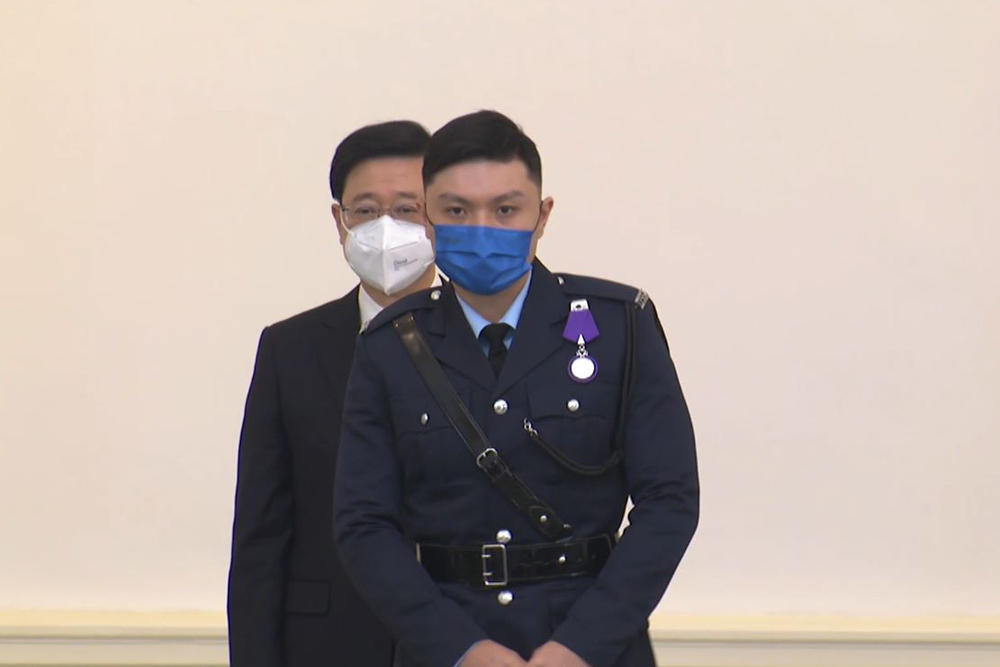 Cop stabbed on July 1 last year awarded Silver Medal for Bravery
So King-cho, the police constable who was stabbed in the back on July 1 last year, was on Saturday awarded the Silver Medal for Bravery (MBS) "in recognition of his act of selflessness, commitment of duty, professionalism and gallantry of an extremely high order."
So sustained a serious stab wound and bled profusely after he was attacked from behind by assailant Leung Kin-fai on July 1 last year, who later committed suicide.

"Nevertheless, he exerted all his strength to warn his colleagues nearby of the immediate danger, enabling the officers around him to instantly be alerted and reinforced.," the government gazette read.

"Despite the dangerous and life-threatening situation, he strived his best and displayed an exceptional level of bravery and determination to perform his duties as a police officer."

According to footage released by the government, chief executive John Lee Ka-chiu took a few moments to speak to So on the stage as he awarded So the medal.

A total of 889 people made the honor list, including Lee himself, who was awarded the Grand Bauhinia Medal.

Others who were granted this highest honor included lawmaker Tommy Cheung Yu-yan, Permanent Judge of the Court of Final Appeal Roberto Ribeiro, HKUST council's chair Andrew Liao Cheung-sing, and Hong Kong Arts and Development Council's chair Wilfred Wong Ying-wai.