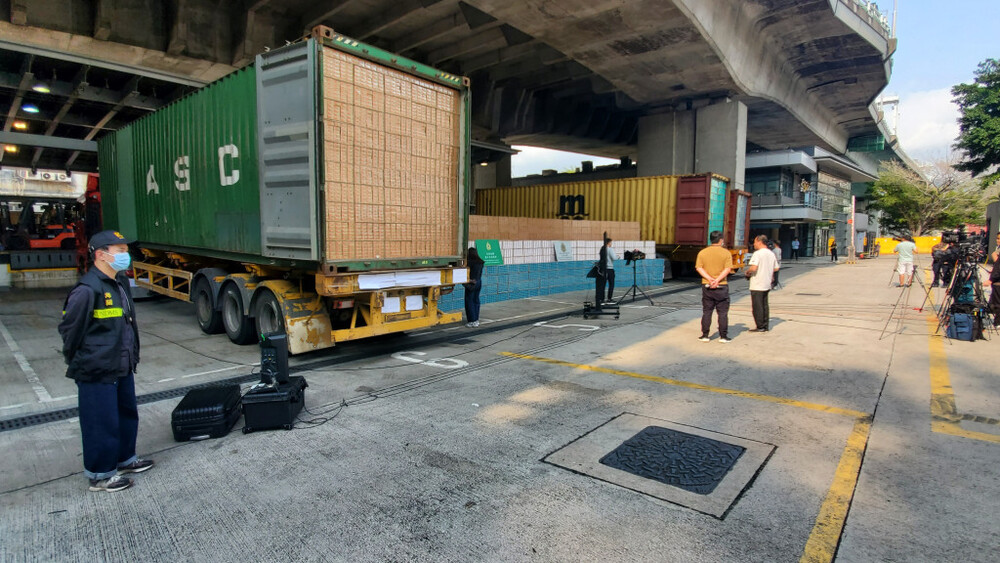 Contraband cigarettes worth HK$200m seized two weeks after tobacco tax increase
Customs announced on Wednesday that over 58 million illicit cigarettes, with a market value of HK$200 million, were seized during the two weeks after the tobacco tax was increased, with 54 people being arrested.
Officers launched a series of enforcement operations against cigarette smuggling on February 22, when the government announced that the tobacco tax would be officially raised and every pack of cigarettes would see their price increase by HK$12.

During the operations, Customs busted 77 smuggling cases. The seized cigarettes in the cases were valued at about HK$200 million with a duty potential of about HK$140 million.

Forty-seven males and seven females, aged between 15 and 79, were arrested.

"A total of 4800 cigarettes were intercepted in one single case in which customs officers found a suspicious barge in the waters next to Yau Ma Tei on March 3," said Lam Ming-hong, Customs Senior Inspector of Boundary and Ports Branch, "the barge was spotted carrying only three containers, a relatively low load compared to a barge's normal capacity."

Officers were deployed for further inspection, Divisional Commander Lam Chak- Lun of Customs' Intelligence and Investigation Branch added and found the barge, which was docking on the shore of Yau Ma Tei Public Cargo Working Area to unload, had one container on board carrying 5 million illicit cigarettes.

Two goods trucks loading the cargo from the barge at the scene were also inspected by officers, and two containers with 19 million smuggled cigarettes were found. Two drivers, aged 30 and 62, were arrested.

"The recently roaring demand for smuggled cigarettes led to criminals' large-scale replenishment," Customs officers said.

A total of 160 million illicit cigarettes were seized via enforcement this year, with a market value of HK$600 million and HK$400 million in tax.