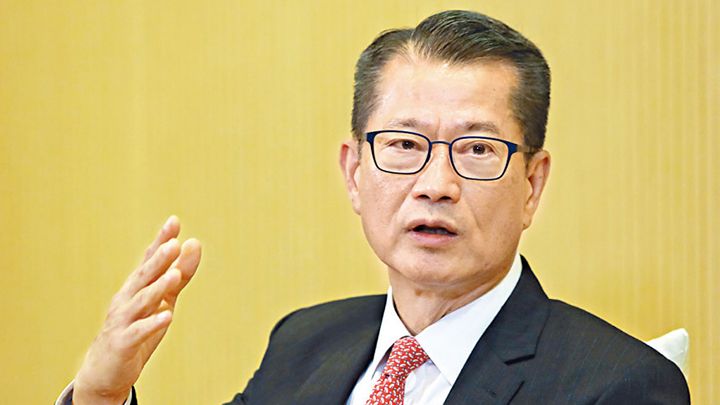 Consumption vouchers questioned over its effectiveness
Financial Secretary Paul Chan Mo-po said he has received divided feedback on whether to continue giving out consumption vouchers, as some question whether it is the most effective use of public resources.
In his blog on Sunday, Chan said while some believed that the HK$5,000 handout should continue, others said it involves too much public money and the money involved should be spent in a more targeted manner.

He was also told that the vouchers may bring limited impact if people cannot go outside to spend the money amid outbreaks.

But if the government targets a particular group in its supportive measures, it can easily cause a backlash. "People would question about differential treatment," he said.

"Facing the same problem, people can have very different approaches and it may be impossible to reach a consensus," he said, adding he will continue to engage public views and explain the government's rationale in formulating policies.

He said the uncertainty brought by the pandemic has put pressure on the economy, society and people's livelihood, and it is the biggest variable to the city's recovery.

It is necessary to create favorable conditions for the resumption of quarantine-free travel with the mainland."In that case, the economy will be able to recover to the greatest extent," he said.

Despite the need to support different sectors with anti-epidemic measures, the government also has to retain a healthy amount of fiscal reserves to maintain Hong Kong's financial stability, he said.

New lawmakers of the Hong Kong Federation of Trade Unions said on Sunday that the government should distribute HK$10,000 worth of consumption vouchers in the upcoming Budget.

The legislators include Ng Chau-pei, Wong Kwok, Alice Mak Mei-kuen, Luk Chung-hung, Dennis Leung Tsz-wing, Tang Ka-piu and Joephy Chan Wing-yan.

"The priority is to control the pandemic, provide assistance to workers, and resume quarantine-free travel with the mainland as soon as possible," they said.