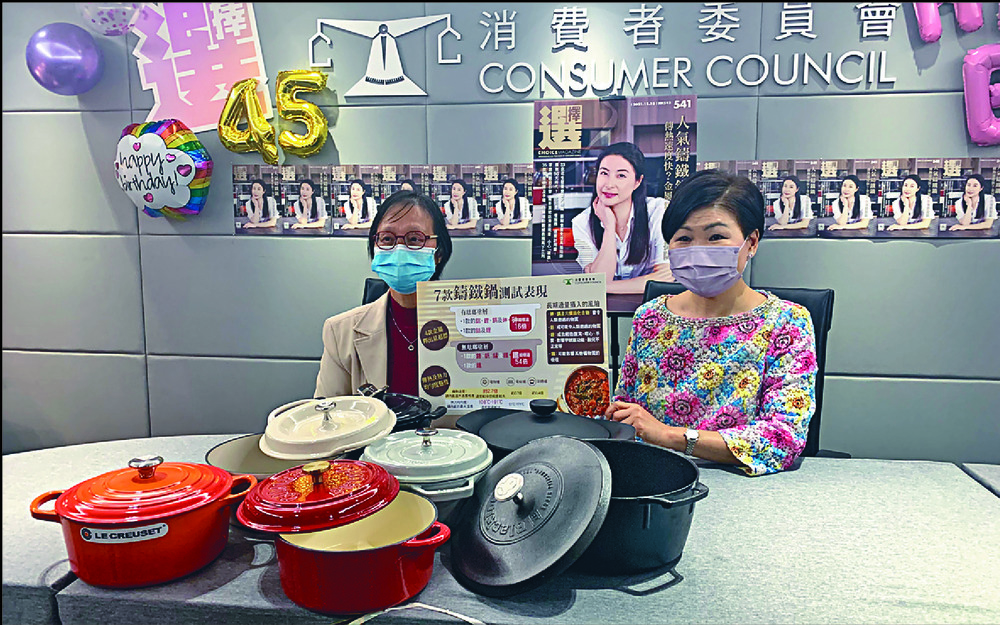 Consumer Council takes lid off cooking pot problems
Some cast-iron cooking pots including a popular Japanese brand Bruno were found to release a high level of metal when heated and pose risks to people's health, the Consumer Council warned yesterday.
The watchdog tested seven cast-iron cooking pots, four of which released excessive amounts of metals under high temperatures. Two pots had enamel coating and two did not.

One of the enamel-coated pots is Bruno's Enameled Cast Iron Pot (BZK-FLG01-RD), which originated from China and costs HK$798.

The amount of aluminum, arsenic, cadmium and lithium released from it exceeded the upper limit set by international standard ISO 4531 by around 0.4 to 16 times.

Thirty-four micrograms per liter of arsenic were released from the involved Bruno's pot, exceeding the upper limit set by the international standard of 2mcg per liter by 16 times.

The watchdog warns that when metal migrates from cookware to food, it might result in excessive metal intake and pose health risks.

Arsenic and cadmium have been categorized by the International Agency for Research on Cancer as "carcinogenic to humans." While excessive intake of lithium could cause mild diarrhea, nausea and hand tremor.

Bruno's distributor told the watchdog that it has suspended the sale of the same batch of Enamel Cast Iron Pot (BZK-FLG01-RD) to ease customers' concern. The distributor added the manufacturer of the pot has conducted another round of tests that shows it has passed the international standard test.

Another enamel-coated cast-iron cooking pot - Vermicular's NBG22R - was found to release an excessive amount of cobalt and lithium. The pot originated from Japan and costs HK$2,580.

The remaining two non-enamel-coated pots with an exceeding amount of metals released are Lodge's Blacklock Triple Seasoned Cast Iron Dutch Oven, priced at HK$1,788 and a cast-iron cooking pot from Sori Yanagi that costs HK$1,950.

Lodge's pot was found to have released four metals with an amount exceeding the Council of Europe's guide, the amount of metal released (2,200 milligrams per kilogram) was 54 times more than the upper limit.

"Our body needs iron for hemoglobin but the excessively-released amount of iron will accumulate into a human's body and affect the body's absorption of minerals," said Nora Tam Fung-yee, chairman of the research and testing committee of the Consumer Council.

Tam added the amount of metal released from cast-iron cooking pots from the watchdog's test does not reflect the amount of metal released from regular cooking. Pots are tested by placing acidic food simulant in them for two hours in a high-temperature environment of 95 degrees Celsius or more.

She added the public does not have to avoid using their cast-iron cooking pots but they are advised to purchase pots that do not release excessive metals.

Tam also advised the public not to use cast-iron cooking pots to cook acidic food.

The watchdog's test results have been referred to the Customs and Excise Department for follow-up.