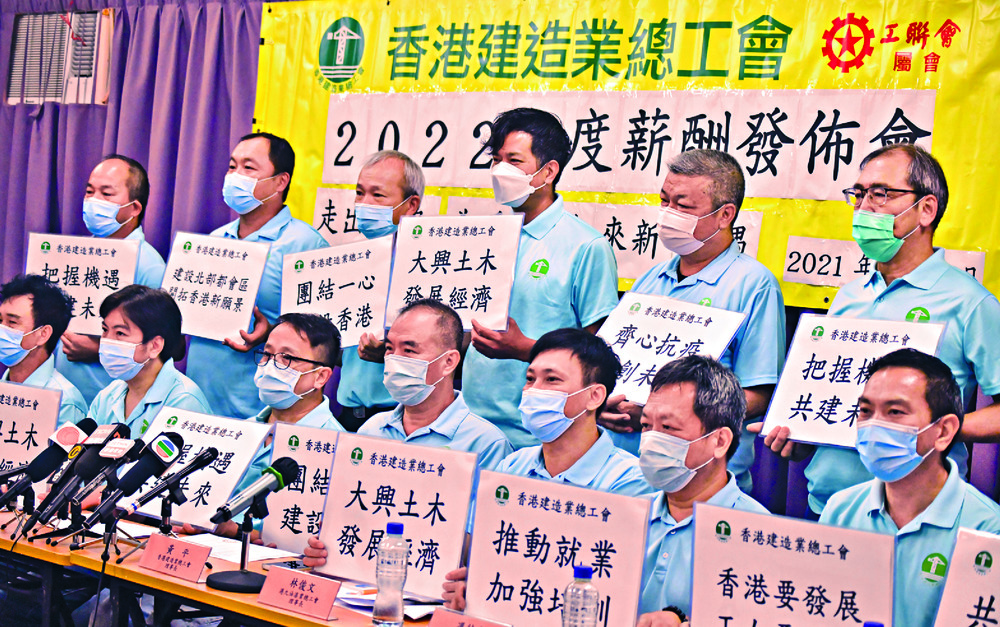 Construction workers' pay frozen again
Construction workers will see wages frozen in the coming year starting next month - the third consecutive year that they will have failed to get a pay rise.
The Hong Kong Construction Industry Employees General Union has reached an agreement for 15 types of construction professionals who will have pay freezes this year. The daily pay for bar-bending is HK$2,520; HK$1,950 for scaffolding; and HK$1,400 for painting.

The union interviewed 1,727 members and found the industry's unemployment rate to be 9 percent, and underemployment rate to be 14 percent. Both rates are 19 percentage points lower than the previous year.

The majority of respondents - 90 percent - said that they will not switch jobs and feel confident with the government's anti-epidemic measures.

The statistics show that workers are looking forward to infrastructure projects in the future, said union chairman Wong Ping.

But Lin Wai-ming, vice chairman of the Hong Kong Construction Industry Professional Plant-operators and Mechanics' Association, said insufficient manpower "will cause the skyrocketing of wages and lead to a rise in construction costs and property prices in the long run."

The union suggested the government roll out short-term contracts and approve funds for infrastructure projects in order to provide more employment opportunities.

It also hoped that the Construction Industry Council could provide more safety training courses, which were suspended during the pandemic.

Wong said the union is open to importing foreign workers for underwater welding and tunnel digging, but not on a large scale.

That came as Frank Chan-fan, Secretary for Transport and Housing, said the government will consider hiring foreign workers so long as local employment is not affected.