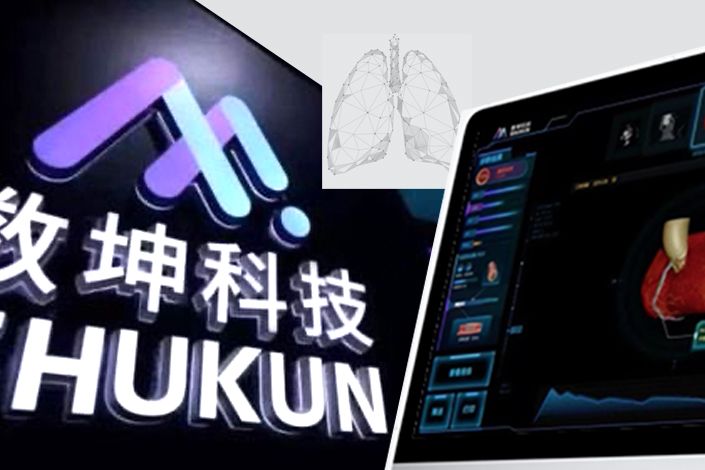 Computer-Assisted Diagnostics Firm Shukun Files for Hong Kong Listing
Betting on the growth potential of AI medical imaging, the Beijing-based company plans to use funds to bolster research and development
Shukun Beijing Network Technology Co. Ltd., a medical imaging and computer-assisted diagnostics firm, has filed to list in Hong Kong, becoming the fourth such firm to do so this year.

The company is hoping that investors will buy into the potential of AI — focusing in this case on pattern recognition and planning — to improve the efficiency of healthcare services by identifying diseases and helping human doctors to diagnose and treat them.

The AI medical imaging market in China could grow from 1 billion yuan ($154.8 million) last year to more than 44 billion yuan by 2025, according to research commissioned by the firm for its prospectus, which was filed Wednesday.

Such growth will be necessary if the four-year-old company hopes to ever turn a profit. Shukun said its revenue jumped 681% year-on-year to 52.6 million yuan in the first half of 2021, but losses almost doubled in the same period to 87.4 million yuan. "We expect to continue to incur operating losses for the foreseeable future," its prospectus said.

Favorable policies from Beijing, which support both AI-based medical technologies and the expansion of medical imaging technology, could also provide tailwinds, the firm said.

But it flagged the "complex and evolving [Chinese] laws and regulations regarding privacy and data protection" as a risk to the company. Those are the same issues which ensnared medical data firm LinkDoc, which Caixin revealed in July was the first company known to scotch a planned U.S. listing after regulators announced national security and cybersecurity probes of ride-hailing giant Didi and two other firms.

China's unpredictable medical regulatory environment and Shukun's reliance on a limited number of major customers are also listed as vulnerabilities.

Shukun has given no details yet about how many shares it will issue or how much money it intends to raise. But it said it will spend whatever money it makes on research and development, as well as strategic collaboration.

While corporate claims about artificial intelligence are often overblown, medical imaging and diagnosis through pattern recognition are areas where experts see real potential. But the field has also been dogged by concerns about false positives and overtreatment, as well as unresolved questions about medical liability.

JPMorgan Chase & Co., BofA Securities Inc., and BOC International Holdings Ltd. are the joint sponsors for this IPO.

At least four Chinese companies engaged in computer-assisted medical diagnosis field started their IPO processes this year. Beijing Airdoc Technology Co. Ltd. filed its plan in June and got approved on Wednesday by HKEX.

Goldman Sachs-backed Neusoft Medical System Co. Ltd. and Beijing Keya Medical Technology Co. Ltd. have also submitted their plans to HKEX separately in May and March.