Poor communication, improper hygiene and confusing testing arrangements among issues encountered by residents at Kwai Chung Estate.
Complaints about poor communication, improper hygiene and shoddy testing arrangements at locked down blocks in a Hong Kong public housing estate continued to mount on Monday, with some residents voicing fears of getting infected.
They were among 35,000 people from households in the coronavirus-hit Kwai Chung Estate, an area at the centre of an Omicron outbreak in the city. Of the 16 blocks in the area, two were placed under a five-day lockdown on Friday and Saturday.
About 210 infections have been recorded so far across 12 blocks as of Monday. The outbreak was triggered by cleaners infected by a refuse collector carrying the highly transmissive Omicron variant. More than 40 cleaners of the estate have been quarantined.
While those living in Yat Kwai House and Ying Kwai House were locked down, four other blocks were cordoned off overnight on Saturday for testing, and residents of the remaining 10 were issued compulsory testing orders.
Some residents told the Post they were worried about cross-infection, given what they said were bad hygiene and disorganised, daily test arrangements.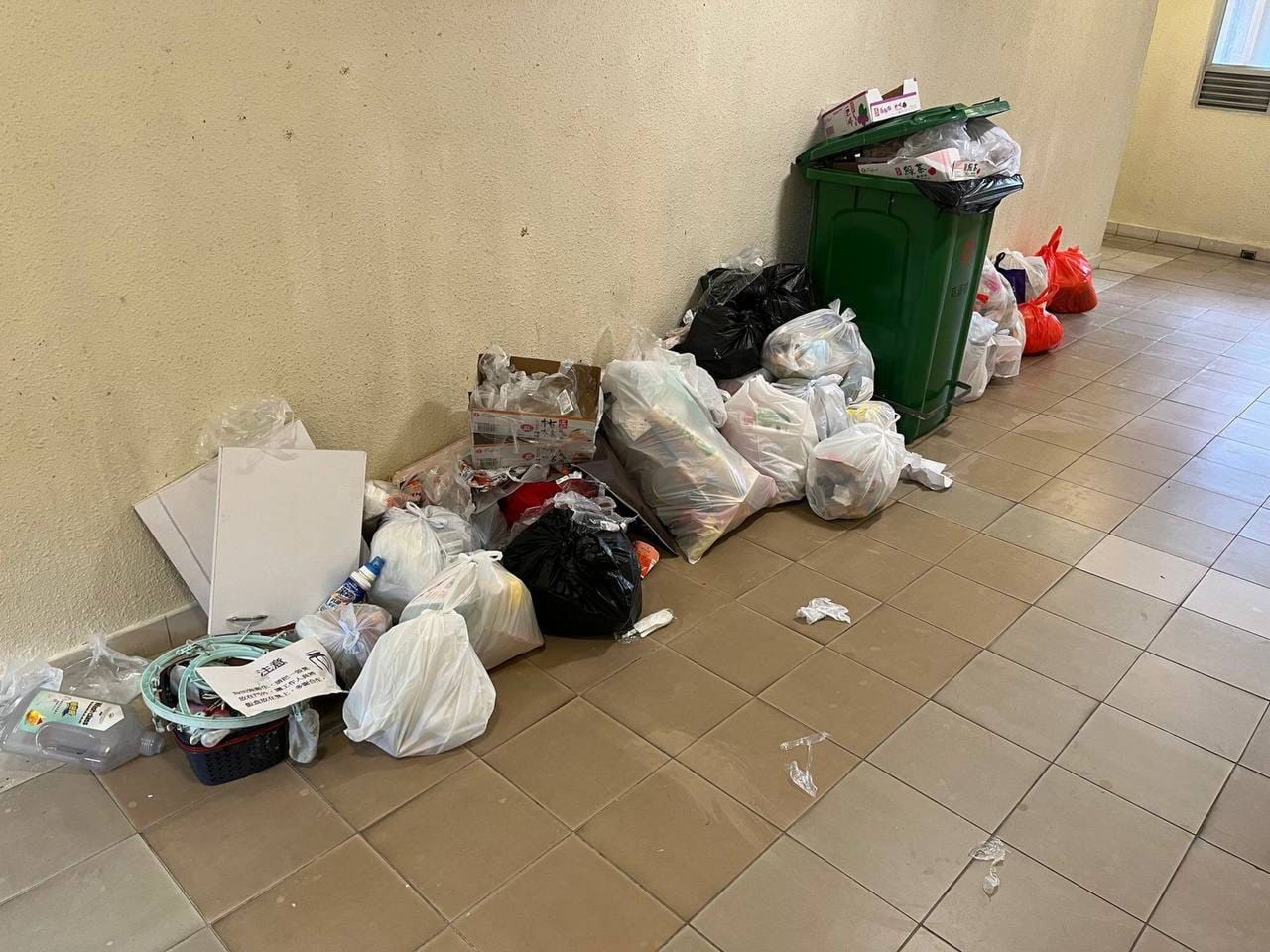 Residents say garbage has been piling up since day one of the lockdown.
A 48-year-old resident in Yat Kwai House, surnamed Wan, told the Post that the rubbish bin on her floor was overfilled, and garbage had been piling up since day one of the lockdown on Friday. At least one of her neighbours living on the same floor was confirmed to be infected.
She said she also noticed that meals to their household were placed close to rubbish at the lobby, and the trash was not cleared until noon on Monday. The government had said on Sunday that it had appointed another cleaning contractor.
"I am worried about the risk of cross-infection," the mother of three said. "It's okay to impose a lockdown at our building, but it seems it is possible we could get infected now once we step out of our home."
She was also upset with what she said were confusing testing arrangements, claiming officials did not notify residents when they had to be screened. People were randomly flocking downstairs for tests, according to her. Wan said she waited two hours with her children for tests on Monday.
With the rising number of cases detected, Wan pointed to how residents who eventually tested positive for Covid-19 had stepped out of their homes to be screened, thereby increasing transmission risks for others.
Another 33-year-old resident in Yat Kwai House, who only gave his surname as Lau, a catering industry worker, said crowd control for tests and communication with residents could be improved.

"We also did not know which flat has confirmed cases … We have no idea whether our floor is high risk. Bad arrangements were acceptable on day one as the lockdown was hasty, but they should have come up with solutions," he said.

His neighbour, housewife Sally Ng, 36, said she was worried she would not be able to get medicine needed for her two children's skin problems, as she would miss their regular medical appointment during the lockdown.

"I don't know where I can ask for help, as nobody has picked up my call on the hotlines even though I've tried 1,000 times," Ng said.

At Ying Kwai House, a resident surnamed Lam, also complained of chaos on a radio programme.

"No one informed us when we will be released, and we need to search for information from the news or in the online communication group we've set up ourselves," she said.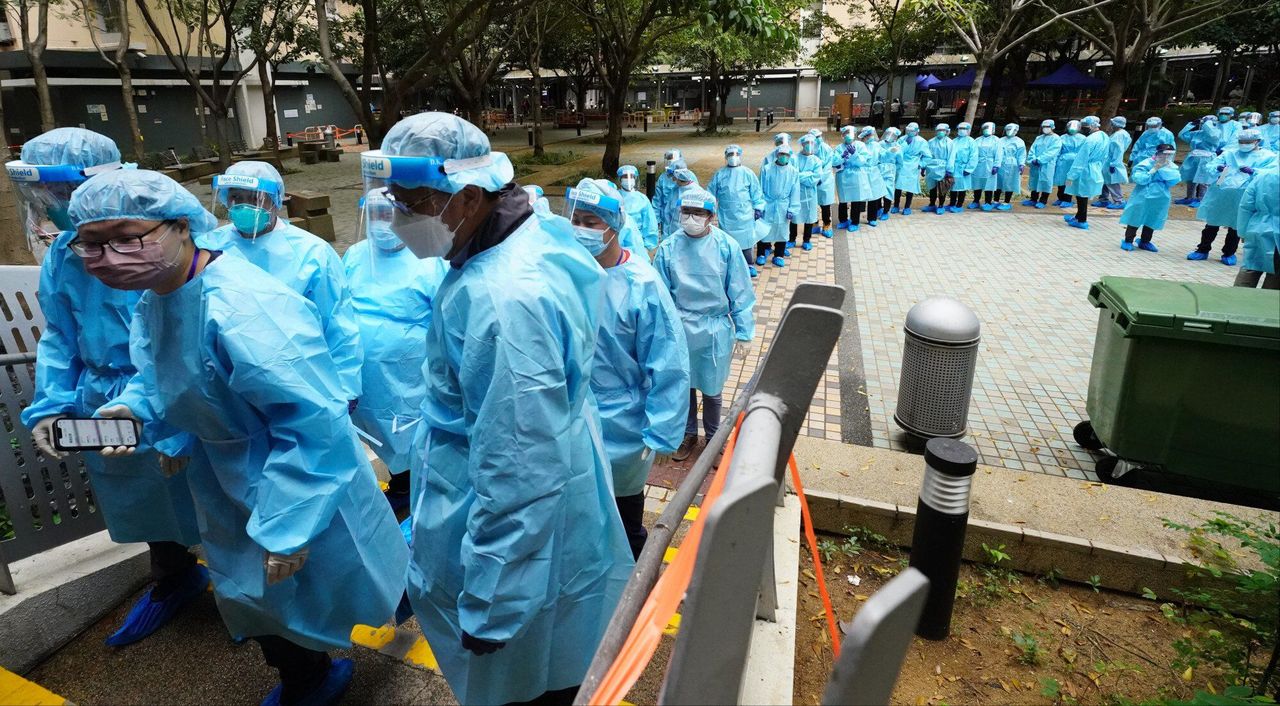 Residents (pictured) at Kwai Chung Estate say they have been poorly informed on testing arrangements.

She added that residents were also poorly informed on testing arrangements.

"We asked them what time we needed to go down to be tested, and staff simply asked us to stay home and wait, claiming they would inform us during lunch delivery. But in the end we received no information," Lam said.

She also complained that queues to get tested, with a waiting time of about 30 minutes, were too close to the actual screening stations, where maskless residents could be seen coughing just a few metres away.

"We may not have the virus today, but we will have the virus some other day as we are exposed to it in such an environment," she said. "The whole thing is so messy."

One woman, surnamed Yau, told the same radio programme that her elderly parents had mobility issues and could not leave their flat to be tested. Despite her trying to arrange in-home testing, her parents had gone two days without being screened.

"We kept on calling the hotlines of the Housing Department, the Department of Health, assistants to district councillors, [the government general inquiry line] and the management office of the estate," she said.

"All of them told us to sit and wait … They are just palming off responsibilities to one another."

The Post has reached out to the Housing Authority, which is coordinating operations at the estate, for comment.

Legislator Edward Leung Hei, of the

Democratic Alliance for the Betterment and Progress of Hong Kong, suggested the government set up a website to display the waiting period of each testing station in real time. He also proposed extending the operating hours of the station to span 6am to 10pm.

Leung recommended that authorities form teams to help deliver necessities from residents' friends and relatives, and to also ensure that those under lockdown get proper letters to excuse them from work.

Meanwhile, an online video showed workers at the estate, some in full gear, others just in masks, taking off protective gear and tossing these into an overfilled rubbish bin.

Respiratory medicine specialist Dr Leung Chi-chiu said after watching the video that the workers had used the protective equipment in the wrong manner.

"They also lacked handwashing or didn't sanitise themselves with alcohol spray. Improper waste disposal also carries the risk of contamination," he said.