A new US government advisory tells American firms operating in the western Chinese region to brace for consequences if they stay because of suspected human rights abuses there.
The Biden administration on Tuesday escalated its rhetoric against American companies doing business in China's Xinjiang Uygur autonomous region,calling US investments a potential threat and warning American firms that they may wind up breaking the law if they don't leave the region.

The new US advisory includes pages of details describing the legal and reputational risks for American firms operating in Xinjiang, and warns them to brace for serious consequences if they stay there and continue with business as usual.

"Given the severity and extent of these abuses", it said, citing forced labour, intrusive surveillance, and a continuing genocide and crimes against humanity against the region's Uygur population, "businesses and individuals that do not exit supply chains, ventures and/or investments connected to Xinjiang
could run a high risk of violating US law".

The US State Department – working with the departments of Commerce, Treasury, Labour, Homeland Security and the Office of the US Trade Representative – issued the new guidance "to highlight the heightened risks for businesses with supply chain and investment links to Xinjiang, given the entities complicit in forced labour and other human rights abuses there and throughout China".

The updated guidance, which revises a warning issued a year ago that focused primarily on supply chains that might involve forced labour, also expanded a list of specific products in which "labour abuses may be taking place".

That list included cotton, tomato products, human hair wigs and polysilicon, a key ingredient in solar panels.

Tuesday's update adds viscose, the third most common raw material used in clothing. In March, reporting by the
Post
showed that viscose is produced in huge volumes in Xinjiang and that factories used to make it are located within miles of suspected detention camps.

The Chinese government vehemently denies the use of forced labour or any tactics that could be defined as genocide.

Starting in the Trump administration, Washington has already imposed financial sanctions on numerous Chinese officials associated with Beijing's policies in Xinjiang; banned all Xinjiang cotton and tomato products from entering the US; and blocked American firms from selling equipment to a slew of Chinese hi-tech and solar power companies operating in Xinjiang.

The updated advisory directs its warnings not only to businesses with supply chains in Xinjiang, but also to consultants, academic institutions, research service providers and investors.

Olga Torres, managing member of Torres Law, a firm which specialises in trade and national security, said that the advisory should be taken "very seriously" and that the administration may want to "make examples out of companies that do not clean up their supply chain".

"We continue to expect the various executive agencies to actively scrutinise imports, exports and activities including investments into the region," she said.

She added that supply chain audits in Xinjiang were unlikely to help either "because as the report notes, the auditors are harassed or lied to. So this advisory implicitly tells companies to leave the region."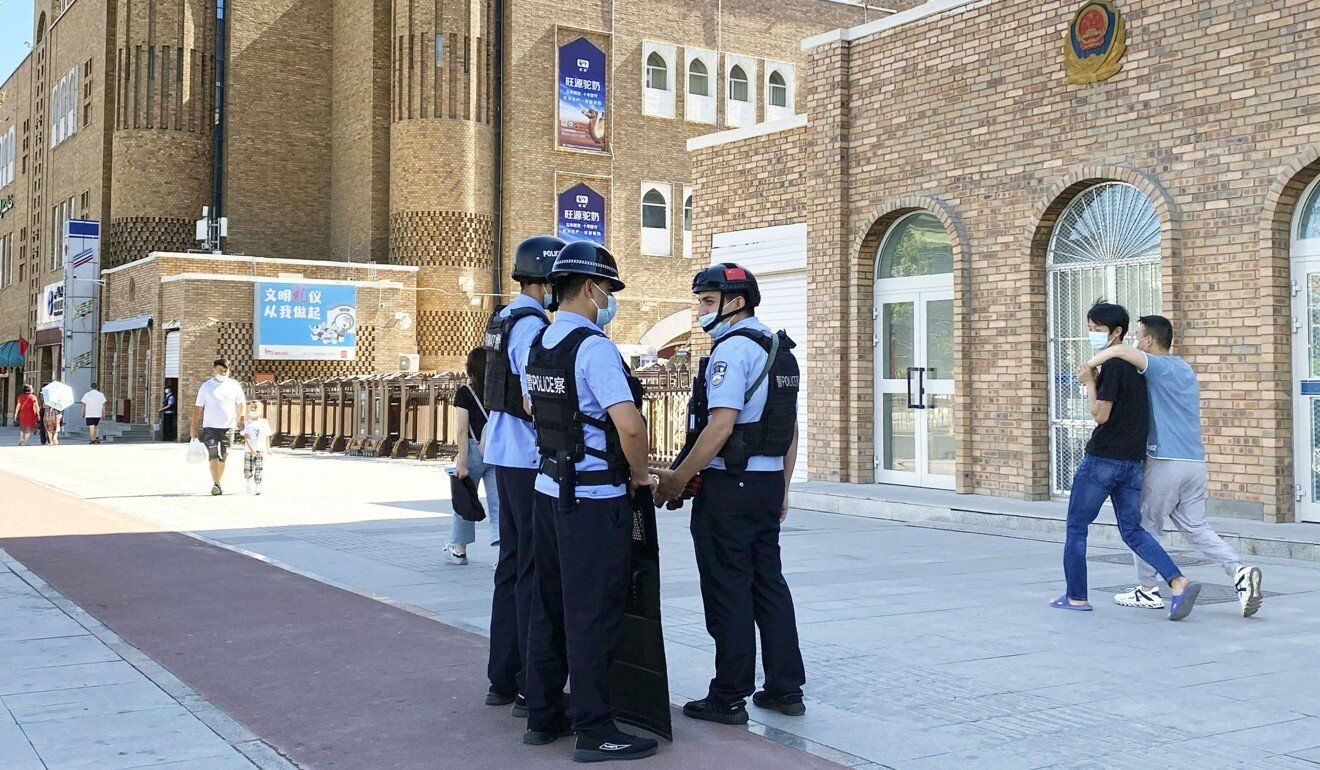 Police officers near the International Grand Bazaar in Urumqi in China's Xinjiang Uygur autonomous region on July 1.

Investors in particular have begun attracting more attention from the White House and Congress over the last year. The Biden administration in June expanded a Trump-era executive order that banned Americans from investing in dozens of companies linked to China's state security apparatus.

But a report by the Post last month found that the three biggest US mutual funds – Vanguard, State Street and BlackRock – have bought millions of shares in Xinjiang companies in recent years, and have used their voting power as shareholders to approve deals, promote board members and sign off on corporate reports with details about the companies' activities in the region.

The advisory said all businesses should be carefully attuned to the warning signs of forced labour, which the administration said can include any mention of re-education coupled with poverty alleviation efforts; factories operating near re-education camps and prisons in the region; and any links to the quasi-military Xinjiang Production and Construction Corps (XPCC), which dominates much of the region's economy.

The US targeted the XPCC with sanctions last year under the Global Magnitsky Act.

In March, the US, EU, Britain and Canada banded together to sanction Chinese officials over suspected human rights abuses in Xinjiang, which prompted Beijing to pass an anti-sanctions law that paves the way for retaliation against any individuals, their families and organisations responsible for imposing foreign sanctions against China.

The EU and Washington appeared to align again on Tuesday on the forced labour issue.

The State Department's Xinjiang business advisory was announced just hours after the European Commission published guidance "on due diligence to help EU companies to address the risk of forced labour in their operations and supply chains", which did not reference China, Xinjiang or any specific jurisdictions.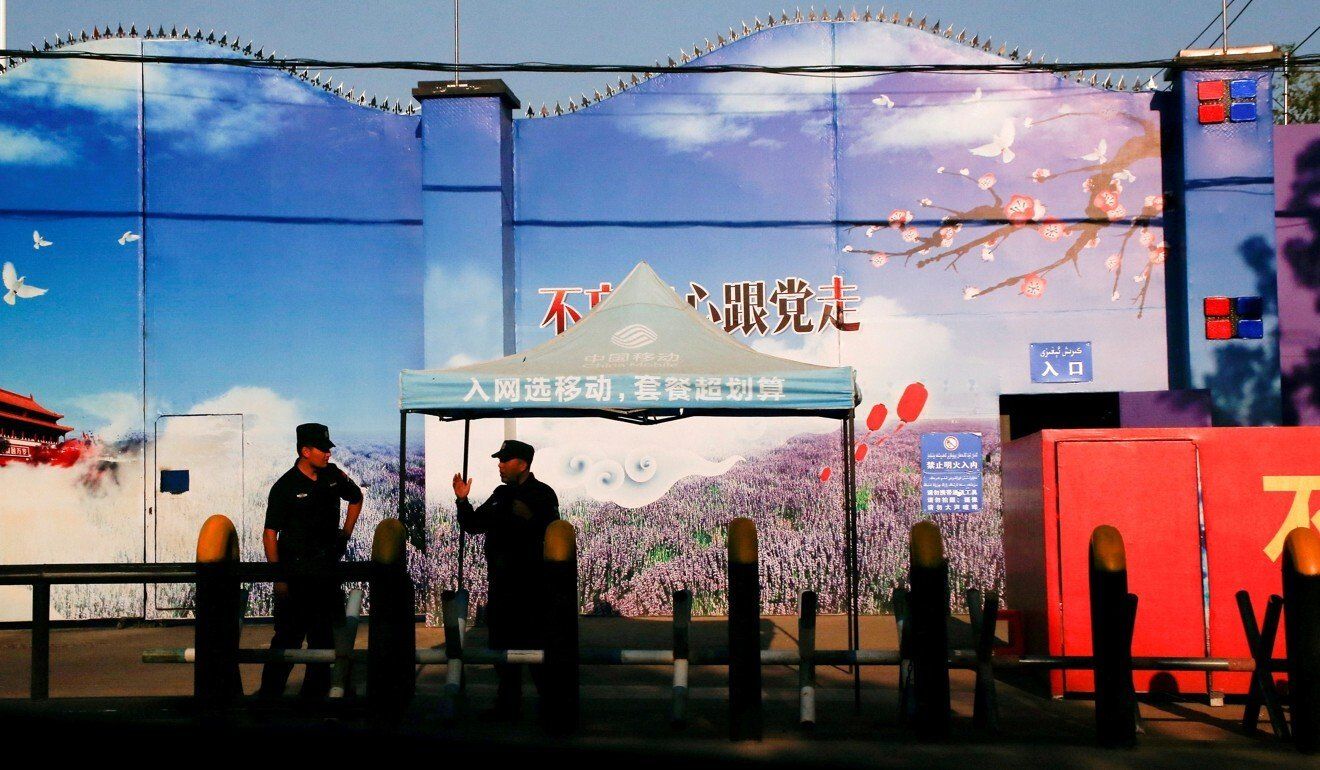 Security guards stand at the gates of what is officially known as a vocational skills education centre in Huocheng county in Xinjiang Uygur autonomous region.

"There is no room in the world for forced labour," said EU Commissioner for Trade Valdis Dombrovskis. "The commission is committed to wiping this blight out as part of our broader work to defend human rights."

"With today's guidance, we are supporting EU companies in these efforts," he added. "We will ramp up our due diligence work with our upcoming legislation on sustainable corporate governance."

As the EU released its non-binding advisory, European lawmakers indicated on Tuesday that they were pushing for a more aggressive response that would bar goods suspected of being made with forced labour in Xinjiang from entering the EU market.

"There is one measure that Europe has to take – and we are working on it – [and that's] the ban of products of slavery from entering into our markets," Raphael Glucksmann, a French member of the European Parliament, said at a Tuesday event hosted by conservative think tank Hudson Institute.

"On this, the parliament is ready to move," said Glucksmann. "But the big question will be for the member states and for the European Commission," he said, referring to the bloc's executive branch.

Such a move would resemble the Uygur Forced Labor Prevention Act, a bill under consideration in the US Congress that would bar the import of all goods sourced from Xinjiang, said Reinhard Butikofer, a German member of the European Parliament who chairs the legislature's China delegation.

Butikofer said there was a "very good chance" that a European equivalent could be enacted some time within the next year and a half.