The government is also planning 100 official events to mark the 25th year since Hong Kong's establishment as a special administrative region of China on July 1, 1997.
Hong Kong authorities have launched a pilot scheme to recognise community-organised events as official celebrations marking the 25th anniversary of the city's handover from British to Chinese rule next July.

The new policy was announced along with 100 official events planned by the government and public bodies in a high-profile ceremony on Wednesday, six months before the city marks the 25th year since its establishment as a special administrative region of China on July 1, 1997.

The Hong Kong Jockey Club said in a separate announcement that it had earmarked special funding of up to HK$630 million (US$80.8 million) to support 60 events.

At Wednesday's ceremony, the city's No 2 official, Chief Secretary John Lee Ka-chiu, who leads a cross-departmental office to coordinate the celebrations, said a broad range of activities would be presented under the theme of "A New Era – Stability, Prosperity, Opportunity" after Hong Kong "sailed through wind and waves" over the past half decade.

Citing the Beijing-imposed national security law, brought in after the 2019 social unrest, and the electoral overhaul to ensure "patriots" governed the city, he said: "Hong Kong has transformed from chaos to order and prosperity; from an era of destruction to a new era of establishment … I am confident that as long as we work together to seize new development opportunities, we will surely create a better future for Hong Kong."

He appealed to local businesses, professional bodies and district organisations to hold celebratory events in the coming six months "to share the festive atmosphere".

For the first time since the 1997 handover, civic groups holding celebrations can apply for inclusion in the official events calendar and website. Interested parties must submit their application no later than May 31.

"This not only demonstrates that the whole society unites and works as one, but also helps [organisers] publicise their events," Lee said during the ceremony.

Accredited projects will not be exempted from existing coronavirus-related social-distancing measures, according to the website.

Organisers must also consider hybrid forms of celebration and formulate contingency plans depending on the pandemic situation.

A New Year countdown concert organised by the Hong Kong Tourism Board will get the ball rolling on a series of official celebratory events. Other events include a parade held by the Civil Aid Service, opening exhibitions of the Hong Kong Palace Museum, which will open next year, and legal forums themed on the national security law.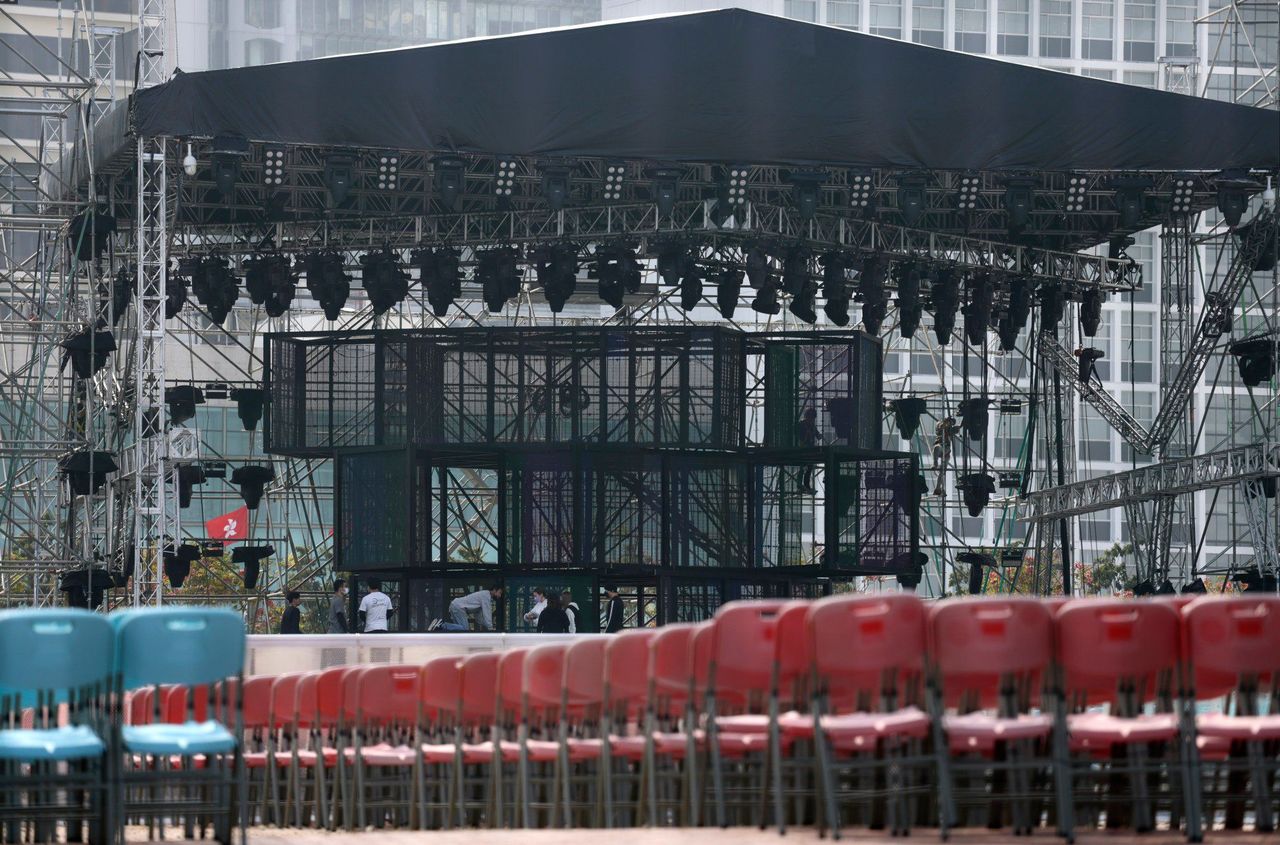 Workers set up for a New Year's Eve concert to be held on Hong Kong's waterfront.

The government's mainland China offices will hold an exhibition in Shanghai on novelist Louis Cha Leung-yung, who wrote under the pen name Jin Yong, a show about Hong Kong at the National Museum of China in Beijing, and cultural exchange programmes for young people in various provinces.

Some of the other events listed on the official website, www.hksar25.gov.hk, are regular annual events including Hong Kong Observatory Open Day, the Belt and Road Summit, and the Hong Kong Games.

July 1, 2022 will also mark inauguration day for the next chief executive to be elected on March 27. Back in 2017 on the 20th anniversary of the handover, President Xi Jinping visited Hong Kong and swore in Carrie Lam Cheng Yuet-ngor as the new leader.