Police say drug was intended to be circulated in the city's underground market before Lunar New Year.
Hong Kong police have confiscated HK$13 million (US$1.6 million) worth of cocaine and arrested a local man before the drug was circulated in the city's underground market to meet the festive season demand.

The 16kg (35lbs) haul was discovered in a plastic box the 26-year-old suspect was allegedly moving out of a rental flat in an industrial building on Wo Liu Hang Road in Fo Tan at about 4.30pm on Tuesday. Officers from the narcotics bureau, who laid in wait after receiving intelligence, then intercepted the man.

"Inside the box, 16 bags of cocaine were found along with packaging equipment," Senior Inspector Ching Sze-kei of the bureau on Wednesday said. "Each bag contained 1kg of the drug. The seized narcotic had an estimated street value of HK$13 million."

The man, who worked as a garage mechanic, was detained on suspicion of drug trafficking – an offence punishable by up to life in jail and a HK$5 million fine.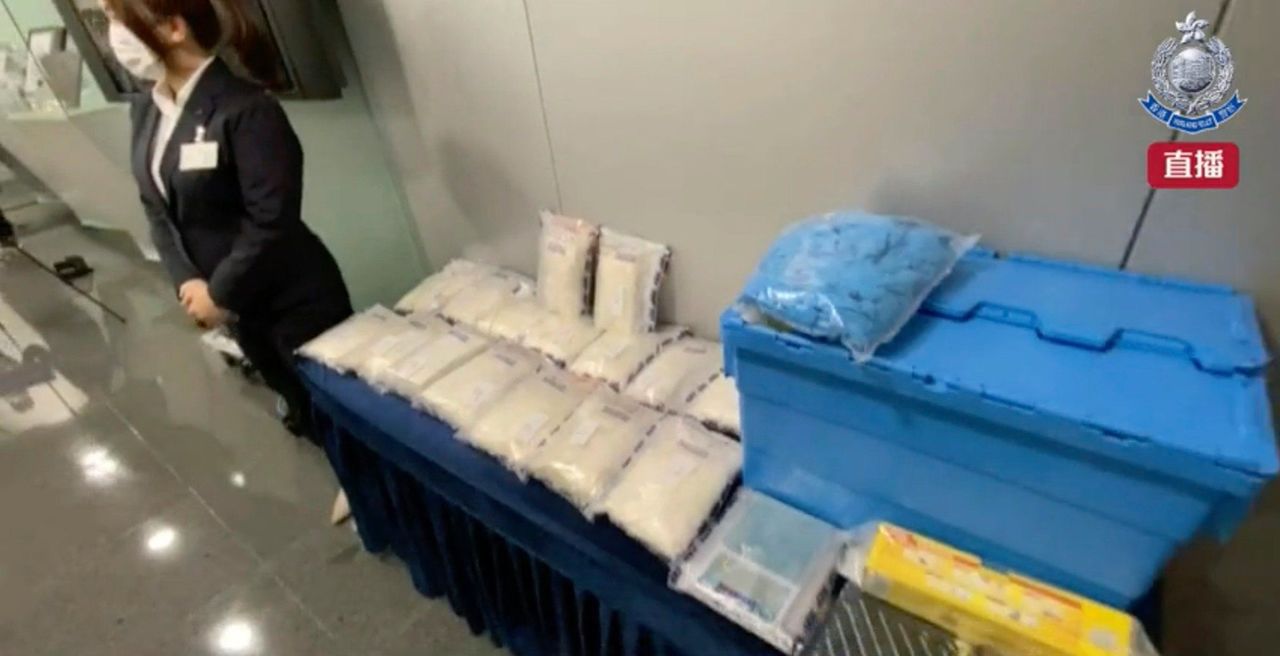 Hong Kong police display HK$13 million worth of cocaine they seized in an operation on Tuesday.
Ching said the investigation suggested the flat had been used by a triad-controlled drug trafficking syndicate to store narcotics for several months.
She said the seized drug was being taken to another unit in a nearby industrial building at the time of the raid, adding the move was an attempt to avoid detection.
She said police believed the consignment was intended to be circulated in the city's underground market before Lunar New Year.
As of Wednesday afternoon, the suspect was still being held for questioning.
Two weeks ago, police seized 424kg of cocaine worth about HK$366 million, most of it hidden in a hole in the ground at a warehouse in the New Territories, making it the largest haul of the drug last year.
Officers from the narcotics bureau found 396 slabs of the drug – weighing around 1kg each – concealed in a hole in the Yuen Long warehouse. The hole was covered by a wooden board and some debris, with a car parked on top of it.
Another 28kg of cocaine was later discovered in a metal hut occupied by the same drug trafficking syndicate in the same district. Police arrested four men and one woman in the operation.
Between January and October last year, police and customs confiscated 976kg of cocaine, down 43.8 per cent from 1,736kg they found in the same period of 2021.