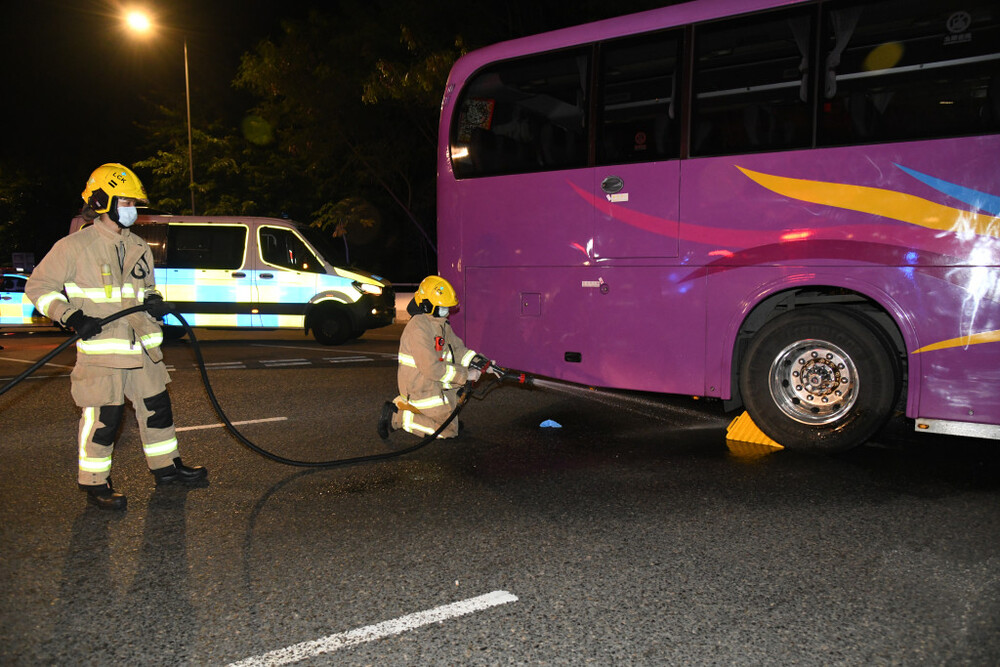 Coach crashes due to wrong-way driving, 10 injured
Ten people were injured earlier on Wednesday morning in a vehicle incident in Kwai Tsing when a passenger coach crashed into planters, suspectedly due to the bus being driven up the wrong lane.
Firefighters received a report this morning around 4am that a shuttle bus carrying 12 passengers from the Airport Cargo Terminals to Kowloon crashed into planters in the middle of the road when traveling along Mei Ching Road.

Officers rushed to the scene and found the coach severely damaged, with the driver and passengers trapped inside.

The 43-year-old driver surnamed Kong was conscious and sustained injury to his head, and nine passengers aged 35 to 58 were hurt on their limbs. They were sent to the Princess Margaret Hospital and Yan Chai Hospital, respectively, after being preliminary treated for their injuries by rescuers at the scene.

According to officers, the coach was arranged to pick up the staff at the airport cargo and send them to Mei Foo, Mongkok, and Kwun Tong, respectively.

The coach was suspected of having traveled in the wrong direction when driving along a roundabout of the Tsing Kwai Highway, hitting a curb, and then crashing into the planters.

Ma, a passenger who got slightly injured, said he was sitting and sleeping in the third row of the seats in the coach when the incident happened, like most passengers, but wearing a seat belt which led him not to be hurt severely.