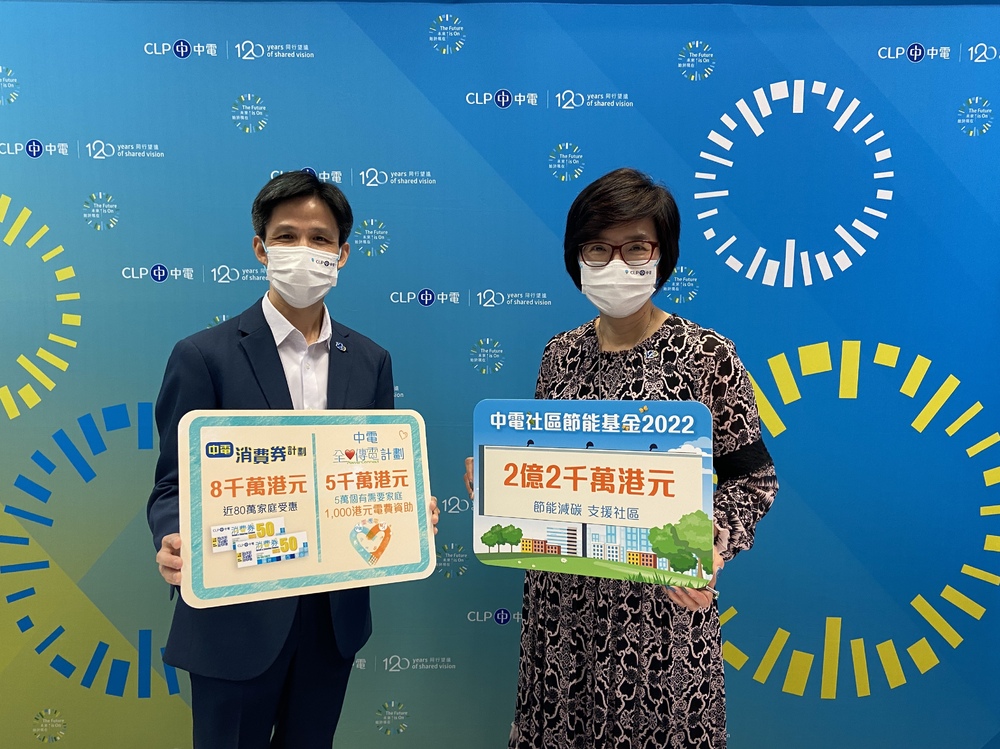 CLP to spend HK$220m to support low income groups before tariff adjustment
CLP will spend HK$220 million to support low income groups, companies and Vocational Training Council students ahead of a planned tariff adjustment next year.
The power company will give out two HK$50 retail and catering coupons to 800,000 low-income and elderly households.

It will also provide an extra one-off electricity subsidy of HK$1,000 to 50,000 eligible households under the CLP power connect program.

The company announced on Thursday it would spend HK$220 million under the CLP community energy saving fund in 2022.

It has set aside HK$80 million to relaunch a second CLP retail and catering coupons program in 2022, which was first introduced in January this year.

Nearly 800,000 households can receive two coupons worth HK$100 to use at more than 2,800 shops and restaurants from January to June.

They include families with low electricity consumption, elderly who qualify for a concessionary tariff and 10,000 subdivided flat tenants.

CLP will mail the coupons to the beneficiaries in January. Subdivided flat tenants can collect the coupons through supporting community partnerships.

Apart from coupons, 50,000 eligible households under the CLP power connect program will receive an extra one-off subsidy of up to HK$1,000, on top of the normal subsidy for 2022.

Eligible households include elderly people, low-income families, disabled people and 10,000 subdivided flat tenants who were referred by non-governmental organizations.

Application will start in January, so the eligible applicants can receive the subsidies by the end of 2022. The total budget for the electricity subsidies will be HK$50 million.

Landlords of subdivided flats are also subsidized for carrying out rewiring works and installation of individual electric meters, after referral by CLP's community partners. The estimated budget for the subsidies is HK$1.35 million.

The power company will put HK$14 million to the power connect program to provide HK$2,000 worth of energy-efficient electrical appliances for 7,000 families who live in transitional housing.

It will also launch a new CLP Save & Cheers Bonus next year. Some 500 underprivileged students under CLP public education programs can receive e-learning devices including tablets, laptops and data sim cards.

About 20,000 children will receive a nutritious food package consisting of dairy drinks, cereal products and pasta.

Under the scheme, families who live in remote areas will have a chance to travel between various green spots around Hong Kong, on the CLP Power electric coaches.

Some 15,000 residents from 14 districts of CLP's supply areas will be invited to see an education drama on the theme of electricity safety and energy saving.

The public can also join the "Eco Fun" online game on energy saving, and earn points to redeem various rewards, including smart gadgets and food coupons.

Some 75 VTC higher diploma students can receive a subsidy of HK$20,000 under the CLP Award for Vocational and Professional Education and Training Students.

Non-residential customers can apply a maximum subsidy of HK$10,000 in replacing lighting and air-conditioning equipment with more energy-efficient models, while the maximum subsidy for bulk tariff or large power tariff customers will be HK$150,000.

The city's two power companies will announce next year's electricity tariff, but the community support will not affect the adjustment, said CLP's chief corporate development officer Quince Chong Wai-yan.

"Electricity tariff is affected by a basket of factors, including fuel price and operating costs," Chong said, adding her company will announce details of tariff adjustment when appropriate.