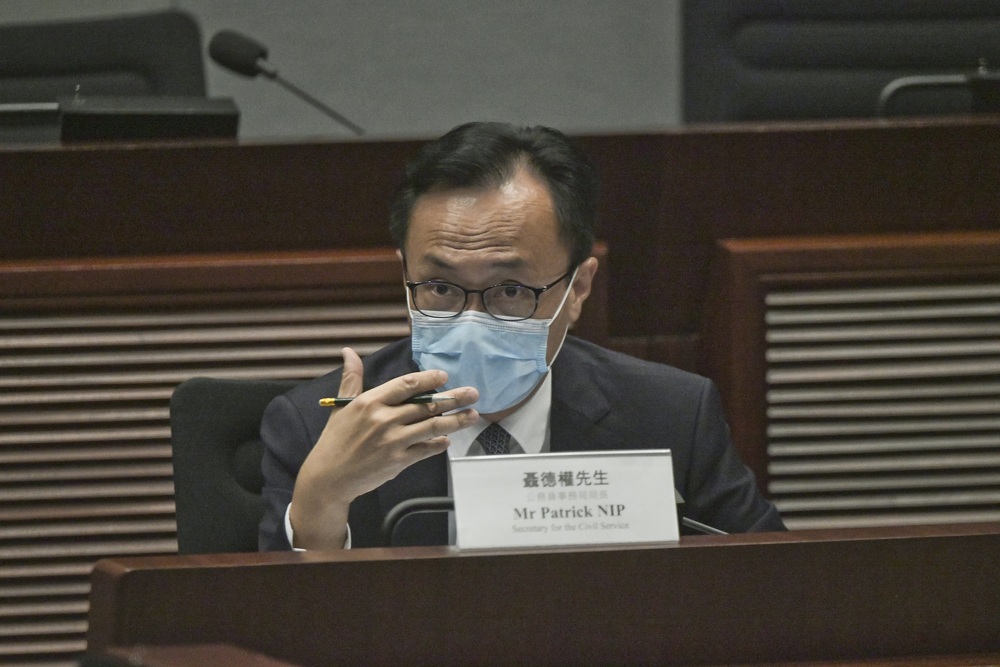 Civil service positions not an 'iron rice bowl,' says Patrick Nip
Secretary for the Civil Service Patrick Nip Tak-kuen warned his subordinates not to mistake civil service positions as an "iron rice bowl," and any misconduct will be handled seriously amid backlashes by lawmakers.
The term "iron rice bowl" in Hong Kong society usually refers to a government job that guarantees employment with high and steady salaries and well-secured benefits.

Speaking in a Legislative Council meeting Thursday, Nip said from the year 2017/18 to the year 2021/22, a total of 1,124 civil servants were disciplined for serious misconduct, including 155 that were removed from their positions.

Solely counting the year 2021/22, 51 civil servants were already removed from their positions, according to Nip, who also warned against treating civil service positions as the "iron rice bowl."

Even if civil servants do not breach any rule, the government can still ask them to retire or terminate their employment if they continue to underperform. The number of such cases stood at 70 last year, all involving refusal to pledge allegiance to the SAR government, Nip added.

Nip's remarks came after lawmakers challenged civil servants will always get paid on time regardless of their work performances.

Bill Tang Ka-piu from the Hong Kong Federation of Trade Unions said 2019 was a test of civil servants' loyalty, and 2020 was a test of their ability, but they failed both tests.

He continued that civil servants always followed the procedures and gave the example of the child abuse case of Hong Kong Society for the Protection of Children, in which the Social Welfare Department said they followed all the instructions and admitted there is room for improvement without any apology.

Connie Lam So-wai from Professional Power also noted the public's disappointment in civil servants and said it is ridiculous to increase their wages at this point amid the pandemic.

Nip then highlighted that there is an objective mechanism for promoting civil servants, and it is never a game of "Music Chairs."

Nip admitted that the management of civil servants must be up to date with an effective reward and punishment mechanism. He noted different measures adopted these years as well, including the Basic Law tests entry requirement and the founding of the Civil Service College.

He continued that the government will study perfecting the assessment system for civil servants.