Chief writer Chris Yeung says decision to close news outlet was based on fears they may have unwittingly broken laws they do not understand.
Senior executives of Hong Kong's Citizen News on Monday said they were forced to shut it down because they could no longer guarantee staff safety under the city's "vague" approach to law enforcement.

In an emotional press conference ahead of the five-year-old online portal's planned Tuesday closure, chief writer Chris Yeung Kin-hing said it was impossible to know where the red lines were drawn following a police crackdown on Stand News, another outlet popular among opposition activists and supporters.

Choking back tears, Yeung said: "We can't work in a safe environment. Reporters are also human and have their families and friends too. Journalists don't want to be landed in this dilemma simply because of their work."

Yeung, a former chairman of the Hong Kong Journalists Association (HKJA), said the trigger for the decision to fold was the recent operation against Stand News.

Last week, national security police scooped up seven people who worked at or were linked to, Stand News for allegedly publishing seditious content and stirring up hatred against the government.

Stand News dismissed all its staff and shut down on the same day. Its acting editor-in-chief Patrick Lam Shiu-tung, 34, and his predecessor Chung Pui-kuen, 52, were later charged with conspiracy to publish seditious material and subsequently denied bail.

"The city's media has been embroiled in a political storm with many media outlets or the overall media being deemed as the target of a shake-up," Yeung said.

"From the Stand News incident, we see that many articles and reports are deemed as seditious. We are worried that we may have violated the law without our knowledge."

He added: "Hong Kong is really facing a great change in many aspects, about how to understand press freedom, and where to draw the line … and now many things about the law and law enforcement and so on have become vague."

Yeung said that given its journalists could be exposed to the threat of prosecution the outlet had no other choice but to close.

"We can't assess how long such a situation would linger. It's difficult to carry on," he said. "We have no choice but to cease operations."

He said so far national security police had not contacted the publication about its reporting.

However, some commentators had been writing articles warning that certain outlets would be "tackled", with Stand News and Citizen News said to be among them, according to Yeung.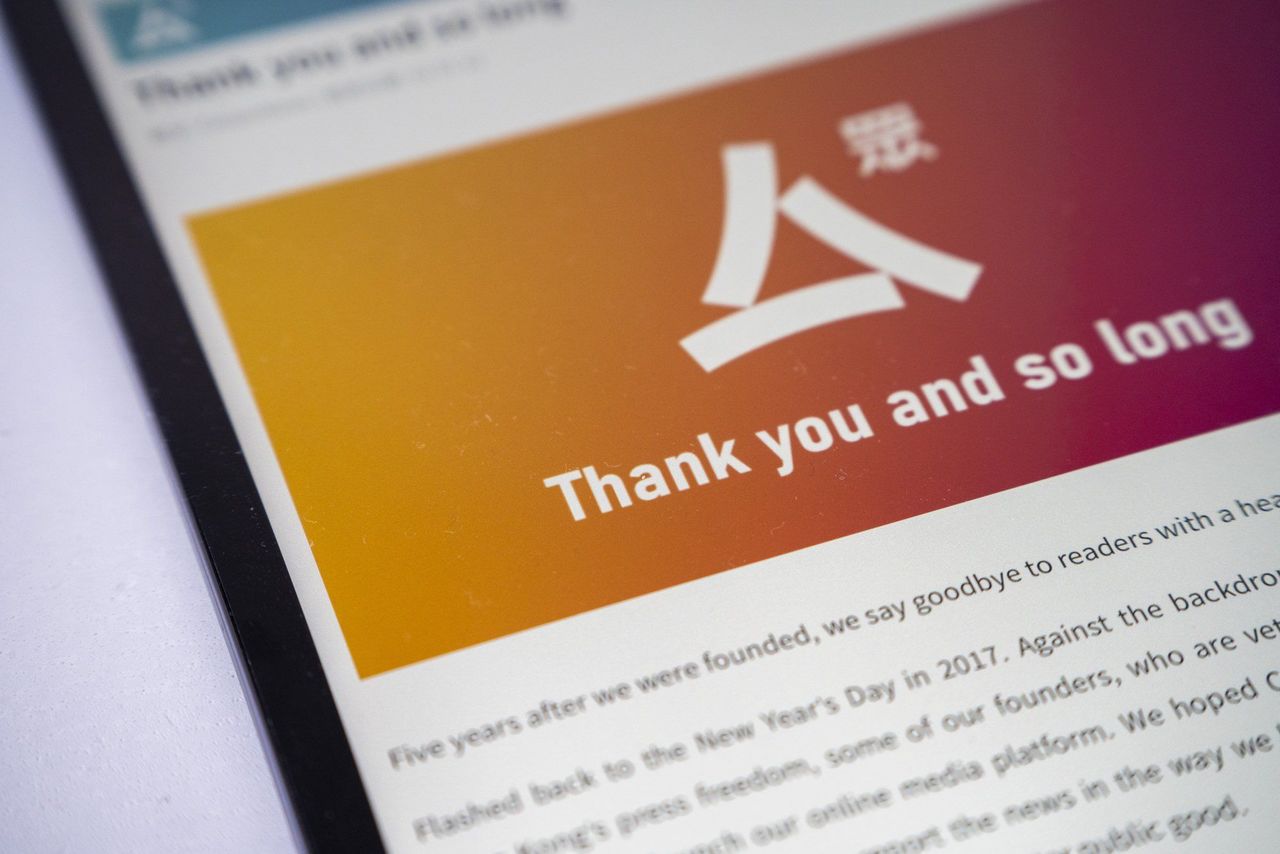 Details of Citizen News' planned closure were published on Sunday.

On Sunday, Citizen News announced it was ceasing operations from Tuesday to "ensure everyone is safe in this time of crisis". At that point it would stop updating its website, which would shut down after "a period of time".

Daisy Li Yuet-wah, chief editor of the online publication, said more than 40 staff would be laid off and compensated in accordance with labour laws.

Citizen News was founded in 2017 by a group of veteran journalists, including Yeung, who had expressed concern over press freedom in Hong Kong. Its reporting team grew from 10 people to dozens over the past five years.

Meanwhile, Ip Iam-chong, one of the co-founders of the online news outlet Inmediahk, told a radio show there had recently been an intensification of the chilling effect on the media from a government campaign initially targeting the now-defunct Apple Daily newspaper.

"When we first started we thought we wouldn't last long, not because of political pressure but because of finances," Ip said. "Nowadays any media that is not considered establishment will keep receiving threats or warnings to shut down."

He also feared that the continued closure of news organisations meant that more rumours, mostly regarding the government, would be able to spread unchecked across the internet.

Professor Francis Lee Lap-fung, director of Chinese University's School of Journalism and Communication, said Hong Kong's press freedom had been inevitably eroded as the laws about sedition were ambiguous, prompting a chilling effect among the city's news media.

"Government officials and police never clarified clearly where to draw the fine line. The enforcement is not clear. Media workers will feel worried about breaking the law for reporting something," he said.

"It's very natural that Hong Kong's media will feel the pressure and refrain from making some critical comments. Press freedom will be affected to a certain extent," Lee added.

The HKJA also expressed its regret upon learning about the closure of Citizen News.

It urged the government to safeguard the city's press and the free flow of information in accordance with the Basic Law, saying the reputational damage caused by the closures of the two media outlets was tremendous.

Newly-elected lawmaker Tik Chi-yuen, the only non-establishment member in the new legislature, said it was important for the authorities to make people feel confident about the press freedom in Hong Kong, which he said played an important role in improving society and was guaranteed by the Basic Law, the city's mini-constitution.

But Stanley Ng Chau-pei, a lawmaker of the pro-Beijing Federation of Trade Unions, said that every news media company had a responsibility to obey the law.

Stand News, which had HK$61 million (US$7.8 million) worth of assets frozen by police, is not the first media agency in Hong Kong to be slapped with sedition charges.

In June last year, the tabloid-style newspaper Apple Daily ended its 26-year run after its founder Jimmy Lai Chee-ying and six senior employees were charged with conspiracy to collude with foreign forces under the Beijing-decreed national security law, which also bans acts of subversion, secession and terrorism. An additional sedition charge was brought against the seven last month.