Chinese Premier Li Keqiang calls on incoming incoming chief executive to 'turn a new chapter' for 'one country, two systems'.
Chinese Premier Li Keqiang has called for unity and urged Hong Kong's chief executive-elect to "turn a new chapter" in the "one country, two systems" principle governing the city, as he formally approved the appointment of John Lee Ka-chiu to the top job ahead of his swearing-in this July.

Li signed the approval document at a State Council meeting broadcast on state media CCTV during its prime-time evening broadcast.

The premier was quoted as saying he "believed Lee Ka-chiu, upon taking the post, would lead the Hong Kong Special Administrative Region government and all sectors in Hong Kong to work together to create a new economic situation with a pragmatic and enterprising attitude".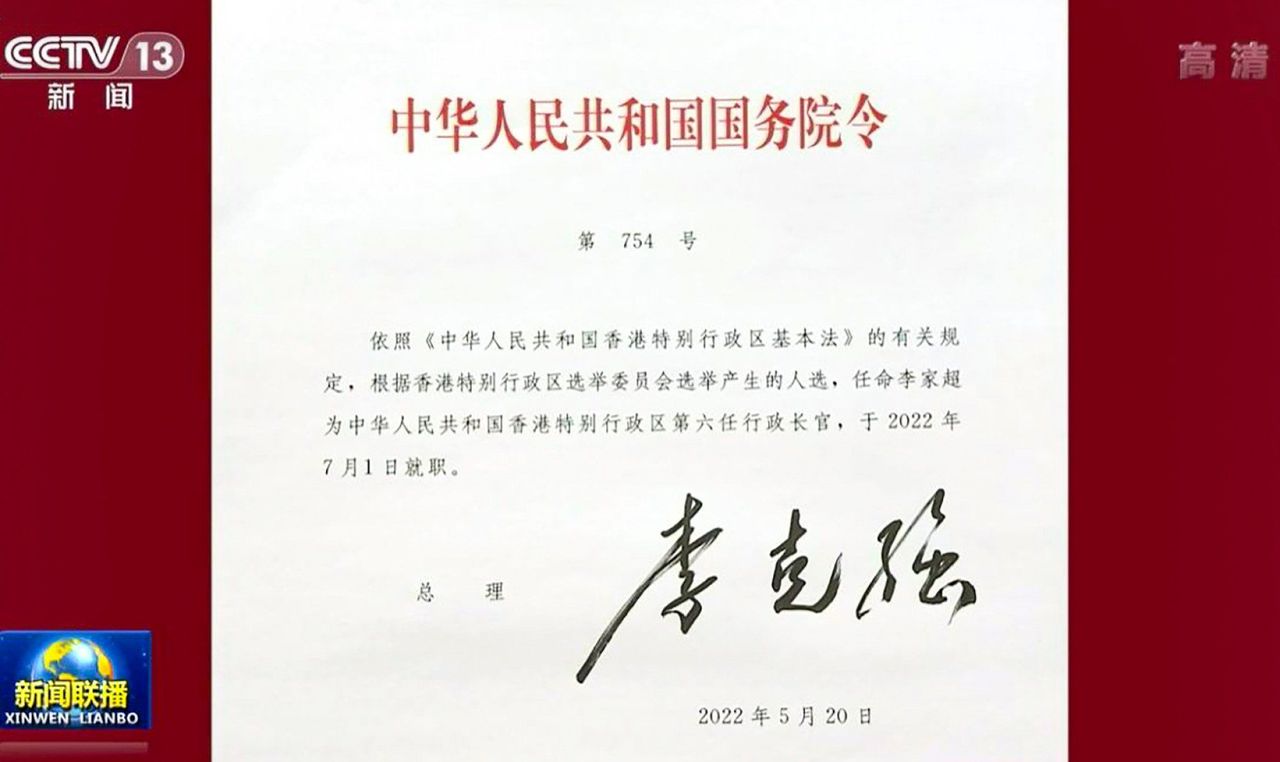 The letter signed by Chinese Premier Li Keqiang approving the appointment of John Lee as chief executive.

Li continued by saying the incoming leader should "turn a new chapter for one country, two systems", a reference to the mechanism that defines Hong Kong's relationship with the rest of the nation.

The central government would continue to enforce the dual system "accurately and resolutely", allowing Hong Kong high degree of autonomy, Li said, adding Beijing would "steadfastly implement patriots ruling Hong Kong", while supporting local efforts to consolidate the city's status as an international hub for finance, trading and logistics.

The approval came less than two weeks after Lee, the sole candidate, secured 99.4 per cent of all ballots cast by an Election Committee stacked with Beijing loyalists, a record for a chief executive election in Hong Kong.

While the central government has hailed the election as a new step in Hong Kong's democratic development, critics have noted the poll was a far cry from the process by which people chose their new government from a field of candidates in the West.

Beijing's approval of Lee's appointment was the latest for a chief executive yet.

Shortly after CCTV carried the news, Lee's office said the former No 2 official was "most grateful" and "deeply honoured" by the premier's approval.

"I shall shoulder my mission with loyalty and perseverance," he said in a statement, pledging to help the needy, unite society and foster a vibrant and inclusive Hong Kong.

"I pledge to live up to the expectations of the [central people's government] and the people of Hong Kong. I will do my utmost to lead the new-term government to comprehensively and accurately implement the principle of one country, two systems, Hong Kong people administering Hong Kong and a high degree of autonomy in accordance with the Basic Law."

The Basic Law is the city's mini-constitution adopted when Hong Kong was transferred from British to Chinese sovereignty on July 1, 1997.

During the same State Council meeting in Beijing, Hong Kong and Macau Affairs Office Director Xia Baolong said the "high number of votes" which Lee received showed "how various sectors in society wished to join hands together and take off again".

The May 8 poll also demonstrated "the principles of openness, fairness and impartiality", he added.

Xia's office praised Lee, a former policeman who rose through ranks to become security chief and then chief secretary, as a man "familiar with the government, brave and responsible, pragmatic", adding that he had Beijing's "high degree of trust".

Lee should be able to form "a team which loves Hong Kong and the nation", the office's spokesman said.

Chinese Public Security Minister Zhao Kezhi, who has spoken on Hong Kong issues over the past two years, was also present at Friday's State Council meeting.

Beijing's liaison office in Hong Kong said it believed Lee "would not fail citizens' expectation and Beijing's trust".

In 2017, Li approved then newly elected Carrie Lam Cheng Yuet-ngor five days after she was elected on March 26. About two weeks later, she travelled to the capital with her husband to collect her appointment letter.

After signing off Lam's approval at the time, Li said Lam's victory "fully reflects the widespread recognition, trust and expectation across all sectors in Hong Kong society".

In 2012, then premier Wen Jiabao said the victory of Leung Chun-ying in the chief executive race reflected "widespread recognition, trust and expectation", when he approved the incoming leader's appointment.

Wen expressed support for the Hong Kong government "in dealing with the extreme challenge arising from international financial risks".

It remains unclear whether Lee will also collect his appointment letter in Beijing given the difficulties of travelling to mainland China during the Covid-19 pandemic.