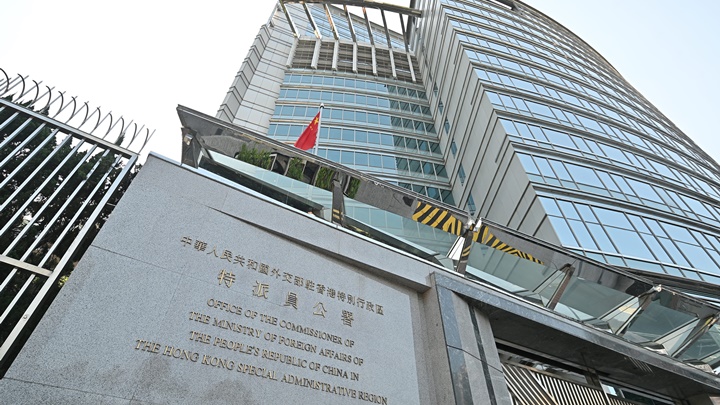 Chinese foreign ministry in HK strongly opposes UK Jimmy Lai meeting
The Office of Commission of China's Ministry of Foreign Affairs in Hong Kong SAR expressed strong opposition on Wednesday morning over jailed media tycoon Jimmy Lai Chee-ying seeking a meeting with British officials for legal support.
The UK government has "slandered the administration, which is in accordance with the law in HKSAR, with no reason," "openly supported anti-China and anti-Hong Kong forces," and "undermined the rule of law and judicial independence in Hong Kong," a spokesperson described in an announcement published by the Office today.

"Hong Kong's affairs are China's internal affairs. We urge the UK government to immediately stop every attempt by the colonial complex to interfere with the rule of law in Hong Kong," said the announcement.

Tuesday, a spokesperson of the UK's Prime Minister revealed that the legal team of Jimmy Lai has met a British junior foreign office minister.

"The British government will always support rights and freedoms and the rule of law," said the spokesperson.

Before that, Lai, the pro-democracy activist and the founder of the defunct tabloid Apple Daily, was sentenced to five years and nine months in jail in December for violating a lease contract for his media outlet headquarters.

He was also accused of multiple counts of breaching National Security Law and colluding with foreign forces. He will face a trial in September this year.

Lai's trial was earlier scheduled for December last year, during which he sought the defense from a British barrister Tim Owen but was postponed as Chief Executive John Lee Ka-chiu stepped in and claimed the need for Beijing to judge whether a foreign lawyer would be able to participate in a local case involving with National Security Law.

Beijing on December 31 confirmed that an overseas lawyer should obtain a granting certificate issued by the Chief Executive before being hired to work on local national security cases.